Day 1 (Chiang Mai – Doi Inthanon – Khun Yuam)
We flew into Chiang Mai airport and boarded a taxi at 915am. Mr Mechanic is just a short 15 minutes and 120B drive away.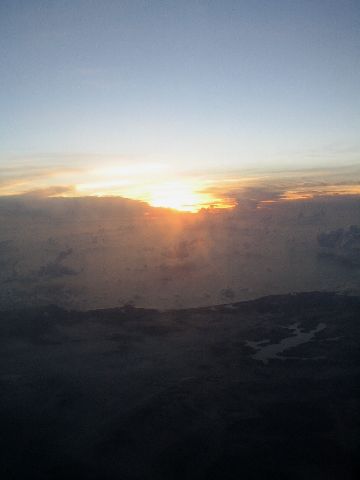 Sunrise from the plane
As arranged, Mr Mechanic already had 3 scramblers prepared for us – 2 Honda Degrees and 1 Honda AX-1. The staffs at Mr Mechanic spoke good English and were very helpful in setting us up for the journey. The bikes were checked, backpacks mounted using bicycle hooks and a GPS receiver mounting unit fixed onto the AX-1. We paid for the rental including insurance at 1300B per person for 2 days of rental. We also had to leave 1 passport as deposit.
It was 10am and we decided to have some food at KAFE, a small restaurant located a few shops away from Mr Mechanic. Having read about Kao Soi in the guidebooks, I gave it a try. It's wonderful!

Kao Soi