Motorcycle: Hyosung RX125SM from Mr Lee's Bike Shop at US$80 or 80,000 Won for 72 hours
Distance Covered: ~400KM
Reference: Lonely Planet South Korea and free local maps
Remarks: This ride is part of a longer trip to China, South Korea and Japan. While Jejudo is touristy, I was pleasantly surprised by its interesting sights and beautiful sceneries.
Route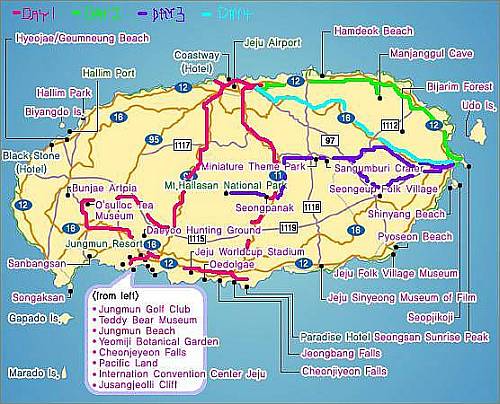 Map of Jejudo and route taken
Unlike some of my previous long-winded trip reports, this will be a very brief report with mostly photos.
The Volcanic Island Jejudo – South Korea trip report is divided into the following sections:
Introduction (You are here)
Disclaimer: This trip was taken in July 2008. The information is provided 'as is' with no warranties and confers no rights. If you are interested to know more, please add a comment and I will update the post with more details.