My wanderlust really started in China.  In 2005, with only Malaysia custom stamps on my passport, I arrived at Beijing on a six months work  and study trip.  My time was spent between working on a project at Beijing Tongren Hospital and study at Tsinghua University.
Living and tourism in a foreign country perplexed and intrigued me.  I had doubts on communal living, household chores, winter, backpacking and local transports.  Thankfully, with great friends, we managed to do a lot of things together and have an extremely enjoyable time.
My friends and I frequently travel to places in and outside Beijing whenever we had the chance.  Maybe we were younger, but we had a lot of energy.  There were very few lazy weekends and very few dull moments, quite unlike the semi-comatose life I am leading now.  Those really were the days.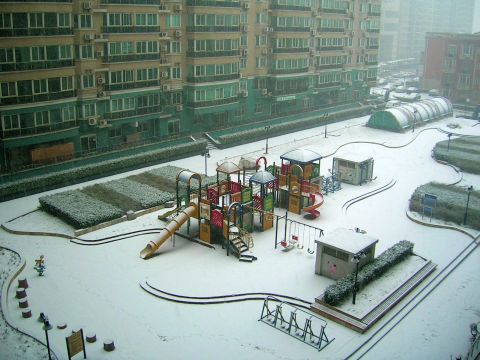 View from my apartment
Now that I am growing old and trying to relive these fond memories, I would write about my life in Beijing and the numerous trips taken.
Life in Beijing
Our apartments and neighbourhood
City
Winter
Food
January
Tian An Men
Simatai to Jinshanling Great Wall
Skiing and Hot Spring
February
Temple fair at Long Tan
Tianjin
Hengshan and Yungang Grottoes at Datong
March
Taishan and Qufu at Shandong
Forbidden City
Marco Polo Bridge
April
Jinshanling to Gubeikou Great Wall
May
Badaling Great Wall
Shanhaiguan Great Wall
June
Houhai
Jiankou to Mutianyu Great Wall, Bungee Jumping at QinglongXia
Kongzhi Miao
Shidu
Liang Liang Miao
July
Beijing > Xian > Chongqing > Yangtze > Guangdong > Hongkong