Bali, tourist mecca of the world, is a popular Indonesian island among holiday goers.  The small island is located between Java and Lombok and its people largely follows Balinese Hinduism, which sets it apart from predominately Islamic Indonesia.  Even without knowing that before coming to Bali, it would become evident soon after you had the chance to see the local traditions and taste the local delicacies.  People and culture aside, Bali is also famed for its breathtaking scenery and myriad of water and hiking activities.  Wikitravel gave Bali the following apt introduction:
Bali, the famed Island of the Gods, with its varied landscape of hills and mountains, rugged coastlines and sandy beaches, lush rice terraces and barren volcanic hillsides all providing a picturesque backdrop to its colourful, deeply spiritual and unique culture, stakes a serious claim to be paradise on earth.
With world-class surfing and diving, a large number of cultural, historical and archaeological attractions, and an enormous range of accommodations, this is one of the world's most popular island destinations and one which consistently wins travel awards. Bali has something to offer a very broad market of visitors from young back-packers right through to the super-rich.
Bali is just a 2-3 hour flight from Singapore but somehow, I had never visited the island.  So with some annual leave to clear and some good people (R, T and YC) joining for the trip, I made my maiden trip to Bali.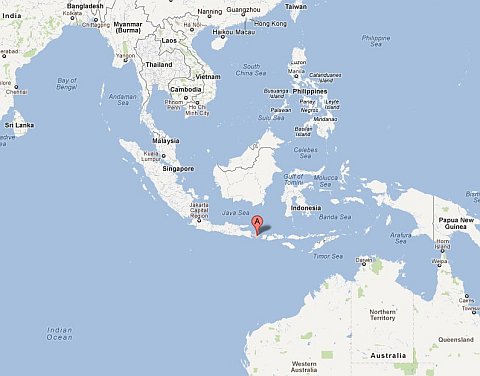 We visited the places and took the roads shown in the map below.  On our forth day where we rode an eastern loop to Ahmed on motorcycle, I tracked the journey on my Garmin GPS receiver.  So if you are interested in the routes in GDB format, just leave a comment on this page and I will send the download link to your email address.  You can also download very good maps from Cloudmade which makes Garmin compatible maps from OpenStreetMap data.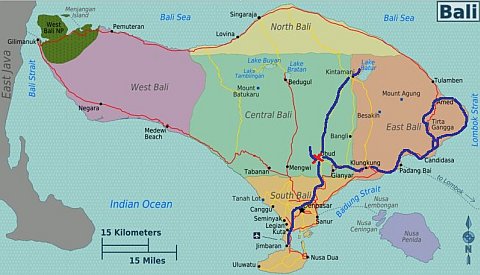 The Bali trip report is divided into the following sections:
Introduction (You are here)
Disclaimer: This trip was taken in March 2012. The information is provided 'as is' with no warranties and confers no rights. If you are interested to know more, please add a comment and I will update the post with more details.