For this North Thailand trip, I brought along Thailand Rough Guide and Thailand Lonely Planet for information on country background, accommodation, maps, restaurants and places of interest.
If you need up-to-date information on the roads, you can try asking in GT-Rider forum (requires registration).
GT-Rider Mae Hong Son map provides an accurate travel map of Mae Hong Son region. The laminated map can be found in at some book stores and bike shops in Laos, Cambodia and Thailand.  The publisher also provides overseas shipping. You can find more details at GT-Rider website. Note that GT-Rider also provides Mae Sa Valley map.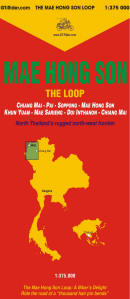 GT-Rider Mae Hong Son Map