Day 1 (Chiang Mai – Doi Inthanon – Khun Yuam)
We flew into Chiang Mai airport and boarded a taxi at 915am. Mr Mechanic is just a short 15 minutes and 120B drive away.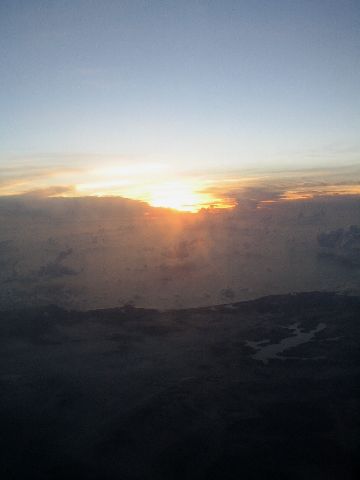 Sunrise from the plane
As arranged, Mr Mechanic already had 3 scramblers prepared for us – 2 Honda Degrees and 1 Honda AX-1. The staffs at Mr Mechanic spoke good English and were very helpful in setting us up for the journey. The bikes were checked, backpacks mounted using bicycle hooks and a GPS receiver mounting unit fixed onto the AX-1. We paid for the rental including insurance at 1300B per person for 2 days of rental. We also had to leave 1 passport as deposit.
It was 10am and we decided to have some food at KAFE, a small restaurant located a few shops away from Mr Mechanic. Having read about Kao Soi in the guidebooks, I gave it a try. It's wonderful!

Kao Soi
Our plan for the day was to first head for Doi Inthanon national park before continuing the journey to Khun Yuam (or Mae Hong Son if possible). As we do not have the luxury of time, we were going to be selective of the places we visit. The first point of interest to visit is the Mae Ya waterfall, reputed to be best of the numerous waterfalls in the region.
The roads out of Chiang Mai were easily navigated with map (GT-Rider Mae Hong Son map) and compass. As usual, without any detailed maps, our GPS receiver only served to log the journey and provide directional information.
Highway 108 consists of flat and straight roads in excellent tarmac condition. Traffic was light. My friends took the lead and we were sometimes able to go as fast as 100km/h. However, the side road to Mae Ya deteriorated to pebbles and soil. It's still manageable and we proceeded slowly. We soon reached a ticket office for Doi Inthanon national park and paid 420B for a ticket. The ticket allows you to visit all parts of the reserve. The amount we paid also included a permit for our motorcycles.
After a short trek, we reached Mae Ya waterfall at 1pm. Mae Ya Waterfall, believed to be the highest in Thailand, is quite impressive.

Mae Ya waterfall
After some photo taking and a rest, we continued our way to the highest point (2590m) in Doi Inthanon national park.  In fact, the park is named after the highest mountain in the country – Doi Inthanon. Needless to say, it was a chilly ride. But the view from the top was well worth the effort.

Doi Inthanon National Park, also called "Roof of Thailand", shelters a huge variety of flora and fauna.
We returned downhill and took the right fork for Khun Yuam. It was a long ride and not soon after, J took a fall. Luckily, it was nothing serious and he was already up before we could capture the moment with a photograph. Taking about photography, I dropped and broke my camera (Canon A75) which had accompanied me for numerous trips.
The sky turned dark and rain drizzled. We put on our ponchos and rode in miserable moods. We were wet, hungry and tired and knew we were too ambitious trying to cover such a distance in 2 days. Tomorrow would be a long and exhausting ride back to Chiang Mai. But we also knew that satisfaction always followed hardship.
We finally reached Ban Farang guesthouse at Khun Yuam at 8pm. Ban Farang had an interesting layout with interconnected buildings in a garden-like surrounding. The place felt like a chalet.
We ordered dinner and went back to our room to wash up. The room was adequate – clean but a little squeezy with 3 beds. The friendly staffs soon informed us that dinner was ready. After a huge meal with beer, we paid in advance for the food and room which cost 1330B in total. Always a fan of massage, Al tried the in-house massage service to soothe his sore muscles. J and I were too tired and went back to sleep.