The northern Laos loop takes us through a clockwise route from Vientiane to Xayaboury (also Sayabouli or Sainyabuli), followed by Luang Prabang, Nong Khiaw, Xam Neua (also Sam Neua), Phonsavan and Vang Vieng before bringing us back to Vientiane.
For this loop, it is best to plan at least ten days in order to ride at a reasonable pace and have adequate time for sightseeing. Depending on your interests, adding Hongsa (they have an elephant festival every year), Oudom Xai or Phongsali to the trip are possible. After all, this is the flexibility we enjoy by not taking a tour and having our own transport. Personally, I spent eight days for the 1700km loop. I had a pretty rushed trip and except for Vientiane, I did not spend more than a night at any other cities or towns. I wished I had spared more time for Phonsavan.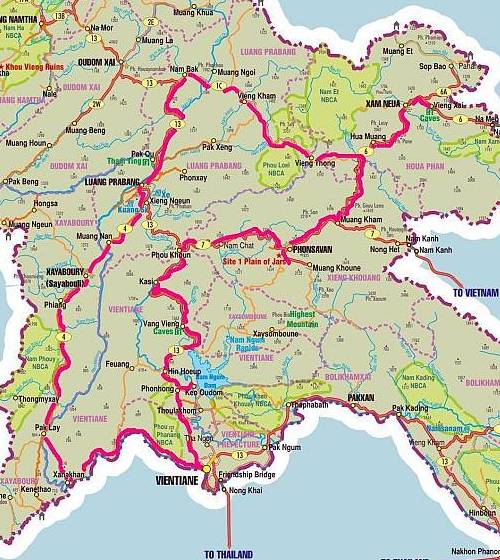 Map of northern Laos and route taken
The main highways such as route 13 (Luang Prabang to Vientiane) and 7 (Phonsavan to Luang Prabang) are in excellent conditions. The twisty tarmac roads are a joy for riders. However, expect dirt and gravels at the smaller roads such as route 4 (Xayaboury). As I was there during the dry season, it was quite dusty. Maybe it would be wise to bring along a face mask.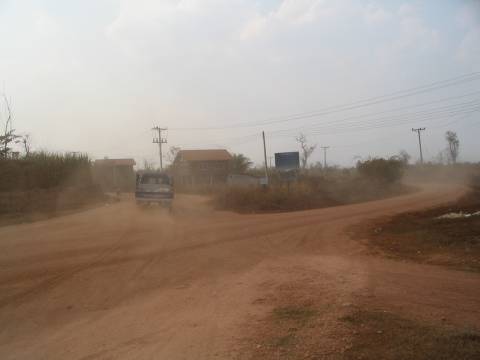 Dusty roads

Bridge crossing
The road directions in Laos are similar to Cambodia and Vietnam. You would be able to find road signs at major junctions. The helpful kilometers stones we have grown to love can also be found at most roads. Even with these aids and a good map, some tourist spots such as the Suan Hin (Sao Hin Tang) might not be easy to find. At such times, your best hope is the locals.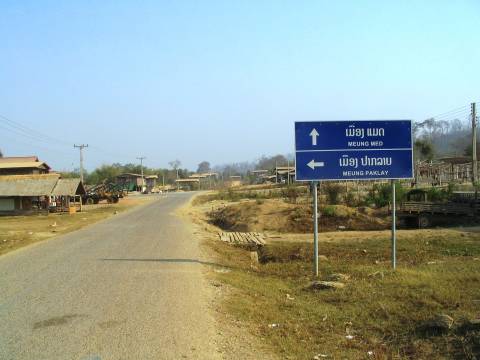 Basic road signs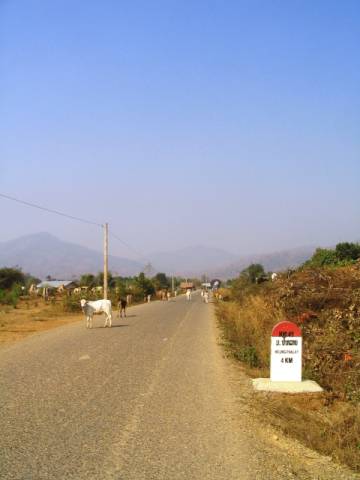 Kilometer stones tell you the distance to the next major town or city. Notice our fellow road users in the photo?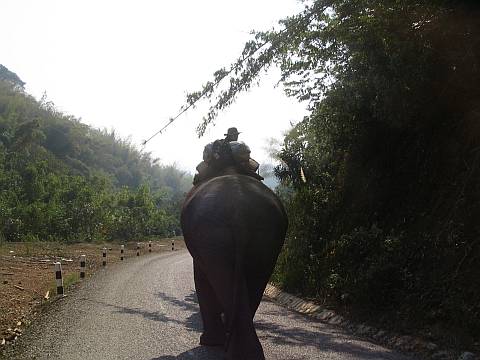 Sometimes they hog the lane and you cannot do much about it.
Even though I brought my Garmin GPS receiver along, the memory card was dislodged after day 2 and I didn't discover it until the end of the trip. So I only have a portion of the route. Luckily, my waypoints (including Plain of Jars and Suan Hin locations) were saved in the internal memory. If you would like a copy of the files, just post a comment and I will send the download link to your email. The file size is around 0.94MB.