Route
The Mae Hong Son Loop of North Thailand takes us from Chiang Mai through Doi Inthanon to Khun Yuam and finally to Mae Hong Son. From Mae Hong Son, the route continues to Pai before taking us back to Chiang Mai. As a short weekend ride, there is not enough time for adequate sight seeing. The time is just about enough to finish the loop with minimal stops. More days are certainly advised for Chiang Mai, Mae Hong Son and Pai. The total distance we traveled was around 640km.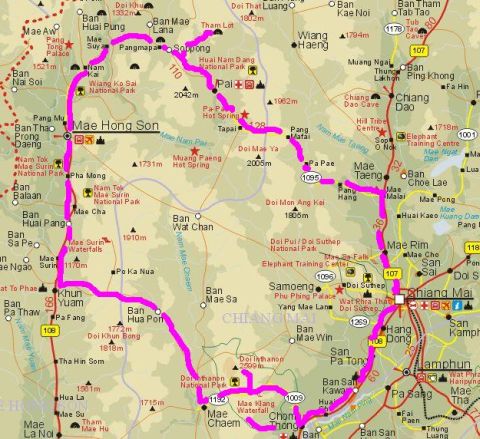 Map of North Thailand and route taken
The roads are twisty but well-paved. There is no off-road riding if you keep to the main routes. The only non-tarmac roads we encountered are the junction before Mae Ya Waterfall and the junction before Tham Lot. Even then, any motorcycle should be able to handle these roads easily.

This is about as bad as the road goes
If you have rode in Vietnam, Cambodia or Laos before, you should not have any problems navigating the roads in North Thailand. Road signs are available through out the loop, especially at major junctions. Petrol should not be a problem as well. If you do not see petrol stations, you can still find stalls by the road sides selling bottled petrol. Remember to top up your tank whenever you can, especially if you are not sure of the distance to the next town/village.
Since I brought along my Garmin GPS receiver during this trip, I tracked my routes and took down my waypoints. If you would like a copy of the file in Garmin GDB format, just post a comment and I will send the download link to your email. The size of the file is around 712KB.
Motorcycle
The bike rental scene is well-established in Chiangmai. You would find a great variety of bikes from Honda waves, Honda Phantoms, Honda Super 4, Honda scramblers to BMW tourers. We decided to go for scramblers at the most popular bike rental shop in Chiangmai – Mr Mechanic. Mr Mechanic is located at 4 Soi 5, Moonmuang Rd. T.Sri Phum, A.Muang, Chiangmai. They can be contacted at (+66)53-214708 (tel), (+66)53-41837 (fax), (+66)1-8824402 (mobile) or mrm@yahoo.com. Because of our tight schedule, we booked three honda scramblers in advance at 600B per day for each bike. Upon arrival, we received 2 Honda Degrees and 1 Honda AX-1. Both models are quite similar but Honda AX-1 is much more fuel efficient.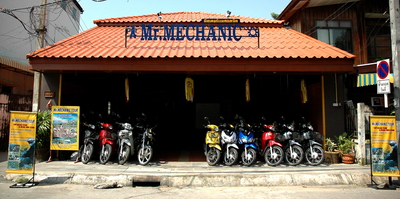 Mr Mechanic (Photo taken from Mr Mechanic website)