Introduction

Sungai Rengit is a town in Pengerang located at the southeastern trip of Johor.  Just 35km south of Desaru, Sungai Rengit is an unassuming place with a few good seafood restaurants and small hotels.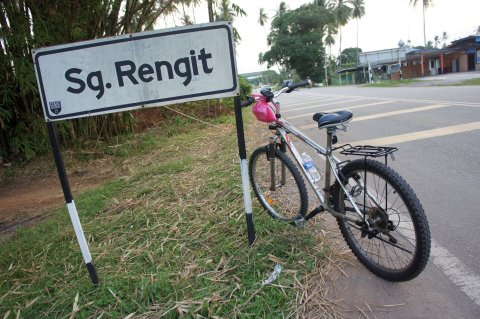 For this trip, our plan is to take a bum boat from Singapore to Pengerang and cycle to Sungai Rengit for seafood lunch before heading back to Singapore.  FH and I however decided to spend a night at Sungai Rengit to explore the area a little more.
I brought along a GPS receiver and managed to track the route and waypoints shown below. If you would like a copy of the file in Garmin GDB format, just post a comment and I will send the download link to your email.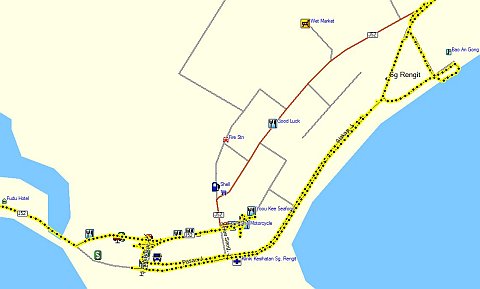 Day 1 (Singapore to Sungai Rengit)
We arrived early at Changi Village for breakfast and to rent bicycles.  Originally, we wanted to rent our bicycles from Tristan Park in Pengerang who would pick us up from Pengerang ferry terminal to their place for bicycles.  But they have recently stopped this service so we had to rent from Changi Village.  Anyway, as the bicycle shops at Changi Village do not open that early, it's advisable to make arrangements with the shops if you intend to set off before 9am.
We rented our bikes from Mr. Bikes Enterprise from Blk 1, #01-250, Changi Village Road, Singapore 500001 (Tel 65420529).  It cost SGD 10 per day of rental of one bike.  After checking our bicycles for road worthiness, we headed to Changi Point Ferry Terminal (not to be confused with Changi Ferry Terminal).
There are no fixed schedules for the bumboats making the rounds between Singapore and Pengerang.  The bumboats will leave when there are 12 passengers or you can pay for the missing passengers.  It cost S$11 for each passenger for the one way trip.  Bringing along a bicycle cost an additional S$2.  The earliest ferry leaves at around 7am.
We left our passports at the operating desk to join the queue for the bumboats.  We ended waiting quite a fair bit of time.  It's probably wise to come earlier or make up a big group so your group can occupy a whole bumboat.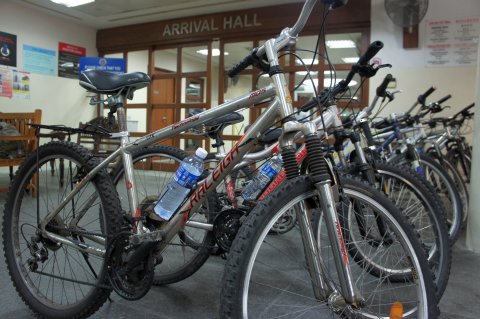 Finally, we can load our bicycles onto the bumboats.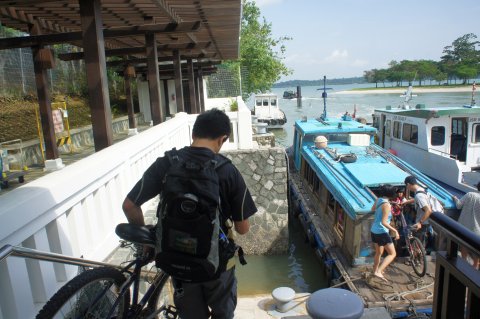 Neatly arranged.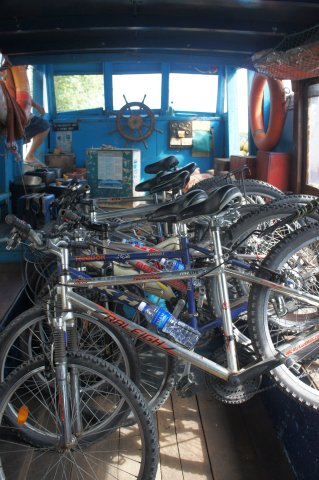 I always prefer sitting on the upper deck for wind and sun.  Okay, the truth is that I can get a little sea-sick in an enclosed space on a rocky boat.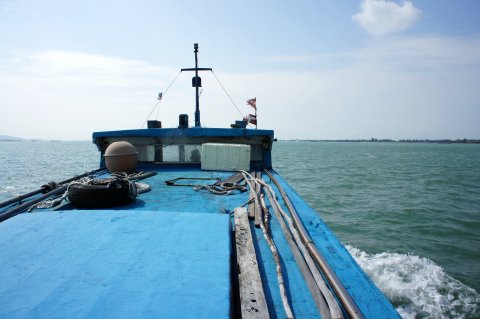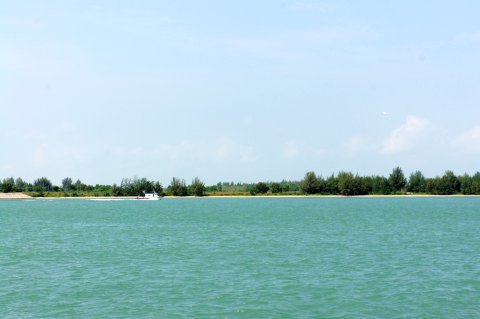 Old tech vs new tech. Both has its place in my traveling.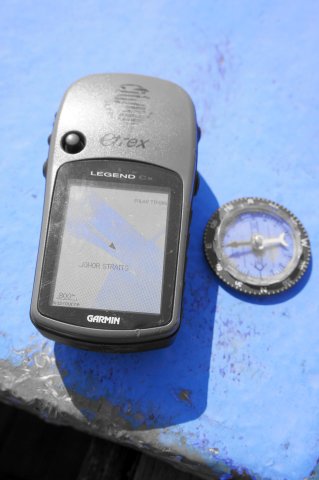 Pengerang in sight.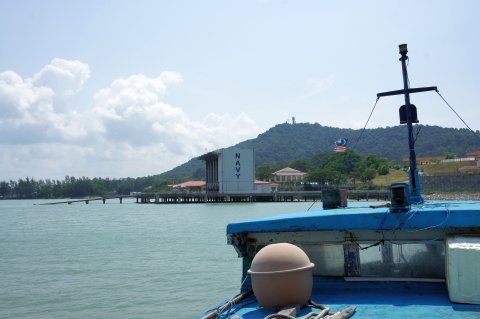 Just behind the Pengerang Ferry Terminal is a site of a major WWII British battery.  Check out a previous visit here.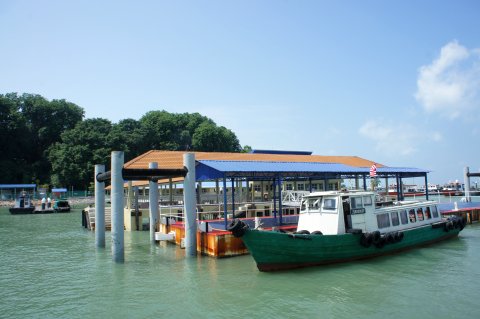 Off we go!  The roads at Pengerang are relatively well-maintained and flat.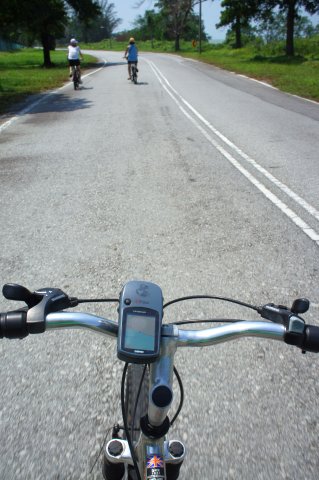 Scenery along the way.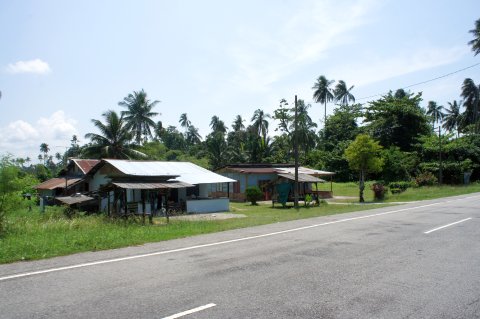 It's election time in Malaysia.
Kilometer stones as I grew to depend.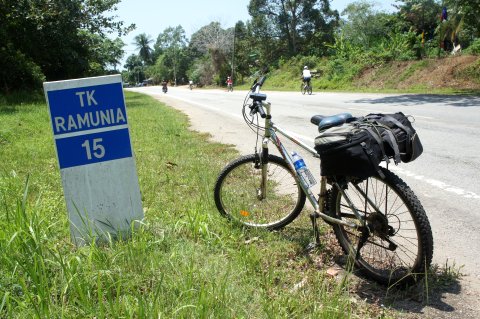 Stopped for some drinks.
I used to cycle a lot when I was a kid but it didn't become my hobby.  I find cycling rather montonous and lacking the physical demands of running (I probably didn't cycle hard enough) or complexities of other sports.  But during this trip, I found cycling long distances on good roads to be a enjoyable experience.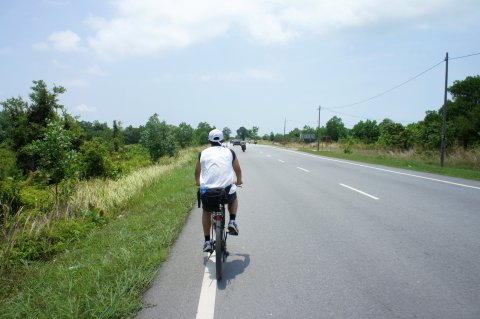 Our stop point – Jade Garden Seafood Corner.
Highly endorsed by food critics!  Other popular restaurants are Crystal Jade Seafood and Si Wan Dao Seafood.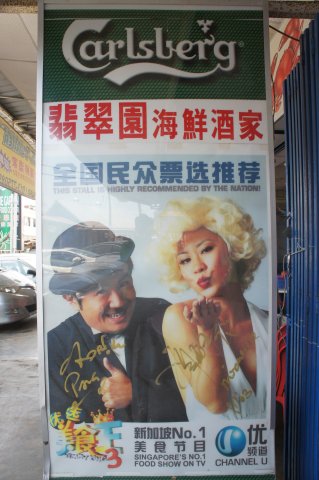 We ordered a variety of dishes including local specialities like lobsters and ostrich meat.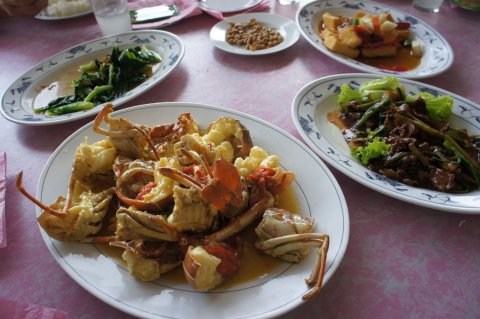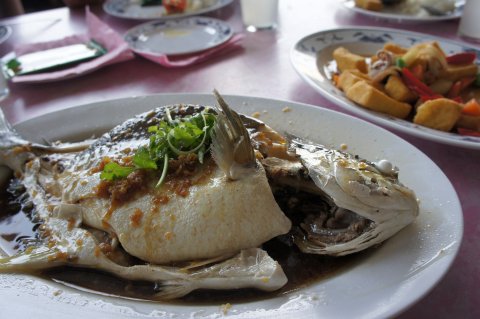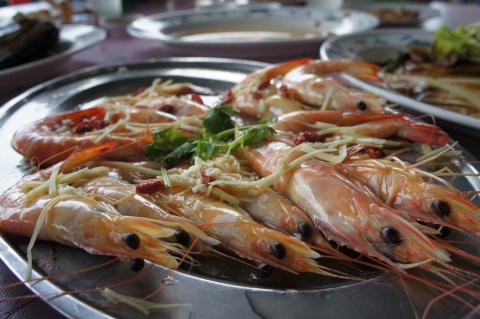 Buying some pastries at Kedai Kek Lim Choo Seng to bring back home.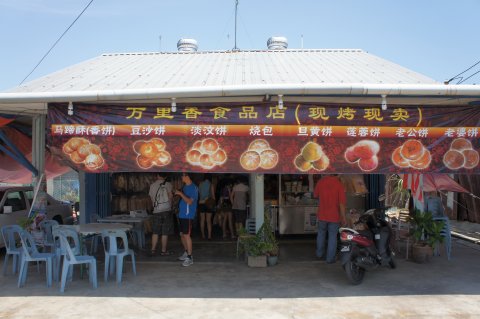 Lao Po Bing aka Old Wife Cake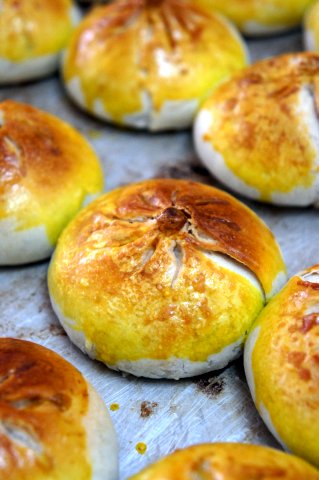 There isn't a McDonald or KFC in Sungai Sengit, but there is still the popular local fast-food chain – Marrybrown.
FH and me found Tai Hoe Hotel easily in the small town. There are a few other hotels such as Let Seng Hotel, Hotel Hiap Hwa and Seng Huat Hotel. n the town. Tai Hoe is slightly more expensive but its reviews are mostly good.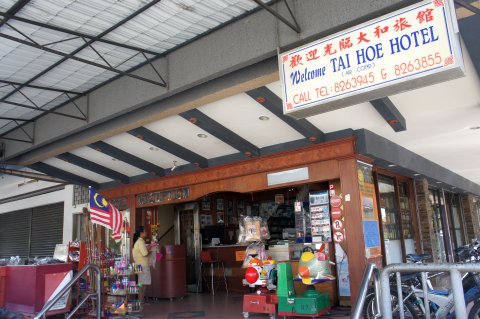 You can park your bicycles outside the hotel. At night, when the hotel closes their provision shop, they will bring in the bicycles.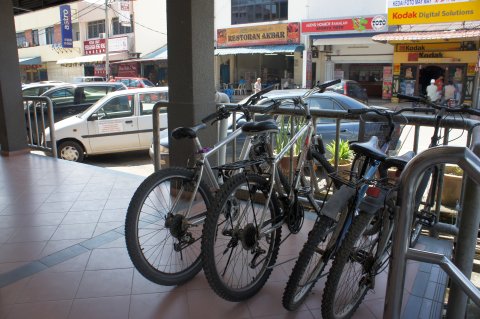 Our basic but clean room.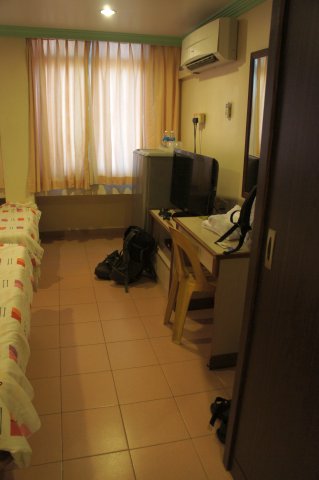 A bit of reading before a nap.
At 4pm plus, we recovered enough from the sleep for more cycling around town.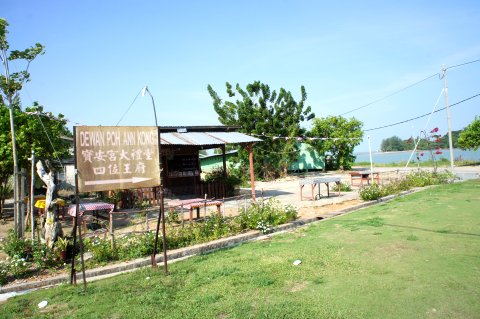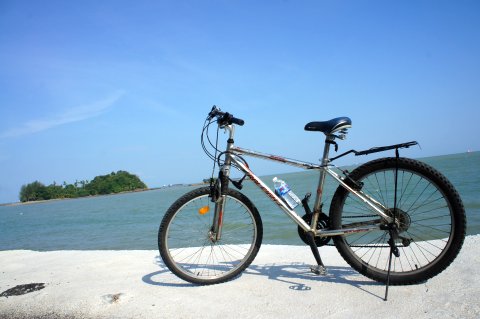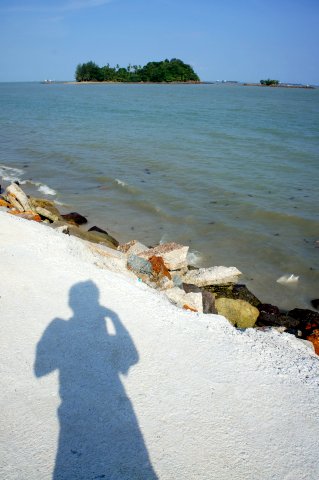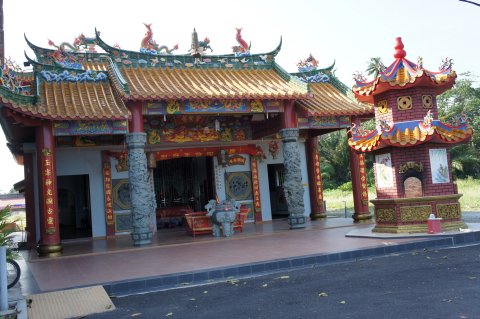 Next, we headed to the nearby ostrich farm which is a couple of kilometers to the east.  There is an obvious sign for the right turn along the highway to the farm.
Thumbs up to myself for being so well-prepared. 😀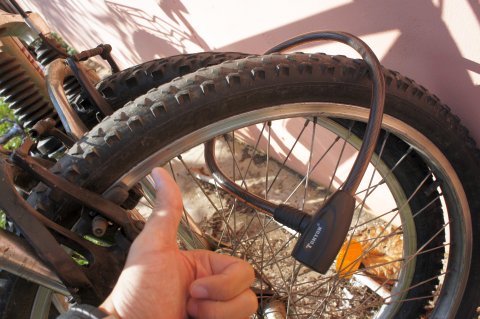 The ostrich farm is opened from 10am to 6pm daily.  There is an admission charge of RM15 and RM10 for adults and children respectively.
The ostrich farm is opened by Mr Colin Teh who is a former Singapore SAF pilot.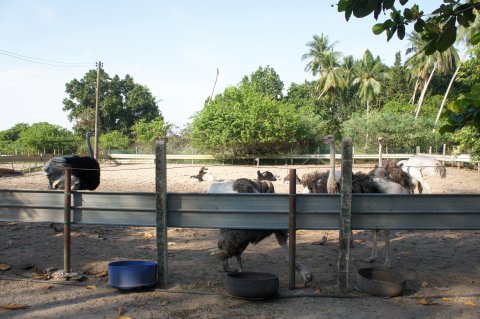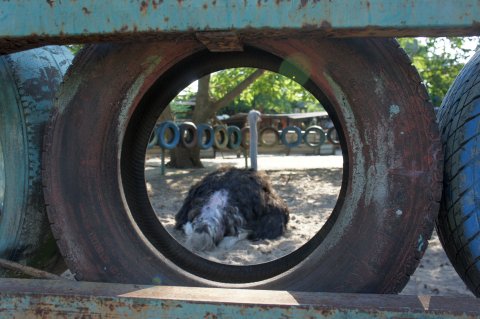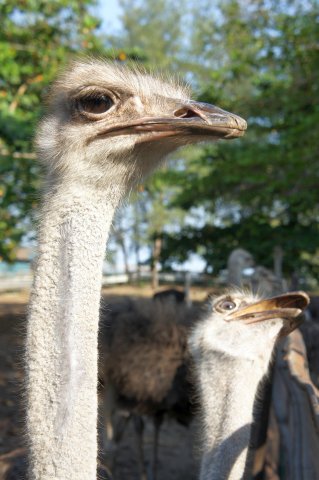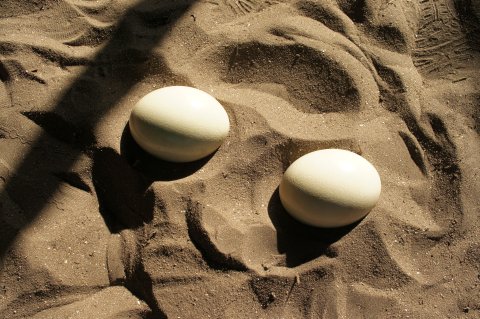 Ostrich dishes at its restaurant.  Oh, both the showroom and restaurant are located outside the farm so you need not pay for the admission charges to visit them.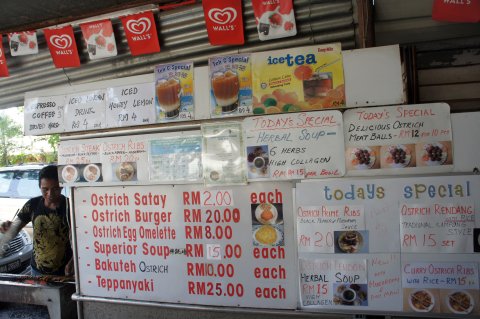 How can we resist satays!
Mr Teh explaining the toughness of the ostrich egg.  You need to use a hand drill to crack a hole!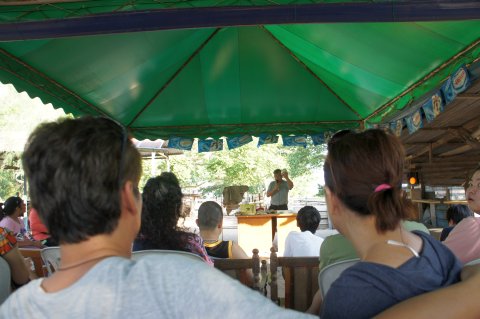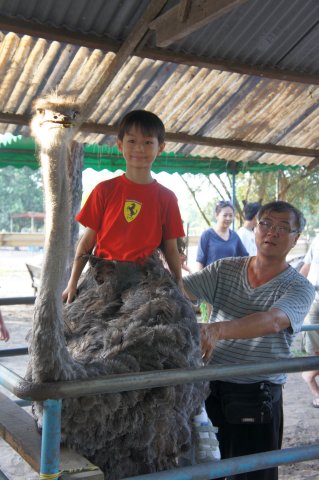 Sourvenirs for sale.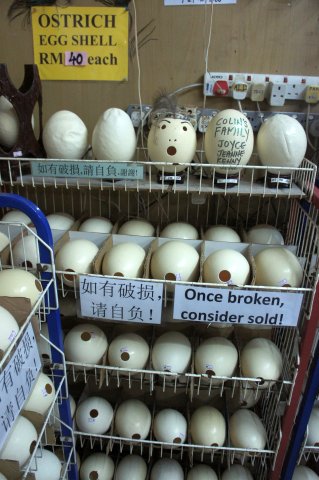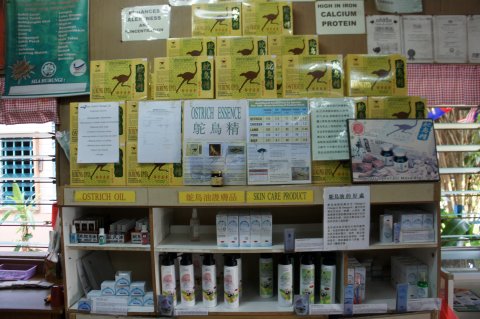 Ostrich egg omelette which we dabao (take-away).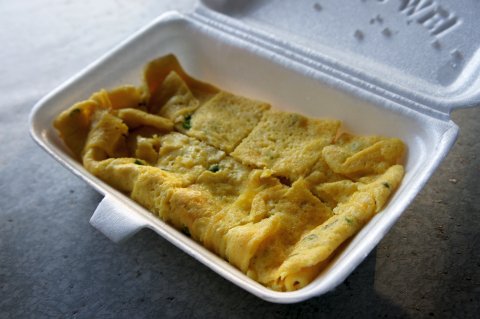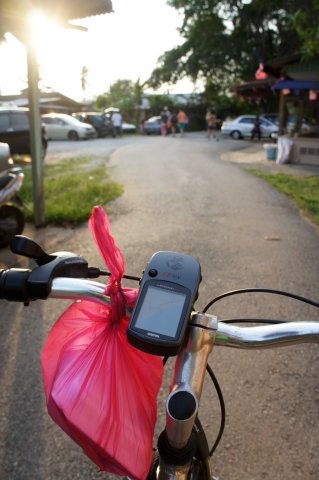 Other cyclists along the road.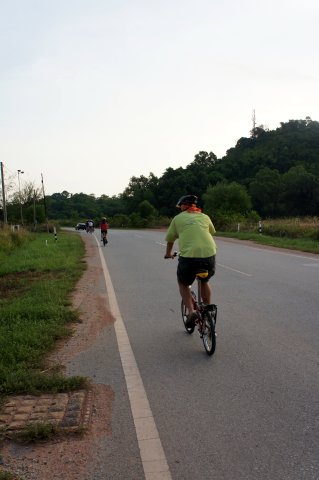 It's getting dark soon and we didn't have bicycle lamps.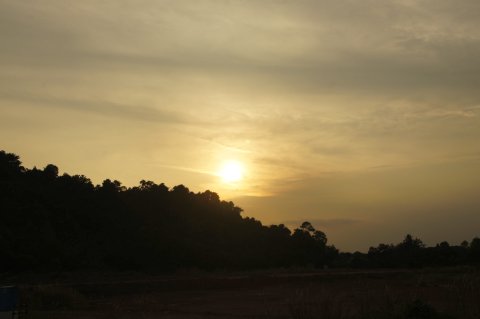 But we still found enough time to stop by a durian stall by the road.
Yum yum.
Lobster mascot of Sungai Rengit.  Today happened to be the day where the Lynas Busters would be assembling at Sungai Rengit.  And I happened to be wearing the same green as them.  😀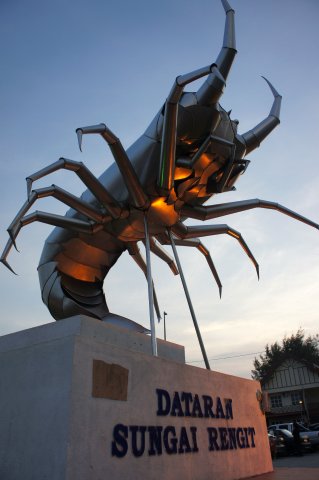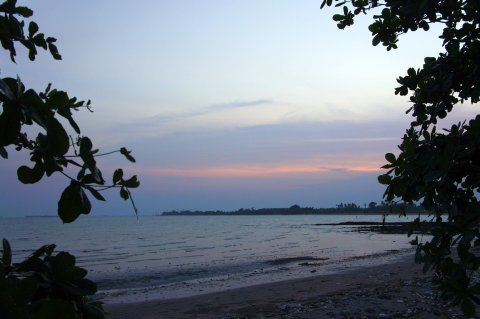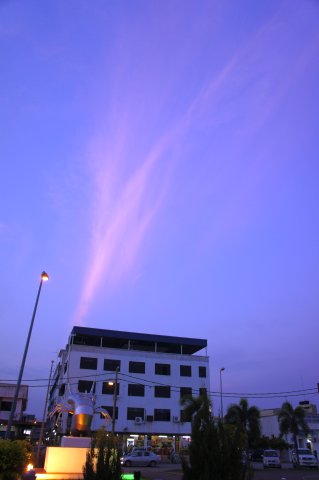 A walk around town for dinner places.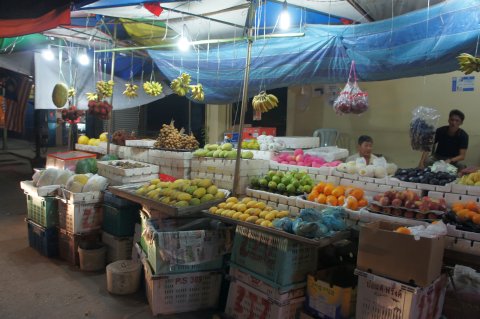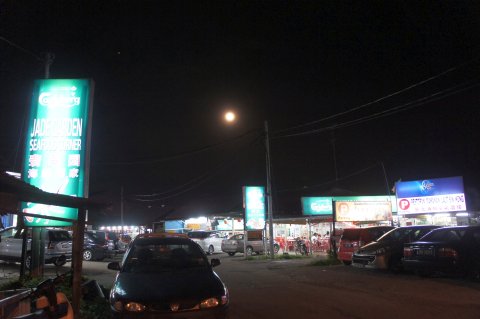 Long queues = good food!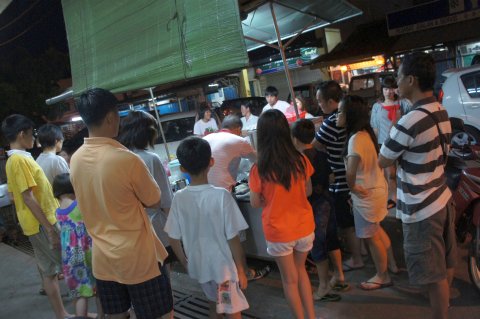 Well worth the wait.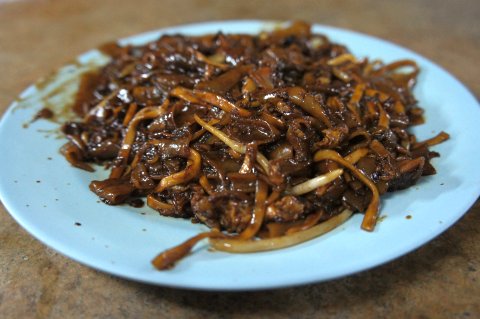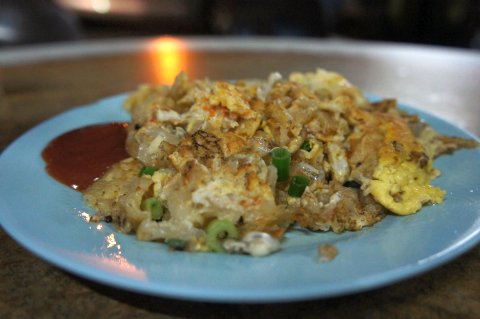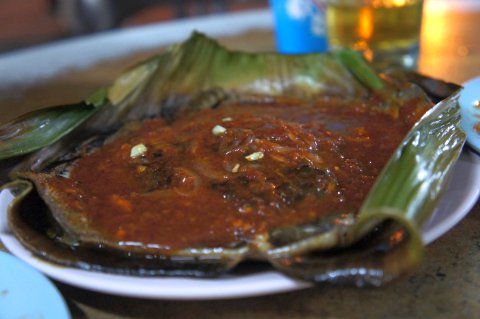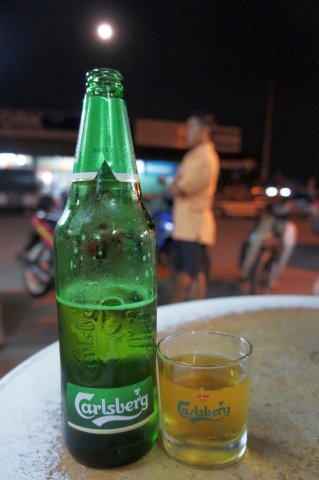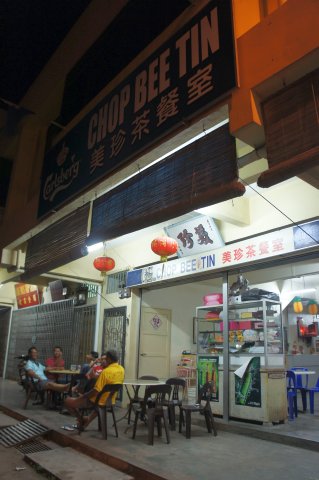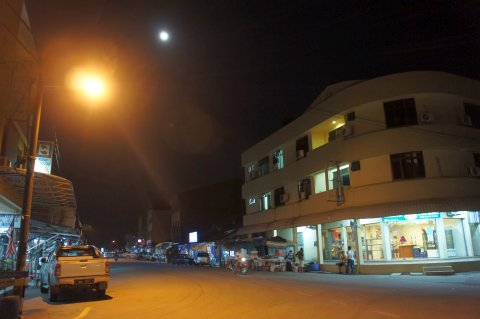 Back to hotel where we watched a soccer match before sleeping.