Day 8 (Phnom Penh)
I arranged for a motor to bring me to the killing fields of Choeung Ek which is located 15km from central Phnom Penh. Between 1975 and 1978, 17,000 people held and tortured at the S-21 (Tuol Sleng Museum) were transported to the extermination camp at Choeung Ek. Today, all that remains of the grim past are multiple disinterred pits and a memorial stupa filled with skulls.
After the gloomy trip, I returned to my guesthouse and ordered lunch. While waiting for my food, I picked up a book from the shelf. The title of the book was Hun Sen
. The prime minister of Cambodia was to keep me occupied for the rest of the day. It's a recommended read to anybody who's interested to know more about the amazing life of Hun Sen and the history of Cambodia.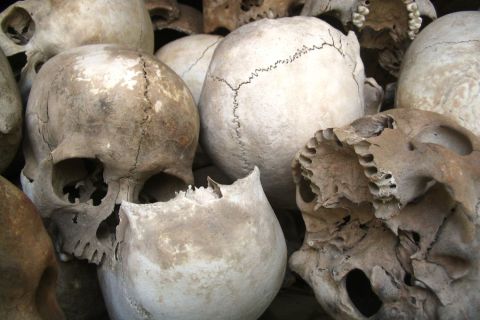 Memorial stupa at Choeung Ek where more than 8000 skulls are stored