Day 7 (Mondulkiri – Phnom Penh)
The bad thing about riding before sunrise is the cold. I had my jacket zipped up to my neck and yet I could not ride faster than 30km/h without trembling. But the reward is you get the road to yourself. So despite the freezing winds, I would say it's my favorite time of the day for riding. Besides, there is the sunrise to look forward to. You know that as the sun rises, you would get warmer. Knowing that things will get better puts me in a good mood. What about the blazing afternoon sun? Well, it gives me a good tan and a good sweat. I like to think that I can slim down in this way.
The plan today was to ride all the way from Sen Monorom back to Phnom Penh. The distance might look great but I was able to make good pace because of the good-conditioned tarmac roads. I left my guesthouse at 6am and reached Suong at 11am . As I didn't want the repeat the roads I have taken, I turned left for highway 11 instead of continuing west to Kampong Cham. Besides, I heard Prey Veng has some nice rubber plantations by the roads which would make for a pleasant ride.
At 1pm, I reached Neak Loeung (or Neak Leuong) where I would cross the Mekong River to continue the journey back to Phnom Penh. As I understand, the government is building a bridge across the mighty Mekong at Neak Loeung. But it's obviously still in construction as everyone was using ferry system. After lunch and a short rest, I crossed the river at 145pm.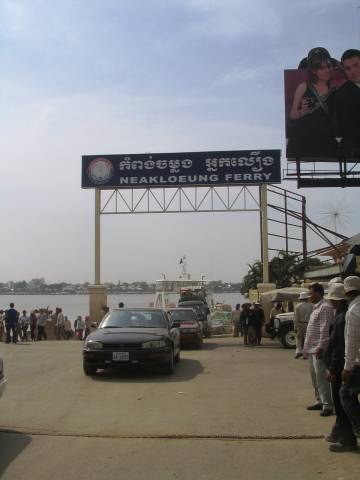 Taking the Neak Loeung ferry across the Mekong River
Traffic was heavy on the road back to Phnom Penh. I finally reached Phnom Penh and by 4pm, I found myself a guesthouse. I headed back to Angkor Motorcycles and paid up US$72.50. The friendly boss gave me a half day discount of US$4.50 for returning the motorbike early. But I was made to pay US$14 for the tools I lost. The rest of the night was spent cleaning up my dusty gears – helmet, GPS receiver, shoes and watch. For my jacket, jeans and other dirty clothings, I sent them to a nearby laundry service. I was surprised by the wonderful  job they have done when I received the cleaned clothings the next day.

View from my guesthouse – Sunset at Phnom Penh