The Northeast Cambodia loop takes us from Phnom Penh to Kampong Cham, followed by Kratie, Stung Treng, Ban Lung (Ratanakiri), Sen Monorom (Mondulkiri) and Prey Veng before bringing us back to Phnom Penh. It is best to plan at least seven days for the trip. In order to ride at a reasonable pace with adequate time for sightseeing, I would suggest planning ten days for the loop. Personally, I spent nine days for the trip, with the last 2 days in Phnom Penh. The total distance I traveled was around 1500km.

Map of Cambodia and route taken
The roads near Phnom Penh are in good condition. However, these tarmac roads gradually deteriorate into dirt and gravels as you traveled further away from Phnom Penh. Of course, the Death Highway between Banlung and Sen Monorom is on another level altogether. But with the road constructions that have been going on around Cambodia, things might improve in the near future.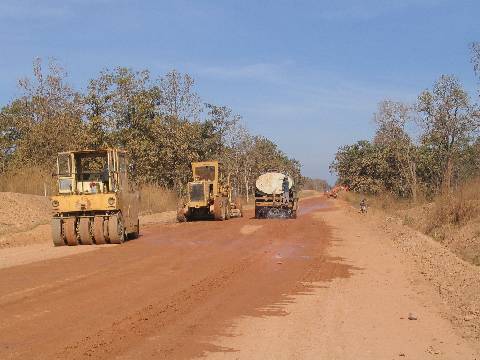 Road building in earnest

I wonder if every vehicle will try to keep to the left lane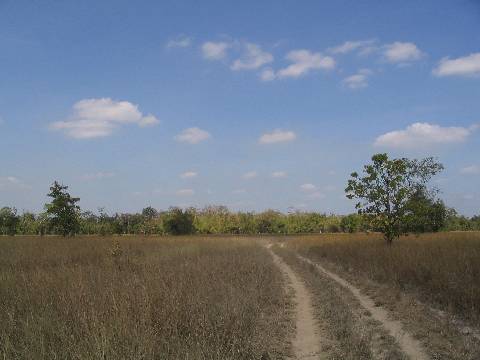 Better part of the Death Highway
In Cambodia, it is easy to know that you have arrived at a major town or city. In almost all the towns and cities I have visited, there is always a monument with a roundabout. It also serves as a good point of reference for us to get our bearings.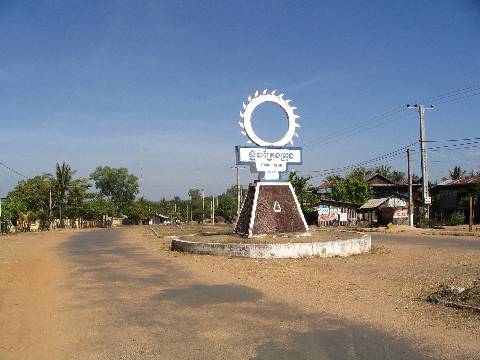 Monument with roundabout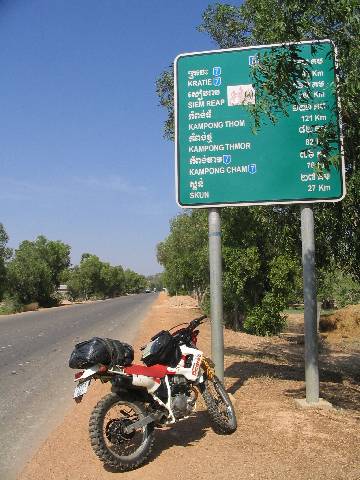 As usual, you will find helpful road signs and kilometer stones along the way.
You should not have problems finding petrol in Cambodia. If you do not see petrol stations in villages, you can still find stalls by the road sides selling bottled petrol. Remember to top up your tank whenever you can, especially if you are not sure of the distance to the next village.
Since I brought along my Garmin GPS receiver during this trip, I tracked my routes and took down my waypoints. If you would like a copy of the files, just post a comment and I will send the download link to your email. The size of the file is around 1.7MB.