Day 8 (Phnom Penh)
I arranged for a motor to bring me to the killing fields of Choeung Ek which is located 15km from central Phnom Penh. Between 1975 and 1978, 17,000 people held and tortured at the S-21 (Tuol Sleng Museum) were transported to the extermination camp at Choeung Ek. Today, all that remains of the grim past are multiple disinterred pits and a memorial stupa filled with skulls.
After the gloomy trip, I returned to my guesthouse and ordered lunch. While waiting for my food, I picked up a book from the shelf. The title of the book was Hun Sen
. The prime minister of Cambodia was to keep me occupied for the rest of the day. It's a recommended read to anybody who's interested to know more about the amazing life of Hun Sen and the history of Cambodia.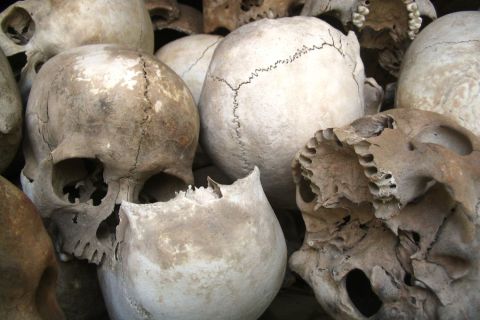 Memorial stupa at Choeung Ek where more than 8000 skulls are stored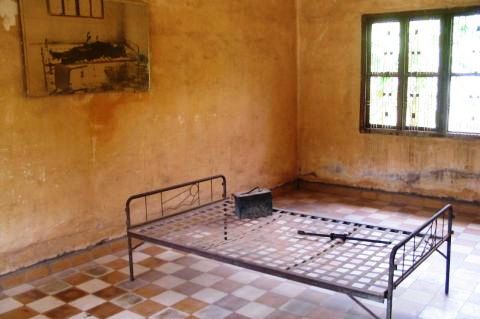 Tuong Sleng Museum which I visited during my earlier Cambodia trip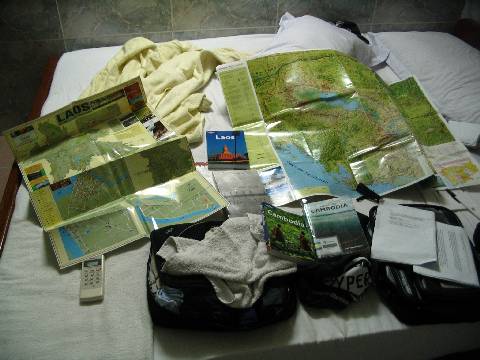 My mess of books and maps
Day 9 (Phnom Penh)
I spent the whole day on a Phnom Penh walking tour. Phnom Penh has a few markets worth visiting. Psar Thmei (Central Market) is a yellow dome shaped building which sells jewelleries, fake branded apparels and watches, photocopied Lonely Planet guides, food and much more. The place is spacious and easy to walk around. Psar Tuol Tom Pong (Russian Market) is another market to visit if you are looking for clothings and souvenirs.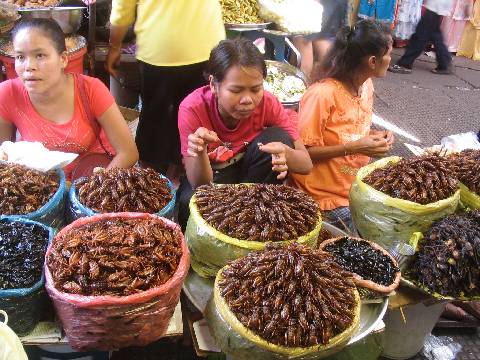 Everyday delicacies at Psar Thmei (Central Market)
I also visited Soriya shopping center. Even though I am not the shopping center type, it's easy to spend hours in the building. Just buy a drink, stand by a corner and watch the world goes by. It's interesting to see Cambodians (probably rural folks visiting the capital) fascinated by automated elevators, things we take for granted in our city lives.
Well, this is the end of my Northeast Cambodia trip, my second visit to Cambodia in 6 months. With its friendly locals, beautiful sceneries and charming villages, it's hard not to like this country. But I guess it's time for me to embark on other journeys. Goodbye, Cambodia.

Sunset by the Mekong river