Day 2 (Khun Yuam – Mae Hong Son – Chiang Mai)
With a long day ahead of us, we set off early at 630am.
I have learnt to appreciate riding in the morning. The world is silent except for the comforting rumbling of your engine.  The roads are empty except for the occasional excited rooster dashing across. You may let your thoughts wander but the cold keeps you alert. The fine tarmac and twisting roads to Mae Hong Son only made the ride more enjoyable.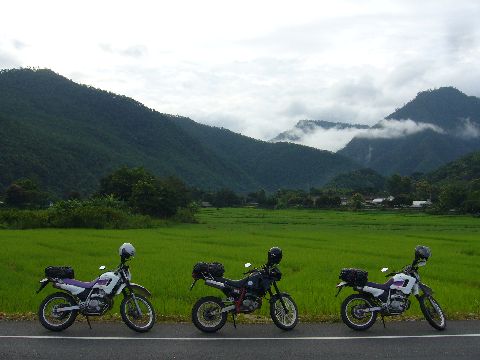 En route to Mae Hong Son
In a regrettably short one and a half hour later, we reached Mae Hong Son town. Ever the welfare IC, Al reminded us about breakfast. Parking our motorcycles by the roadside without worries of traffic summons, we entered a non-descript restaurant which seemed well-patronised. We ordered what most of the other patrons were having and ended up with 3 bowls of steaming beef noodles, one plate of rice with minced meat and egg and a packet of crunchy pork lard (or pork rinds?). The food was great except for the pork lard which J and I declined. Of course, it suited Al just fine. 🙂
At 9am, we rode our motorbikes all the way up to Doi Kong Mu, a 1500m hill situated at the western side of Mae Hong Son town. At the top of the hill, there is the Wat Doi Kong Mu (aka Wat Phai Doi), a shan-built temple. We took a stroll, admired the bird-eye's view of Mae Hong Son, and visited the souvenir stalls, careful not to disturb the praying monks.
Wat Doi Kong Mu at Mae Hong Son. Notice how the white clouds cover the whole sky?
View of Mae Hong Son
We pushed on ahead to Tham Lot caves which is located 8km north of Soppong town. Supposedly one of the largest limestone caves in Southeast Asia, Tham lot requires riding on a raft to visit the different caverns. In total, we paid 210Baht for our entrance inclusive of lantern, guide and raftmen.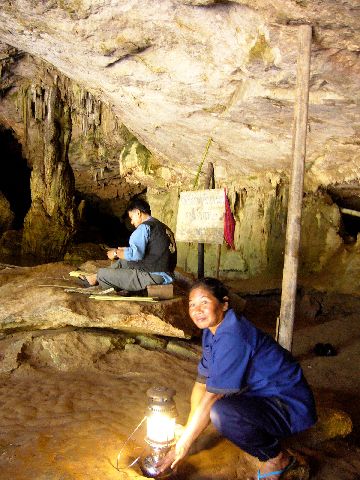 Tham Lot cave, off the small market town of Soppong
At 1230pm, we set off from Tham Lot. At about halfway to Pai, Al skidded at a sharp turn. Fortunately, he escaped with some superficial injuries. However, the same cannot be said of the motorbike. The bike is leaking petrol and the throttle broke off. We decided to leave the broken down bike here and reach Pai first to find transport. A passing Thai driving a Toyota sedan saw our situation and offered Al a ride to Pai. We gladly accepted his help.
Once we reached Pai, we thanked the helpful Thai and went in search of transport. We tried our luck at Aya Motorcycle which is listed on the Lonely Planet. The staffs spoke English and we managed to arrange a pickup. As the pickup was large enough to accomodate 2 motorcycles, it's decided that J will go with Al on the pickup. I was to continue back to Chiang Mai.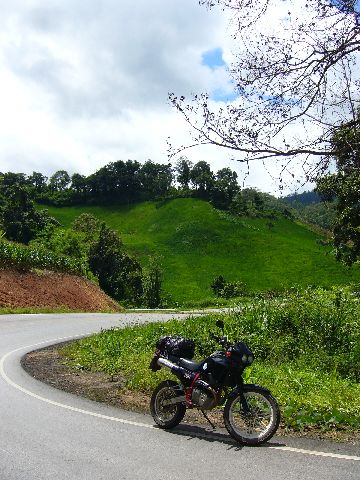 A 130km ride from Pai back to Chiang Mai
Back at Chiang Mai, I returned my bike to Mr Mechanic and notified them that the other bikes would be coming in later. Then, I went in search of a room for the night. It wasn't too hard. There were plenty of guesthouses and I picked a budget room with 3 beds. It cost 330Baht.
I took a stroll around the area and bought some maps for potential future trips.
Soon, Al and J returned. We paid Mr Mechanic a reasonable amount for the repairs. The friendly staffs pillioned us back to our guesthouses. We washed up, bought some medications at a pharmacy and picked a restaurant. At the restaurant, we ordered too much food and toasted to the completion of our ride.
Day 3 (Chiang Mai)
We had a very early flight, inconvenient timings usually associated with budget airlines. But that's to be expected for the low prices. After buying some breakfast from street vendors, we quickly hailed a tuk-tuk to the airport. Except for a running event taking place along the streets, traffic was smooth. At the airports, we bought many packets of local flavoured Lays Potato Chips much to the amusement of airport staffs, and later, fellow flight passengers.
Well, that's all folks!