Journey Day 3 (Mt Batur)
There are two main mountains or volcanoes in Bali for climbing – Gunung Batur and Gunung Agung.  Gunung means mountain in Malay.
Gunung Agung, at 3142m, is Bali's tallest mountain and holds special spiritual significance to the people of the Island.  Agung is a challenging climb that involves a 6-7 hike from Besakih to the summit.  To be in time for sunrise, the hike usually starts at around 11pm.  Getting down requires the same amount of time.  A shorter climb from Pura Pasar Gunung takes 3-4 hours but the route ends around 100m below the summit.  In march, it is still a bit wet and not exactly the best time to climb Agung.
Mt Batur is a much easier climb at 1717m that requires about 2 hours hike one way.  It's a very popular trip among tourists because of its rewarding views and relative accessibility.  Our 225,000 IDR package included pick-up from our accomodations at 300am which arrived on time.
We reached Kintamani at around 410am and met our guide who issued us a bottle of water each.  He would be carrying our breakfast for us.  I carried an extra 2 litre of water in case the climb requires it and also for the exercise.  There was a light drizzle and some of the tourists put on their ponchos which were available for sale.  Torchlights would be essential for the night climb.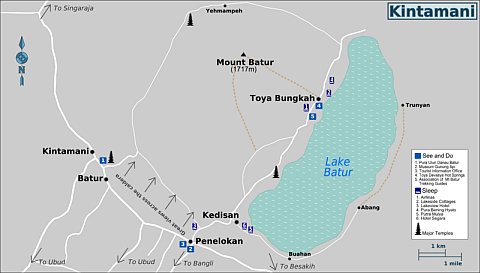 As it was dark, I did not managed to get much photos.  It's relatively an easy climb on rather barren land.  But we still need to be careful of the loose rocks on the ground and the strong wind.
At 545am, we reached the viewpoint for sunrise.  There is a small hut which sells hot drinks where we can sit around protected from the cold winds.