Journey Day 2 (Ubud Walking Trail)
We were woken up by the sounds of nature.  Our room boasted a splendid view over the surrounding houses.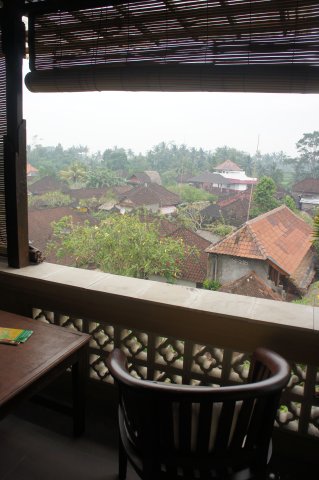 View from our bathroom
More shots around Rumah Roda Homestay.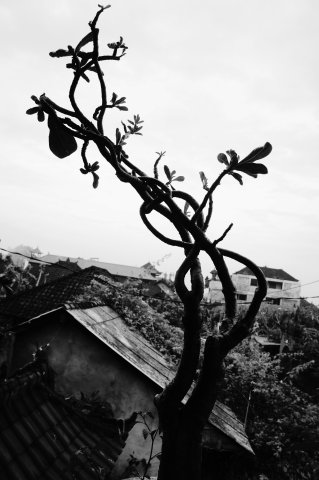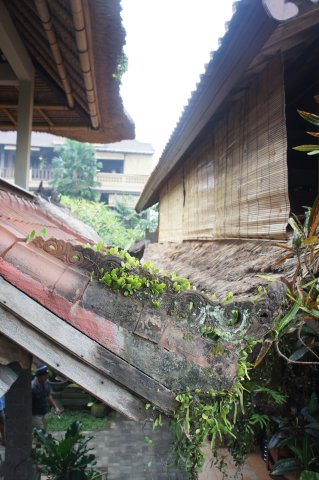 Rumah Roda Homestay has a restaurant on its premise.  In fact, the restaurant is listed in Lonely Planet Guidebook but not its homestay.  Anyhow, our rooms came with free breakfast.
Banana pancake and rather powdery coffee.
After breakfast, we went for a Penestanan and Sayan walking tour listed on Lonely Planet.
We started off at Ubud Palace and headed west along Jalan Raya Ubud.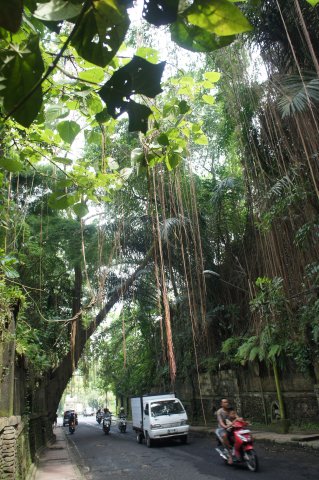 After Campuan Bridge, we walked pass Blanco Renaissance Museum before heading up a steep road.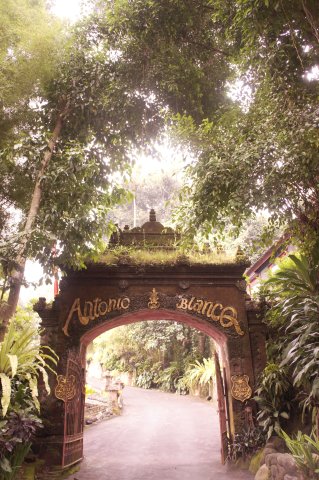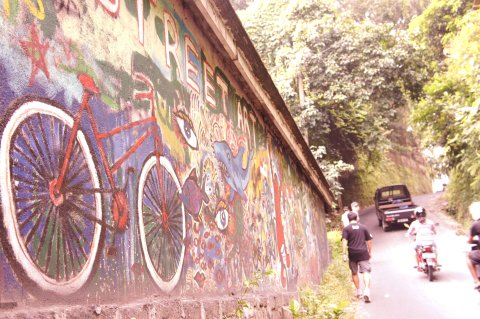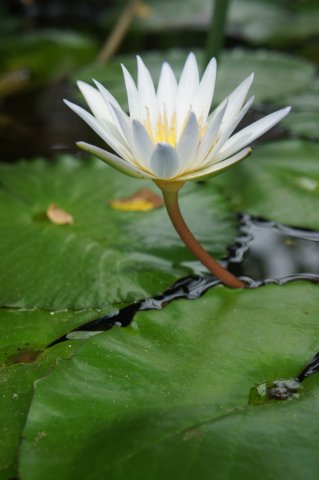 Eat, drink and exercise them away at the same time.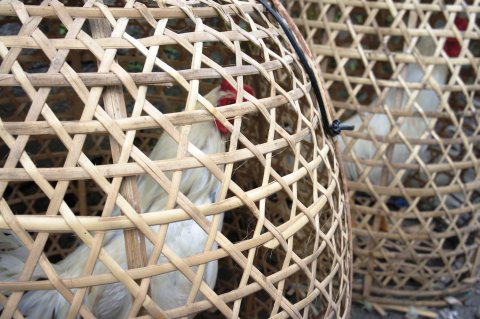 We got a little lost around Sayan but a helpful local led us across padi fields to Sungai Ayung river.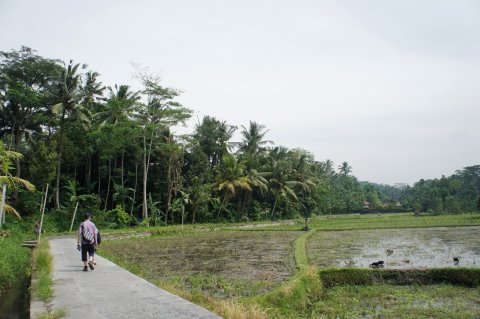 Near Sayan Terrance is a path down to the Ayung river.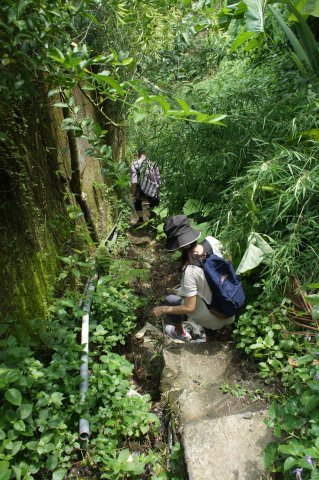 The Sungai Ayung is the popular river where tourists go for white-water rafting.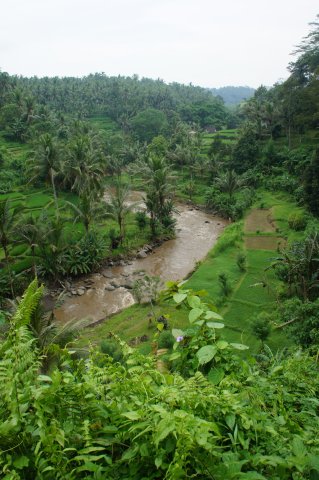 We planned to walk along the river to Kedewatan but was misdirected by a guide to a steep and dangerous path after we refused his service.  When we headed back, he was there waiting for us.  We wanted to ignore him and go down the other path but noticed that he had made signals to his friends down at the river.  We gave up and headed back to the main roads and continued north.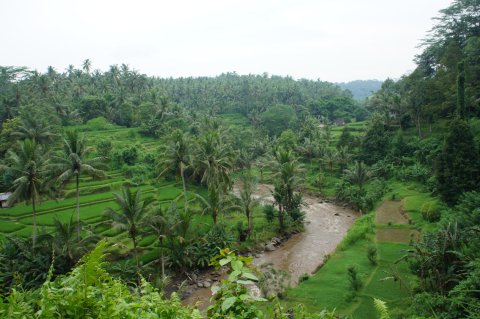 Had a chendol.  It's slightly sour compared to the Singaporean version but still a soothing drink all the same for the hot weather.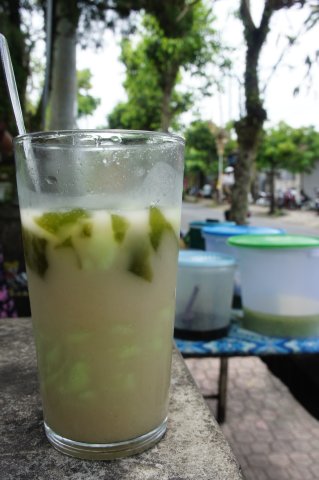 Roundabout where we turned east.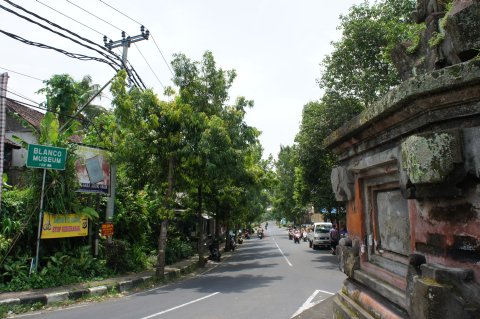 Not your usual Absolut Vodka.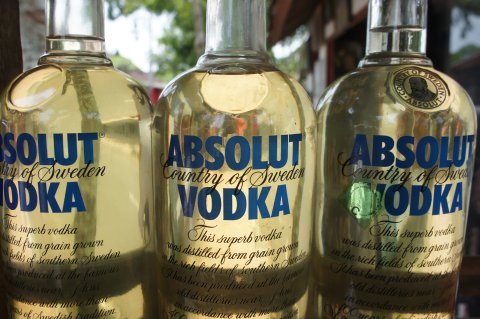 Along Jalan Raya Lungsiakan, a mini bus asked if we would like a lift at 10,000 IDR each.  We haggled and I proposed 15,000 IDR for a ride for all of us back to Ubud palace.  But R refused and said 10,000 IDR was the limit for all four of us and we walked away.  The driver shouted for us to come back.  I shall now also call R The Negotiator.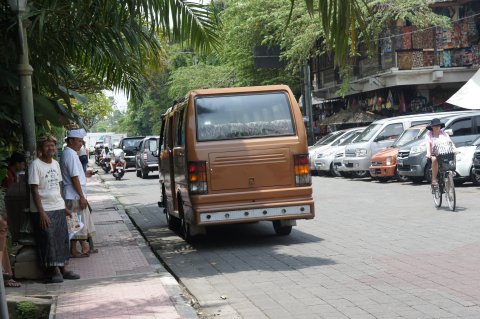 Next, we visited the famed Ibu Oka for Babi Guling or suckling pig.
The special set came with some choice cuts. The meat was very tender and went well with a mug of Bintang beer.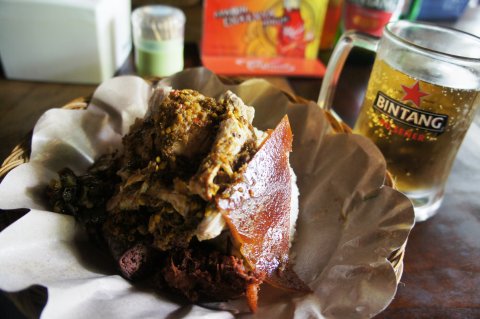 I was the only person who has not been to Bali and I took a stroll on the grounds of Ubud Palace.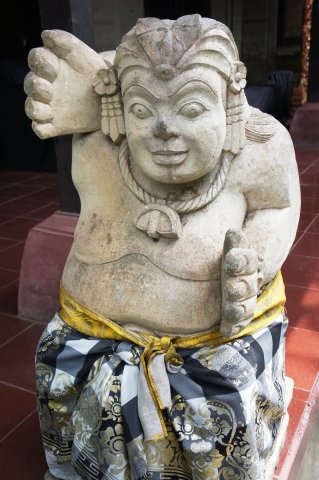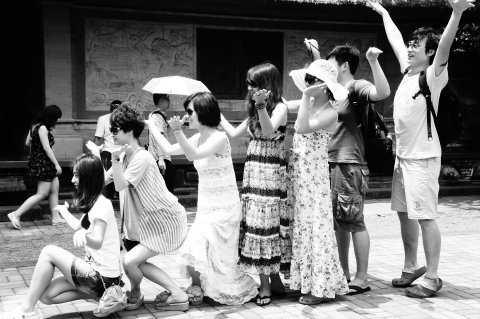 We headed to the market.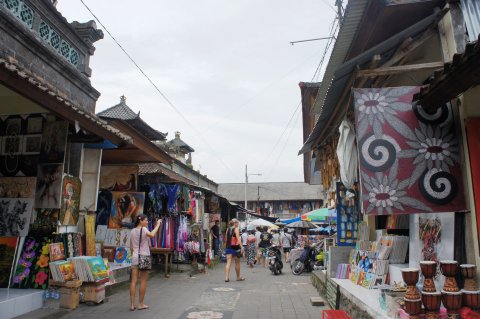 Time for some dessert.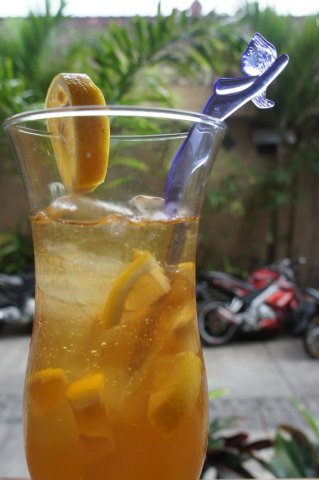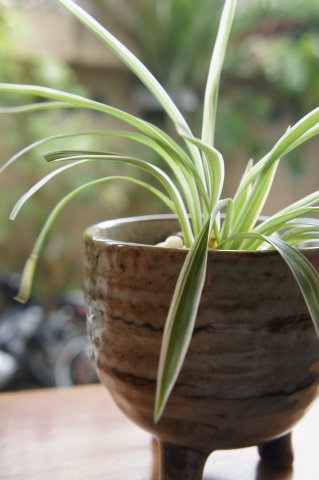 Cool-looking bike.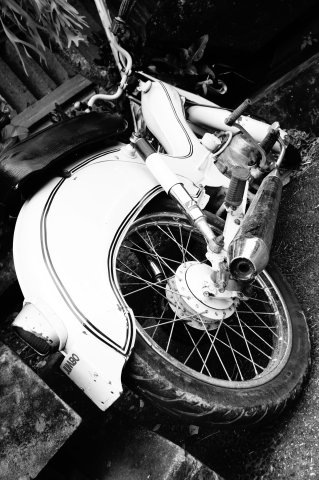 The Pura Taaman Saraswati (Ubud Water Palace).  There are weekly dance performances here at night.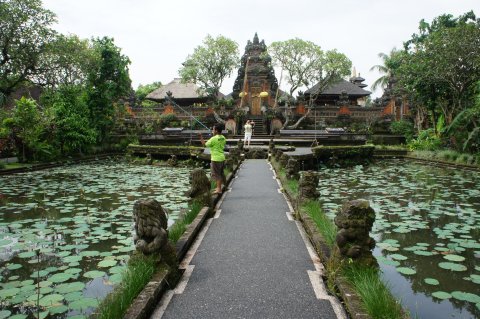 Nearby is Starbucks which YC is a fan of.  He shall now also be known as Starbucks.
We stopped by at Padma tourist services near Rumah Roda to find out about the different tours available and booked a Mt Batur tour for the next morning.  Of course, The Negotiator took charge.
Then we headed back to Rumah Roda for a rest.  It's a pleasure to sit by the balcony, read a good book and watch the sun goes down.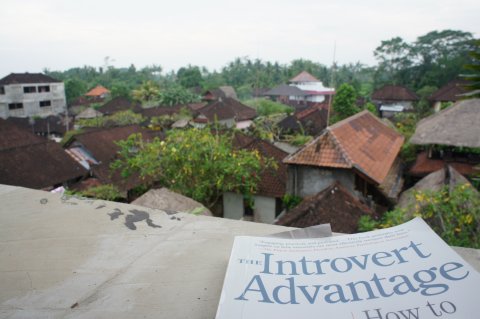 In the evening, we went for massage.  The Negotiator got us a 100 minutes scrub and massage session at just 80,000 IDR each.  It got to be the cheapest massage I ever had!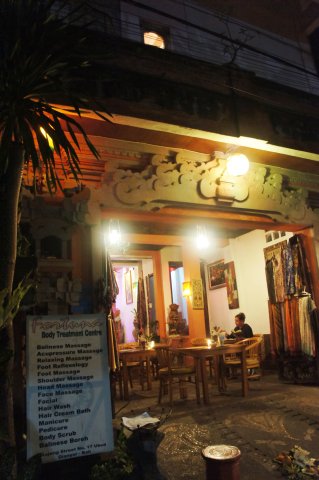 Oh, the stuff they used for my scrub.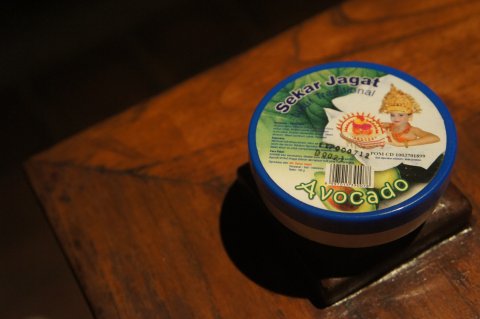 A night performance at Pura Taman Saraswati.
Only apes can cross.
There were ceremonies at the local temples almost everyday we were in Ubud.  Not too sure if it's because of the upcoming festival.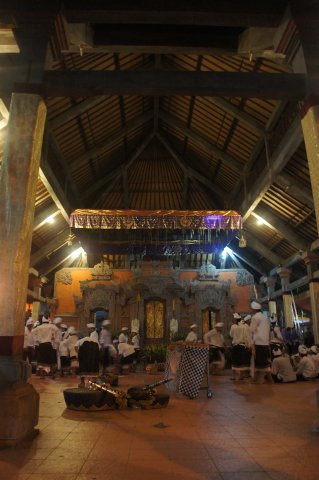 Dinner at Bebek Bengil aka Dirty Duck.
Not that cheap by Indonesian standards but the food was good and the atmosphere was great.
Eating at pavilions set by lush green padi fields.  Not that you can see much in the dark. 😛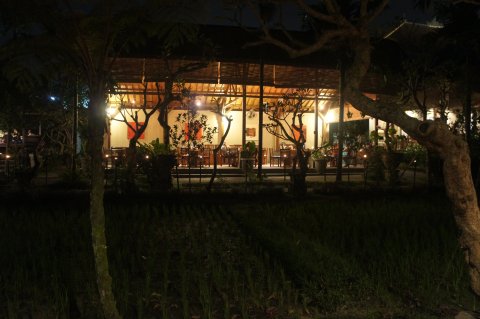 So crispy that you can eat the bones.  Came to realised that T has married a bone-eater.
Even the toilet was nice.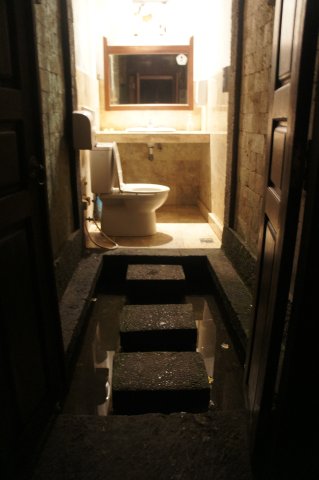 It rained heavily on the long walk back to Rumah Roda.  A taxi offered to take us back for 20,000 IDR but we were too cheap to take it up.  Yet, we paid half a million IDR for our dinner.  Illogical urban folks we were.
Passed by more Ogoh-ogoh statues.
Back at Rumah Roda, we took a group photo of our wretched selves in drenched clothes.  Haha, it was fun.