Journey Day 3 (Mt Batur)
There are two main mountains or volcanoes in Bali for climbing – Gunung Batur and Gunung Agung.  Gunung means mountain in Malay.
Gunung Agung, at 3142m, is Bali's tallest mountain and holds special spiritual significance to the people of the Island.  Agung is a challenging climb that involves a 6-7 hike from Besakih to the summit.  To be in time for sunrise, the hike usually starts at around 11pm.  Getting down requires the same amount of time.  A shorter climb from Pura Pasar Gunung takes 3-4 hours but the route ends around 100m below the summit.  In march, it is still a bit wet and not exactly the best time to climb Agung.
Mt Batur is a much easier climb at 1717m that requires about 2 hours hike one way.  It's a very popular trip among tourists because of its rewarding views and relative accessibility.  Our 225,000 IDR package included pick-up from our accomodations at 300am which arrived on time.
We reached Kintamani at around 410am and met our guide who issued us a bottle of water each.  He would be carrying our breakfast for us.  I carried an extra 2 litre of water in case the climb requires it and also for the exercise.  There was a light drizzle and some of the tourists put on their ponchos which were available for sale.  Torchlights would be essential for the night climb.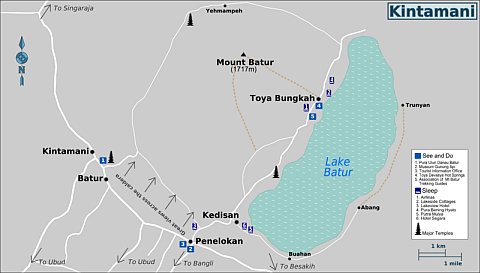 As it was dark, I did not managed to get much photos.  It's relatively an easy climb on rather barren land.  But we still need to be careful of the loose rocks on the ground and the strong wind.
At 545am, we reached the viewpoint for sunrise.  There is a small hut which sells hot drinks where we can sit around protected from the cold winds.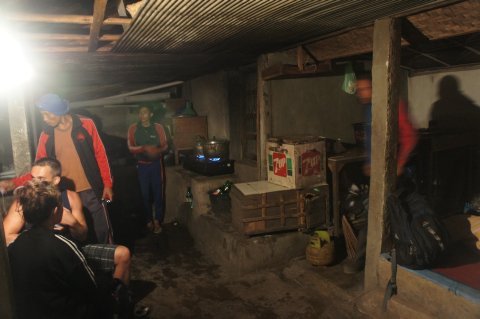 R curled up in sleep while we waited for sunrise.  Our breakfast were bread and hard-boiled eggs.  The world is in love with hard-boiled eggs.
No glorious sunrise because of the clouds but the views were magnificent all the same.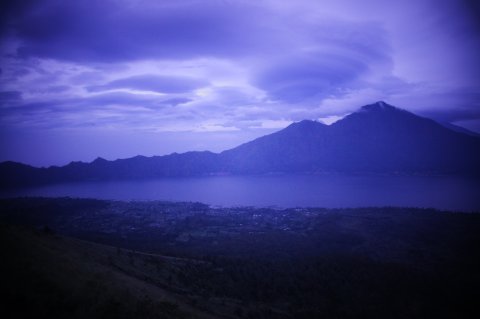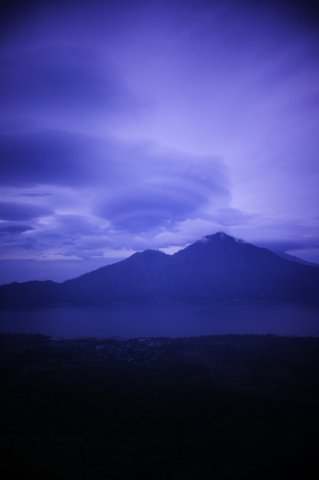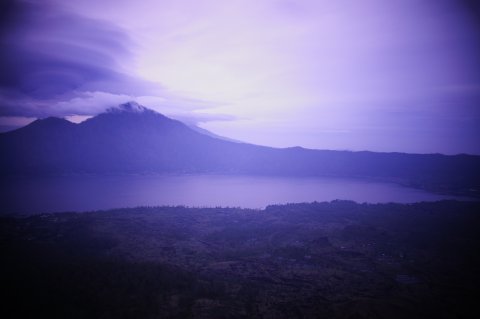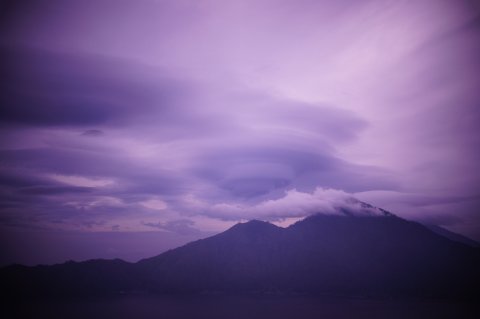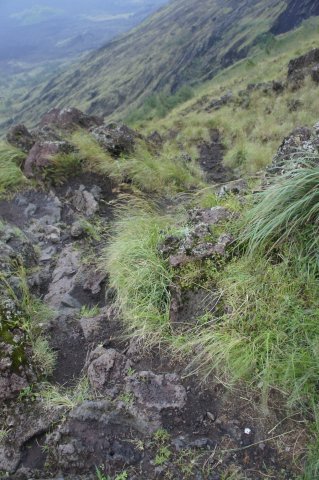 A cave which our guide brought us to.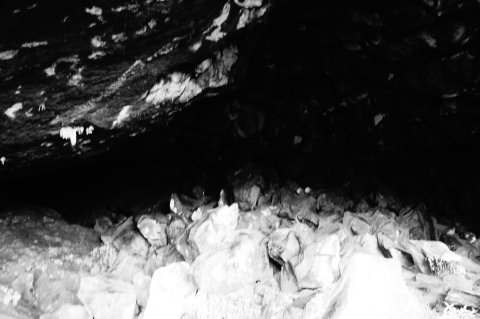 The volcano is still constantly spewing steam.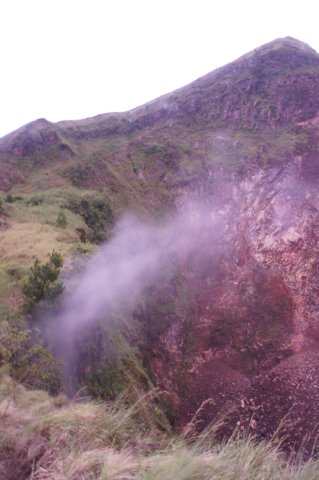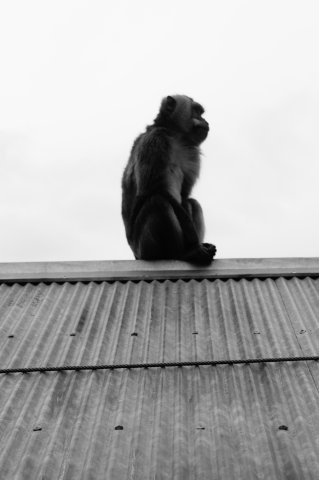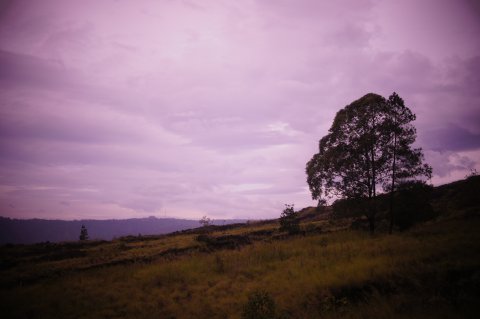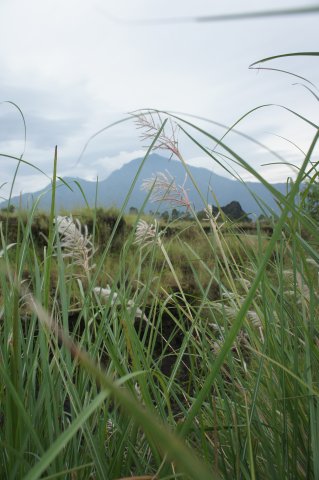 Heading downhill
There are villages and fruits/vegetables plantations.
When I was his age, I was just learning how to ride a bicycle.  Even at my ripe old age now, riding a motorcycle has been met with much opposition. 😛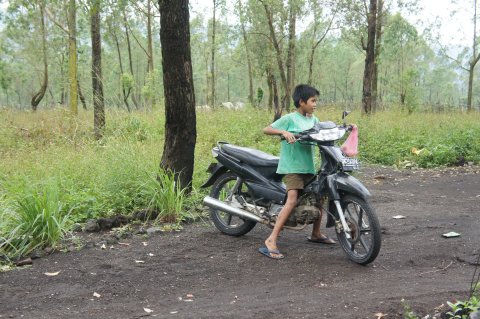 Yes, my mouth is sealed.
Back at Ubud, we visited nearby River View Restaurant for lunch.
YC playing with my Sony Nex 3 camera while waiting for our lunch.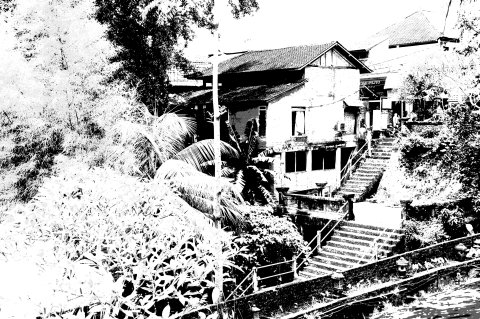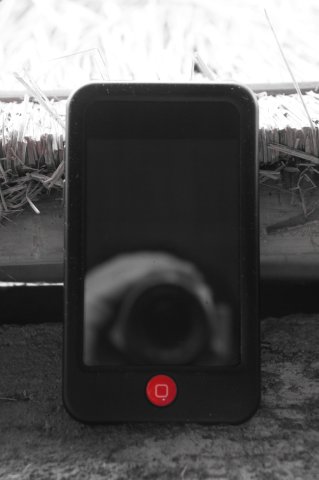 Our lunch of Nasi Goreng, Nasi Campur, Rendang and some vegetables.
Despite waking up at 2 plus am, we were still not very tired and we had a drink at Rumah Roda.  T (R's hubby) and I tried Arak while R had fruit juice.  Starbucks well, went to Starbucks for coffee and to buy some sourvenirs.
Arak or Arrack is usually made from either the fermented sap of coconut flowers, sugarcane, grain or fruit.  Our version includes limes and honey which gives the drink a nice sweet and sour taste.
Feeling a little light-headed, we finally headed back to our rooms for a rest.  I realised that a T-shirt which I had hung out for drying had fallen to a neighbour's place.  I informed Ilu and Darma managed to retrieve it back for me.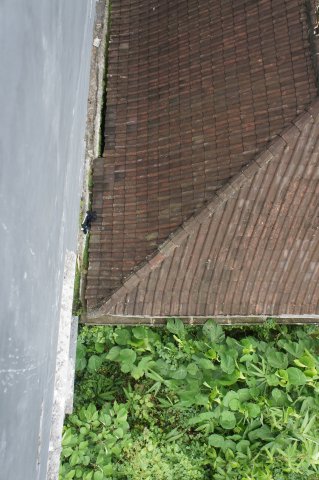 People of Rumah Roda.  The family and the staff.  Ilu kept teasing Starbucks for not buying her any Starbucks.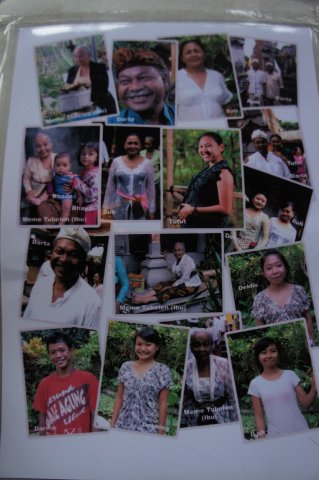 Sunday night buffet at Rumah Rodah.  The food was decent and you get a sample of various Indonesian dishes.  Don't expect Babi Gulings or Smoked Ducks in the menu though.  Still, at 35,000 IDR each, it's value enough.
After dinner, we ventured off to town again.  The locals were out in their traditional garbs for ceremonies and celebrations.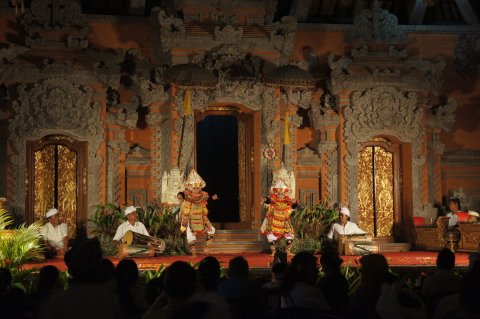 We had some drinks and gelato at Oops restaurant.  I was probably very lucky to travel with R, T and YC.  They take charge when needed, hold interesting conversations, are easy-going and fun.  Glad I didn't travel alone this time.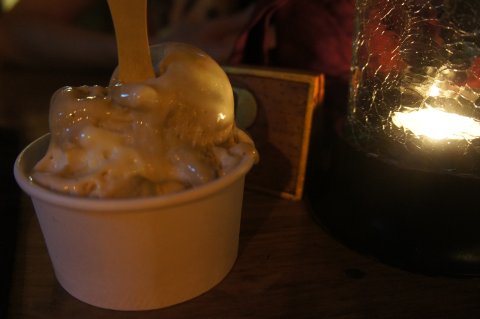 Count the number of lizards you can find, first correct answer get a prize from me!