Day 5 Part 1 (Xam Neua to Phonsavan)
Often known as the birthplace of Lao PDR, Vieng Xai is home to the former Pathet Lao headquarters. In Vieng Xai, the Lao communist movement built an extensive network of caves to shelter themselves from the constant bombings during the Second Indochina War (aka Vietnam War). For the best part of the late 1960s and early 1970s, the hidden city of caves were homes to the people. Visiting the caves, with some artifacts still on display, offered a great insight of their lives during the period of uncertainty.
I left Xam Neua at 730am for Vieng Xai, a short 30km away. Route 6 was under repair and the ride was slow. Along the way, I tried to locate the Tat Nam Neua waterfall. But I was unable to find it with Lonely Planet's directions. I could hear the water gushing but just couldn't find the trail to a view of the waterfall. I moved on and reached the Kaysone Memorial Cave Tour Office in Vieng Xai at 855am, just in time for the 9am tour to the Pathet Lao caves.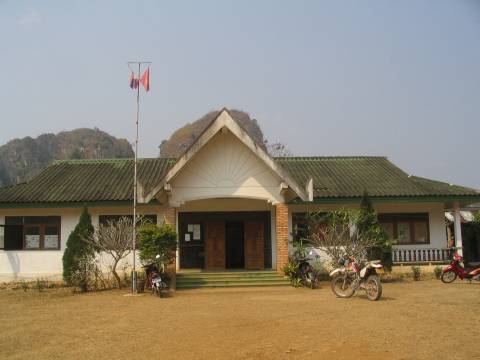 Kaysone Memorial Cave Tour Office in Vieng Xai