Journey Day 4 (Motorcycling to Eastern Bali – Amed)
It rained torrendously over the night.  I had to wake up, roll down the shades and moved our stuffs away from the balcony.
When I woke up again at 630am, it's still raining and there was a small pool of water in the room.  Just a perfect day to laze around.  But we had plans.
Not wanting to eat banana pancake for breakfast again, we preordered black rice pudding the night below.  To Singaporeans and Malaysians in the know, it's basically Pulut Hitam.  I cannot remember having it in the past ten years because of an overdose during my two years in green.  So I had almost forgotten its good taste.
Read up a bit on rice pudding and realised that it's a common dish around the world.  Maybe it would be a good idea to open a dessert stall that sells different varieties of rice pudding. 😀
Daydream, delusion, limousine, eyelash
Oh baby with your pretty face
Drop a tear in my wineglass
Look at those big eyes
See what you mean to me
Sweet-cakes and rice puddings
I'm a delusion angel
I'm a fantasy parade
I want you to know what I think
Don't want you to guess anymore
You have no idea where I came from
We have no idea where we're going
Lodged in life
Like branches in a river
Flowing downstream
Caught in the current
I carry you
You'll carry me
That's how it could be
Don't you know me?
Don't you know me by now?
– Misquoted from Before Sunrise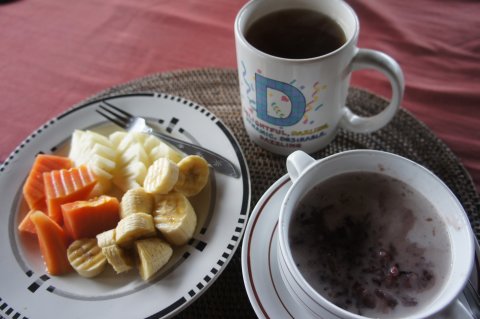 It's one of the rare times that I travel in a group where all the travelers can ride a motorcycle.  In fact, R and T had rode in Bali before.  They had also rode in Vietnam.  YC rode a motorcycle in Singapore.  But since we were four, we booked 2 motorcycles.  There were not a lot of choices and we got Honda automatics.
(I suddenly recalled that I have a way overdued Bukittinggi Trip Report.)
Before the ride, we visited the local market.  We heard that to see the local produce, it's better to visit in the mornings.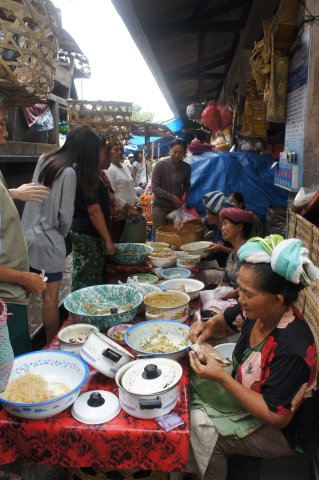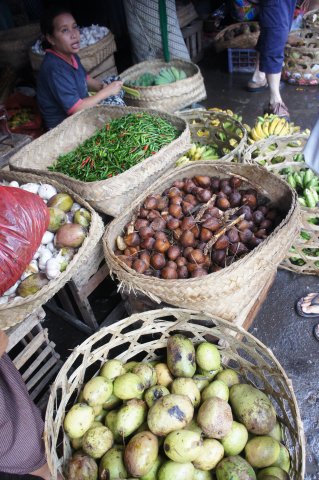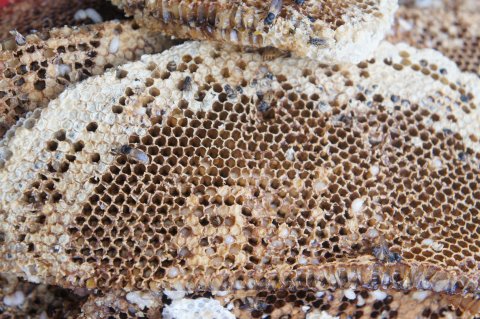 R read about a famous food stall in the market and we paid it a visit.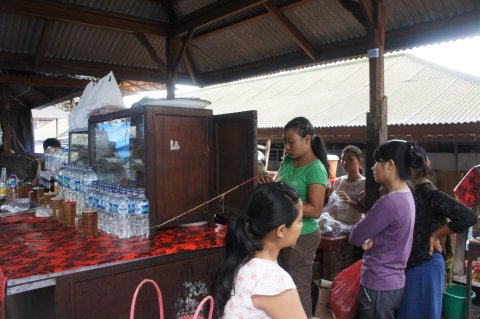 We were unsure of what to order and a local who spoke English helped us.
The chicken meat was really tender and the innards were crunchy.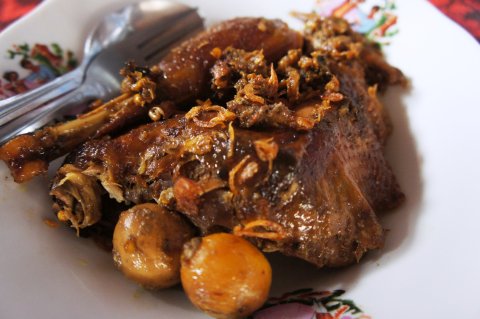 We headed back to Rumah Roda for our bikes which we paid 40,000 IDR for a day's rental of a bike.  Helmets were provided free-of-charge.
The GPS map I had was really helpful and I depended on it for navigation.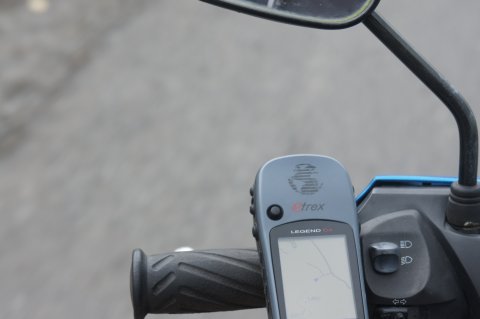 There were helpful signs along the way.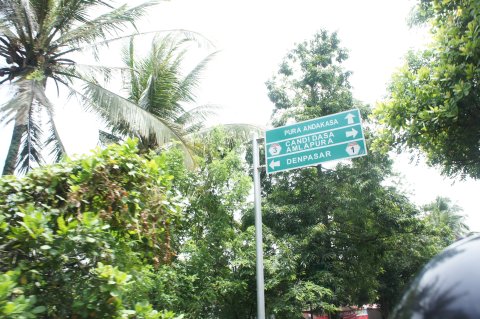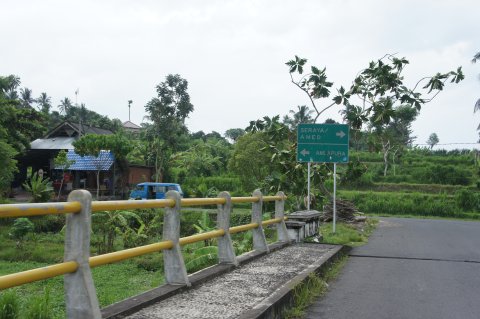 And kilometer stones.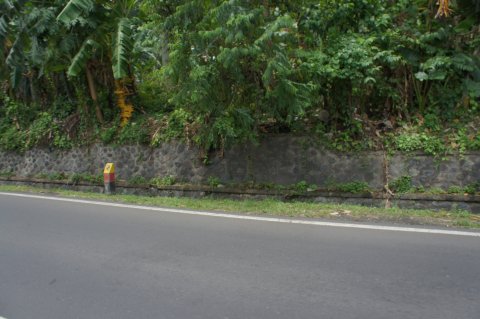 Petrol here was really cheap.  When we were in the region around Amed, we did not find any petrol stations.  But there were stalls selling bottled petrol.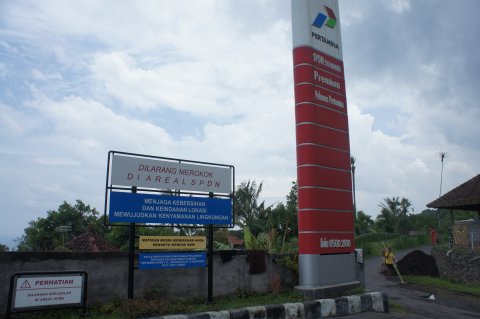 Our first rest point was Padangbai, a popular beach town where tourists dive and snorkel.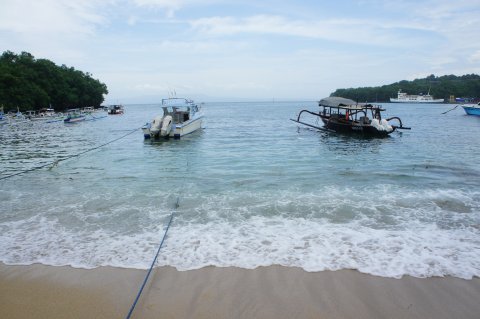 We stopped at Topi Inn for drinks.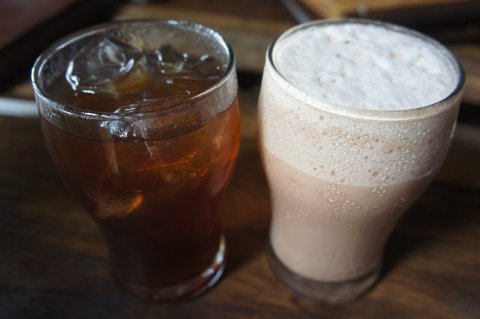 Soon we were on our way.  Getting off the main roads was more fun as there were less traffic and village scenes to see.  We followed Lonely Planet's advice to take the longer, twistier and more adventurous road much less travelled that runs from Ujung right around the coast to the Amed area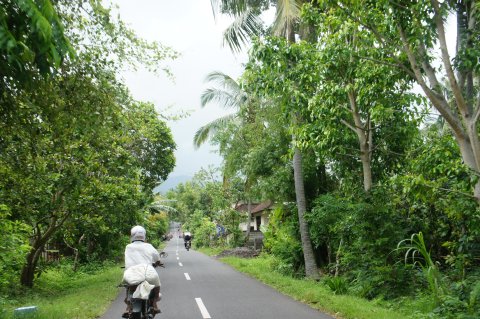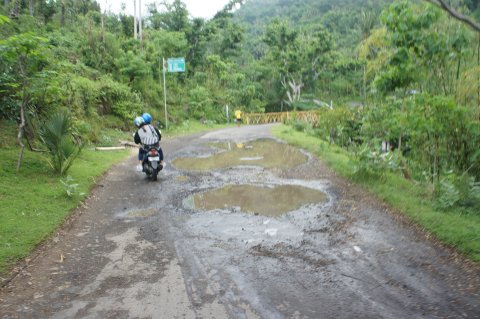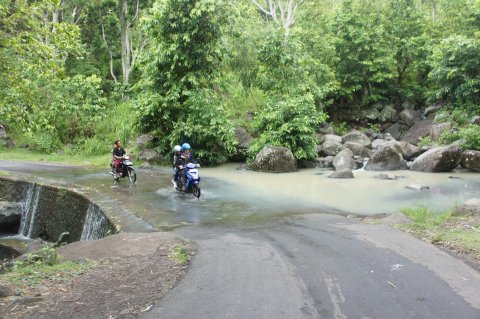 The kids loved us.  How do they know we aren't locals?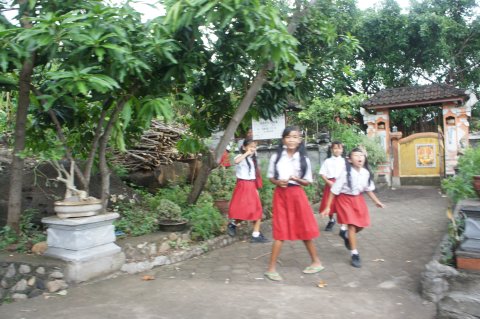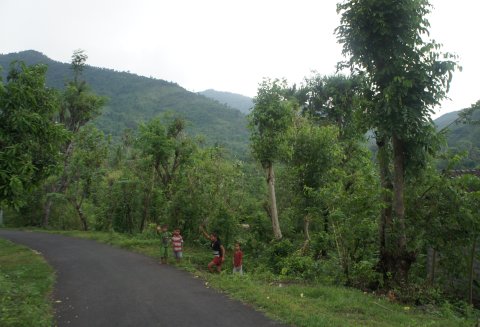 A glimpse of the black-sand beaches.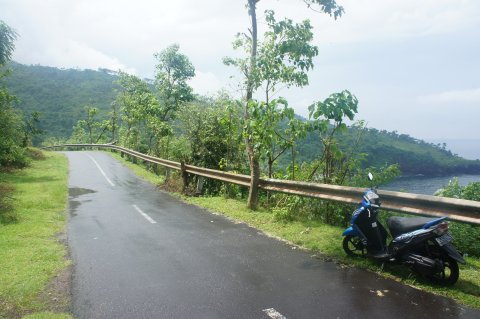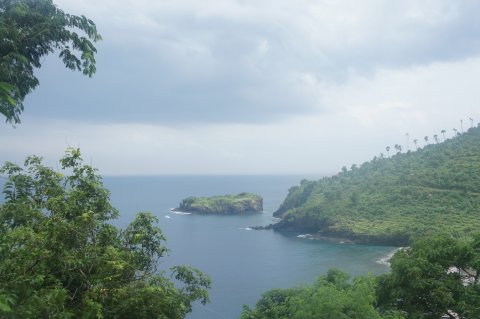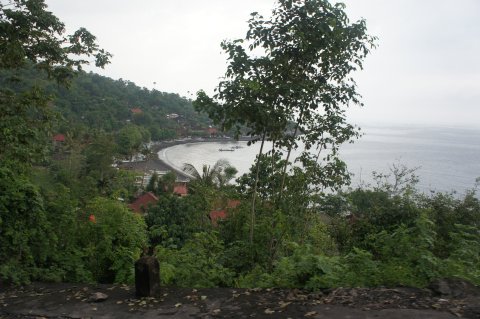 Lunch at Wayan's Warung in Lipa, a small village near Ahmed.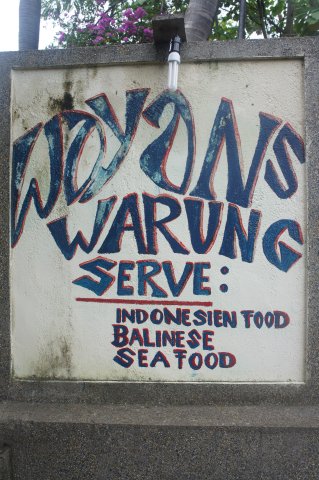 While we waited for food, R haggled over some fruits with the villagers.  She returned standing tall and proud.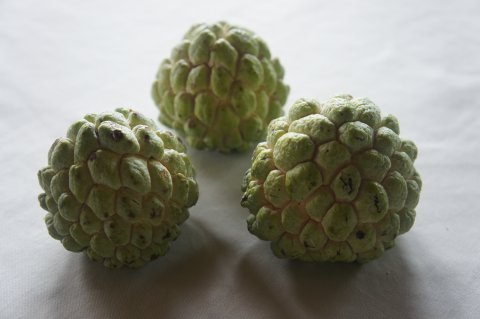 Our lunch.  I really need to learn how to remove automatic focus for such photos.  I had the cuttlefish which I thought was really well-done.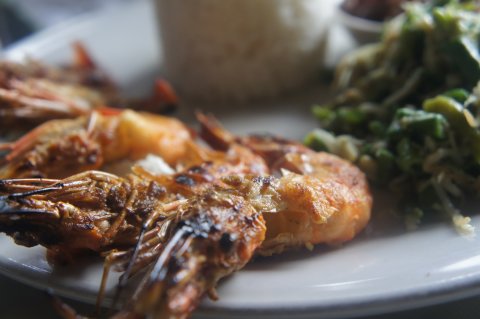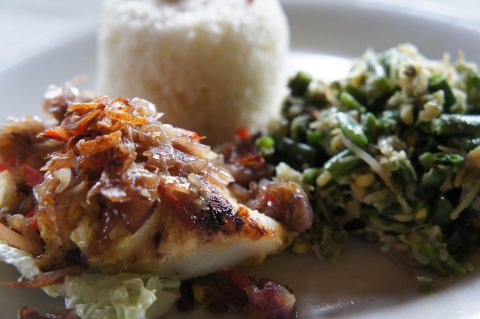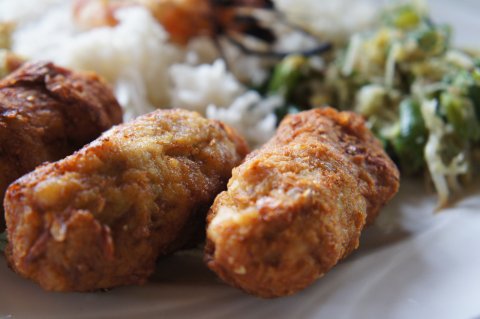 After lunch, we continued our way back to Ubud via the inland route.  R and T had a fall but it's not serious.  They remained in high spirits throughout.  Nice to be traveling with positive people.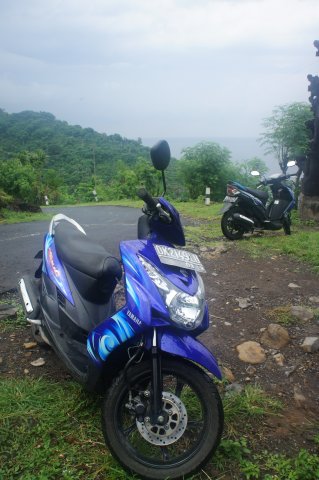 Back in the comfort of our guesthouse, we had a scrumptious dinner.  We had ordered smoked duck aka bebek betutu the day before as it needs one day of preparation.  There were also some side dishes.  We cheered to a fun day!