Journey Day 5 (Ayur Whitewater Rafting)
I was the only frog in the well who had not tried whitewater rafting before.  Since everybody enthusiastically recommended the activity, Starbucks and I joined a half day Ayur Whitewater Rafting tour at 200,000 IDR each on our last day at Bali.  R and T intended to have some romantic time alone.
For breakfast this time round, we requested for Nasi Goreng and Mee Goreng.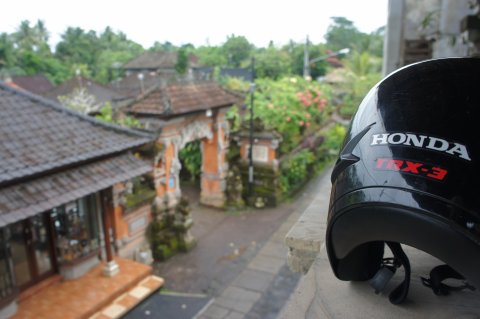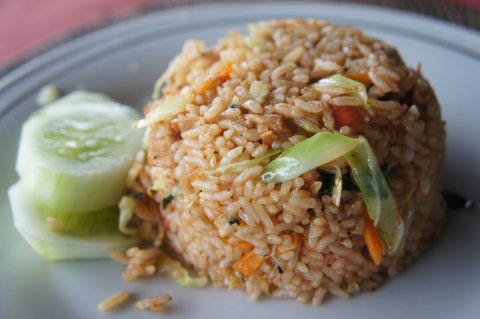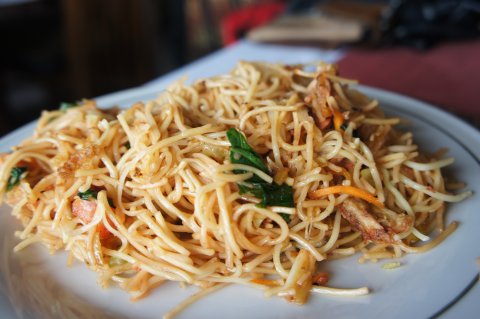 I like the chillies in Bali, fiery and sweet.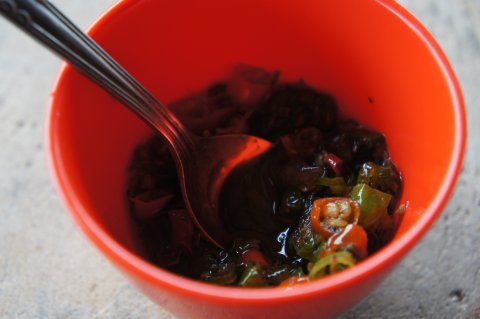 The tour bus picked us up in the morning and took us to the starting point of the water rafting area.  Different companies start off at different locations along Ayur river.
Try not to bring too many things or you might be asked to deposit your bags at the staging area as there will only be a small waterproof bag in the raft to store our items.
For people who wear spectacles, the staff provides some rubber bands to secure your glasses so they don't fall off.  For attire, most people were in simple tshirts and shorts.  A few were in swimming attires.
The whitewater rafting photos below were taken by Starbucks who brought along a waterproof camera.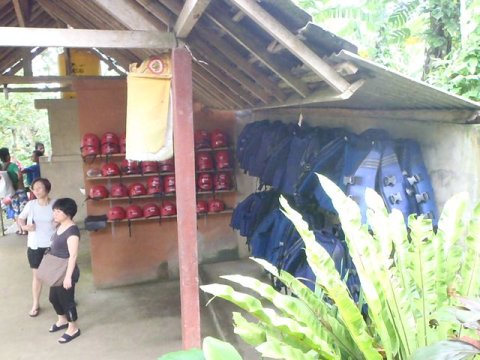 5 of us were assigned to a guide.
Waiting for the rafts to be prepared.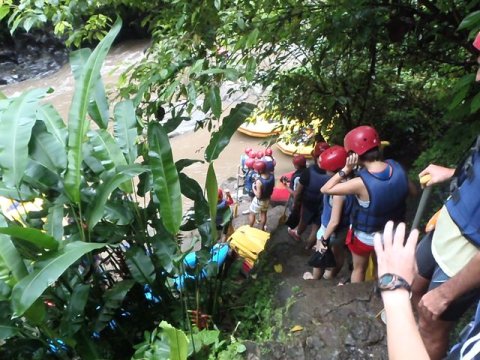 Off we go!  One of the fun parts of whitewater rafting is to engage into water battle with other boats.  We were all wet with glee.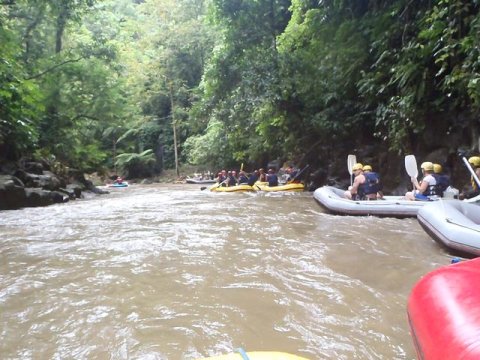 Falling in the river is optional.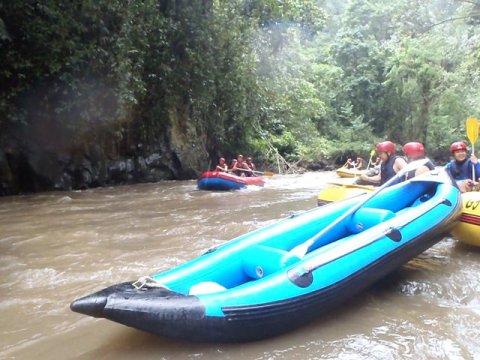 We stopped regularly along the river especially before tight spots so that there would be ample space between different boats.
The Ramayana scenes was crafted into the walls of the banks.
A waterfall!
We all took turns going under the waterfall.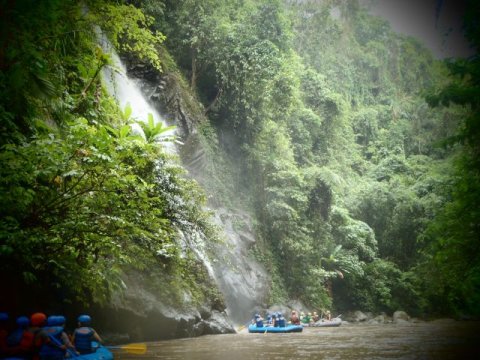 We spent almost 2 hours on Ayur river before proceeding to an area for bathing and lunch.  Lunch was a simple affair with 4-5 dishes.
When we got back to Rumah Roda, I saw a few missed calls on my mobile phone from a strange country code.  After seeing a flight reschedule email from KLM, I guessed the calls must be from KLM.  According to the email, there was an over-booking and we were rescheduled to a SIA flight the next morning with a rather miserable 75 dollars compensation voucher.
We didn't see how KLM can expect we read their email during vacation especially on the same day as the flight departure.  And it's apparent they would have sent the same email to as many people as possible in the hope that some of us would have accepted the reschedule.  We decided to feign ignorance and just turn up at the airport anyway.  Actually, delaying the flight to the next morning is not a big deal for us but 75 dollars cannot compensate an extra night's hotel accomodation, dinner, transport and and additional half day's leave.  Well, my travel insurance would probably get me another 100 or 200 dollars but that's still not attractive enough for me to spend another night in Bali.
Back at Rumah Roda, R and T were not around and we had left our room key with them.  So I asked Ilu if she had a spare key to our room.  She playfully refused as we still didn't get her any Starbucks treat.  Just at that moment, Starbucks appeared with a hot chocolate.  Ilu was all smiles and we could go back to our room.
With some time to spare before our arranged transport to Jimbaran for dinner, I visited Threads of Life located just beside Rumah Roda and bought A Little Bit One O'Clock by William Ingram.  In the book, William Ingram shared his stories staying with the Rumah Roda family.  It's quite an interesting read about the Roda family.
Our driver, Ketut, took us to Jimbaran for seafood dinner before our night flight home.   One would probably be curious why there are so many Wayans, Mades, Nyomans and Ketuts in Bali.  Actually, they meant first born, second born, third born and forth born respectively.  The naming cycle goes back to Wayan for the fifth born and so on.  Females usually have different names.  Read more about Balinese names at Wikipedia.
Jimbaran beach.
Ceremonies at the beach. Along the way to Jimbaran, we also saw religious possessions.
Tourists from nearby resorts.
Kids enjoying sweet corns on the beach on a rainy day.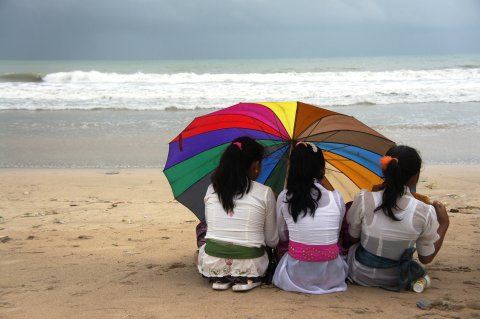 Our dinner place!
The food was great.  I especially like the clams.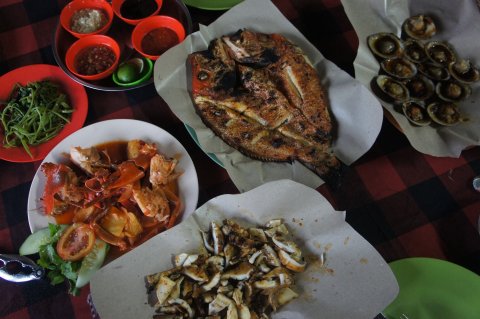 After dinner, we headed to the airport and managed to negotiate our way to a flight seat.  Ketut waited patiently throughout in case we would need to leave the airport and find accomodations for the night.  If you need to book transport in Bali, you can find Ketut at mobile number +62 81933034876 or email lagas_200@yahoo.co.id.  He drives a comfortable Toyota.
Well, that's all for the Bali trip.  🙂