Day 6 (Mondulkiri)
Nested in a hilly province, Sen Monorom boasts beautiful scenery and cool weather. The charming capital of Mondulkiri is very laid back and makes for a pleasant place to laze for a few days. And laze around I did. I took it easy and gave the usual attractions of waterfall and elephant trekking a miss. Energetic travelers can consider visiting Monorom Falls and Bou Sraa Waterfall, both of which were highly recommended by the locals.
I woke up at 7am and visited the morning market. The buzzing locals and sweet aroma of food filled my senses. In no time, my stomach started groaning. Expertly avoiding the zipping motorcycles whose views were blocked by overflowing baskets, I let my nose be my guide (hope it doesn't remind you of the movie Perfume). I was richly rewarded with barbecued banana and glutinous rice wrapped in slightly charred banana leaves. This simple delicacy cost me 200R. Excellent value for money!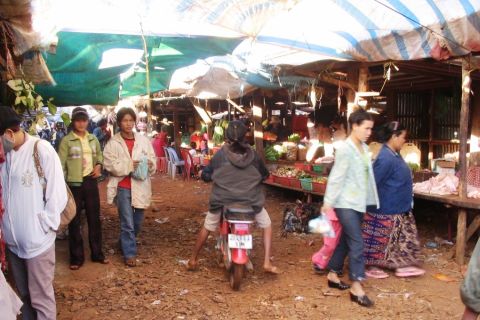 Morning Market
After my morning roam, I took a ride around town. I came across a few temples and an abandoned airstrip. Back in town, I noticed that a stage was set up near the roundabout. A few people were rehearsing some songs on the stage. They were Asian looking but were too fair-skinned to be local. I approached one of them and was told that they were Christian evangelists from Korea. Apparently, they will be having a concert in the evening.
I spent the rest of the day napping and reading The Gate
by Francois Bizot. To be honest, I think it's slightly over-hyped. In my opinion, When Broken Glass Floats: Growing Up Under the Khmer Rouge
by Chanrithy Him is a better book if you want to know what the locals have went through under Khmer Rouge.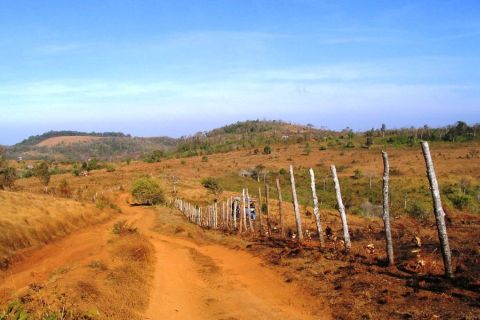 Rolling hills of Sen Monorom

Sen Monorom airstrip has been closed since 2000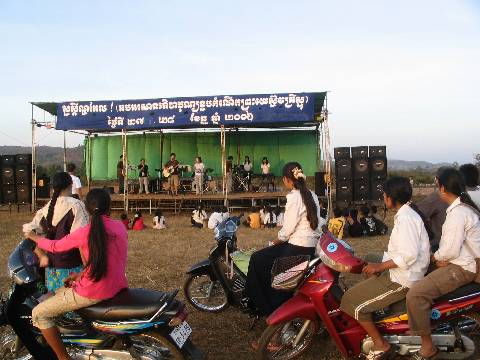 Christian evangelists performing at Sen Monorom