Journey Day 3 (Summit Push & Crater Lake)

After yesterday's long workout, 2 of us decided not to go for the summit.  Visiting Rinjani does not mean that you really have to reach the summit as the most magnificent views are actually appreciated from the lower trails and crater rims.  In fact, we met many travelers who were happy to give the summit a miss.
So the rest of us woke up at 145am for some final packing.  Essential items were head torch, warm clothes from head to toe, gloves, hiking boots, hiking sticks, snacks, drinks and camera.
After a quick meal of toast and hot chocolate, we moved off at 230am.
It's a tough 3.5 hour climb to the summit where one would be more concerned on not slipping on the volcano scree and adjusting one's scarf to better protect the face against the cold wind, than taking photos in the dark.  I took only one blurred shot.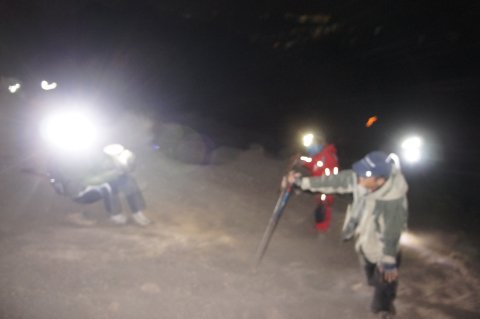 Another two of us dropped out of the climb and Abdul stayed with them, not before giving blessings to the 2 remaining stoics.  So with strained muscles, a numbed face and a running nose, we pushed on.  We moved at individual pace.  It's yourself and the mountain.  Your mind tells you to give up and there is no glory about climbing such a mountain.  It's not Everest.  But your heart tells you to continue.  As the debate went on in your mind, you stepped closer to the summit.
There was a sense of deja vu.  In some ways, the hike was similar to Mt. Kinabalu.  Yet, in other ways, such as the soft deep sand that slides you back 1 step for every 2 steps you take makes it different.
The last 300m was particularly tough.  It's like walking on marshmallows inclined at 45 degrees.  The diminishing oxygen supply ensures that you are constantly out of breathe. What great fun you might think.
After what seemed like an hour, maybe it's really an hour, I passed a narrow ridge to the very top of Indonesia's second tallest volcanco – Mt. Rinjani.
Euphoria experienced at 6am.  The sun had not made its appearance yet.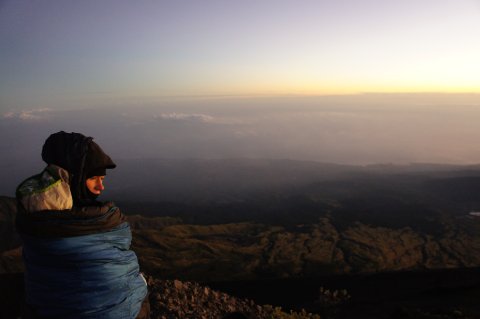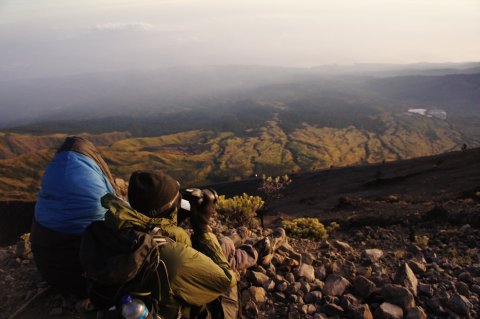 The fellow with the bike made it as well.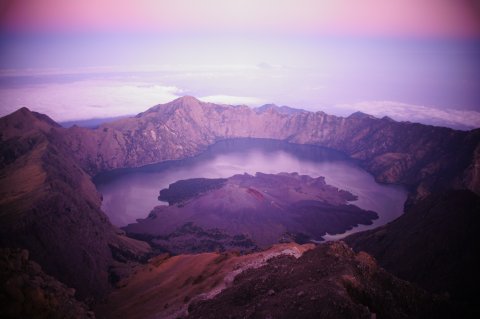 A video taken at Rinjani's summit.
Glorious sunrise.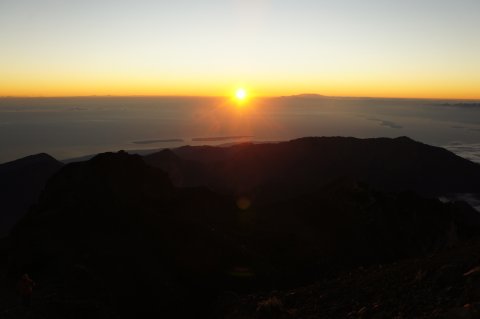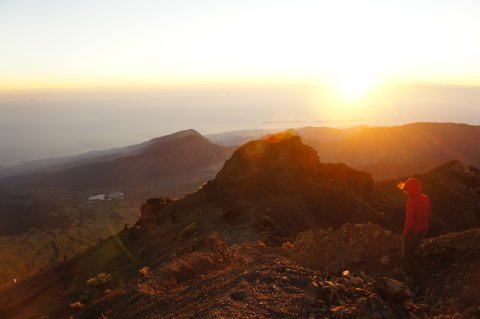 For some reasons, I carried my book along to the summit.
It's time to descend and to see what I actually walked on in the dark.

Other hikers still pushing on.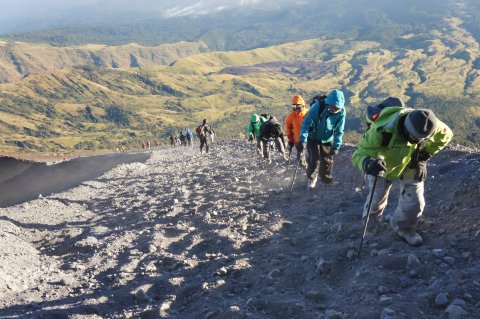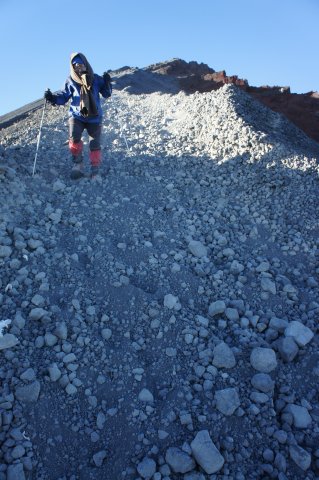 A good hideout from the strong cold winds.
It used to be possible to hike to Gunung Baru (2,300m), the volcano you see in the middle of the lake.  Gunung Baru is an active volcano and last erupted dramatically in 1994.
Plenty of time for photography on the way down.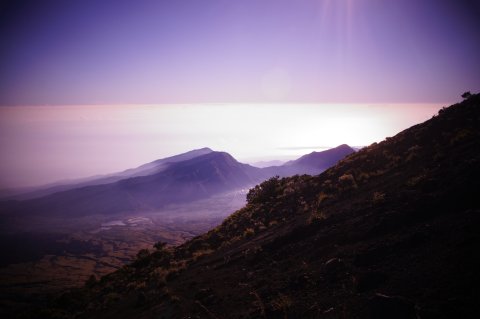 My whole boots covered by the soft volcanic sand.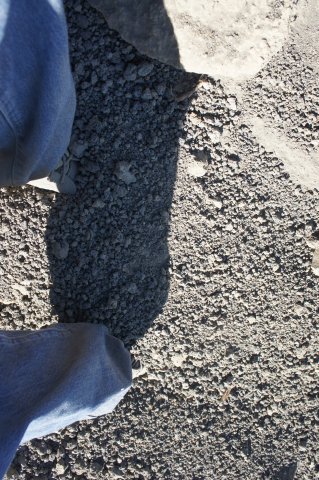 I met Bob and LY on the way down and we continued back to base camp where we reached at 850am.
Yummy pancakes and our favourite drink of hot chocolate for breakfast.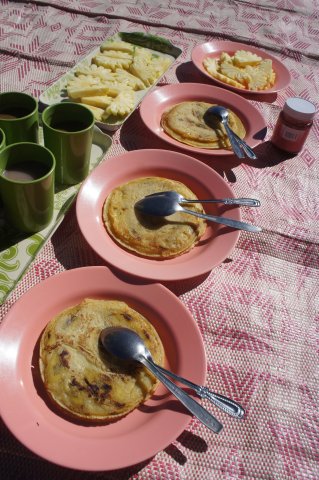 Most of the other groups have dismantled their tents and were moving out.  The monkeys came in for spoils.
A much needed rest after the hard climb.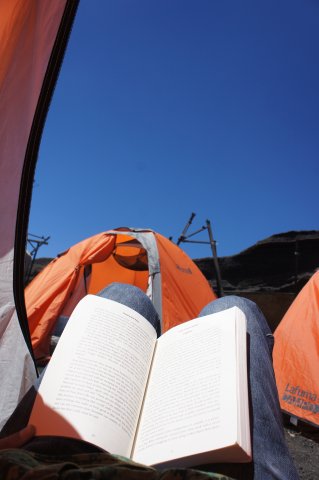 The strong wind kept blowing our mat off so our porter decided to sleep on it.
A fantastic lunch before we set off to the crater lake.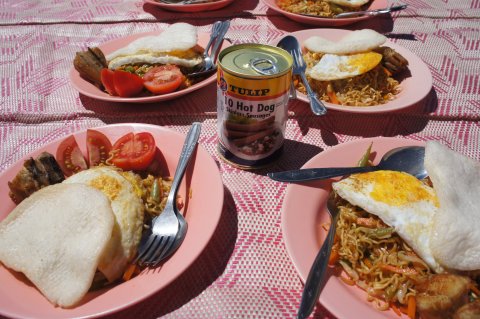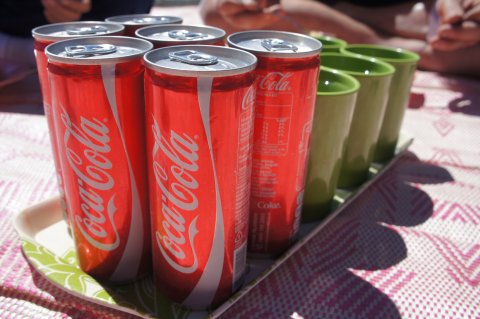 We moved off at 2pm.
It's a steep trail down to the lake and we met many hikers coming up from this direction.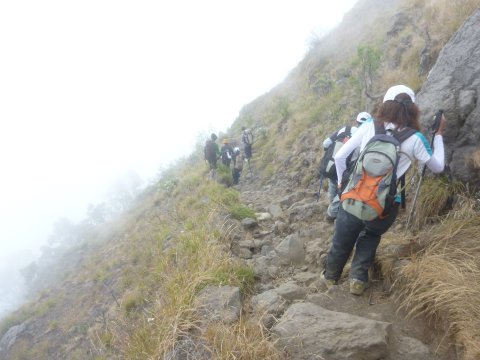 This should be the edelweiss plants – bunga abadi.
It's not my unsteady hands. It's mist.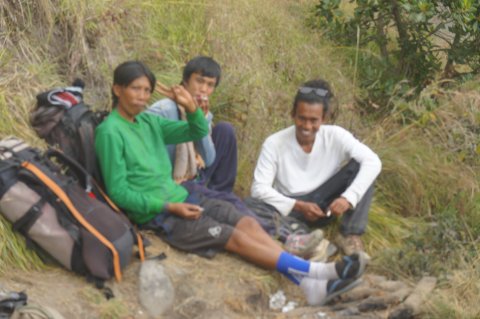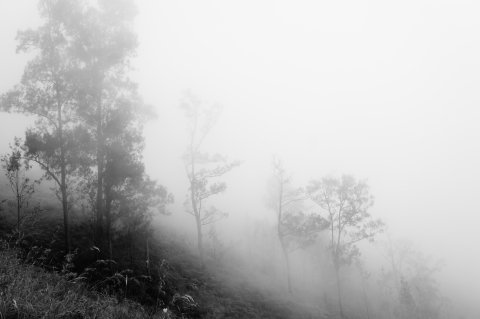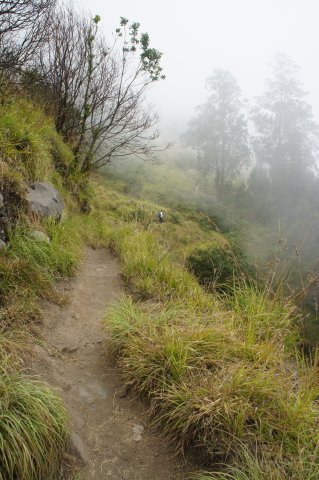 We finally reached the crater lake at 6pm.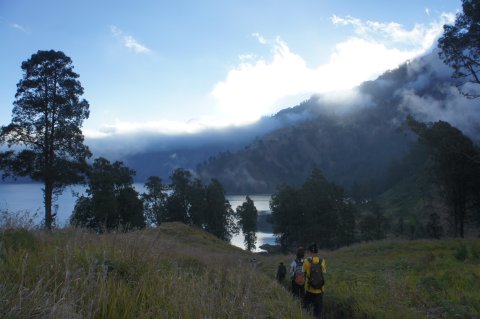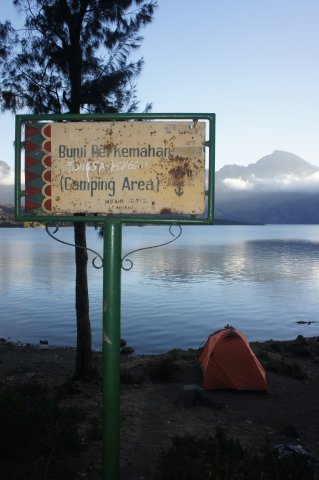 Off we go to the nearby hot springs believed for its healing powers.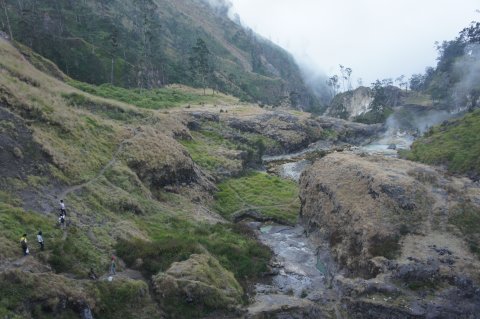 Another great dinner, we even had french fries!
View of the lake and surroundings from my tent.
Goodnight folks!