Journey Day 2 (Ascent to Crater Rim 1)

I woke up at 630am and prepared 3 packs:
(1) Backpack for my clothes, camera and things for the climb which I will be carrying
(2) Folding gym bag for my extra walking shoes, chargers and other stuffs not necessary for the climb which would be passed to the tour agency who would deliver them to Senaru at the end of our climb.
(3) Pack of things I would like the porters to help me carry.  I passed them 3 x 600ml bottles of isotonic drinks. 😀
As it's still early and the others hadn't appear yet, I roamed the area.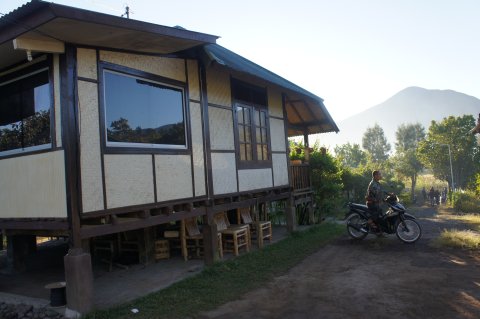 View of Mt Rinjani from Lembah Rinjani. Do not be fooled by the rather gentle looking mountain.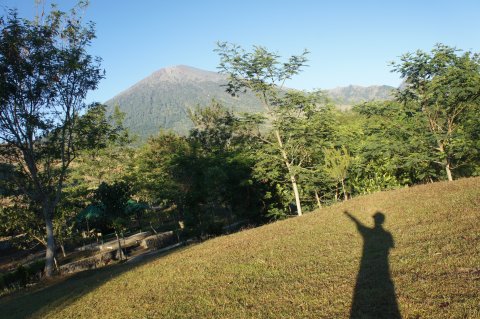 Our porters arrived early to prepare the loads. Most of the porters moved off before us so that they can prepare lunch and set up camp at Plawangan 2 Sembalun crater rim first.  I also think it's easier for them to set their own pace rather than following our erratic pace punctuated with random stops for rest and photography.  Our guide, Abdul, and his two assistants (who also carried huge backpacks) followed us.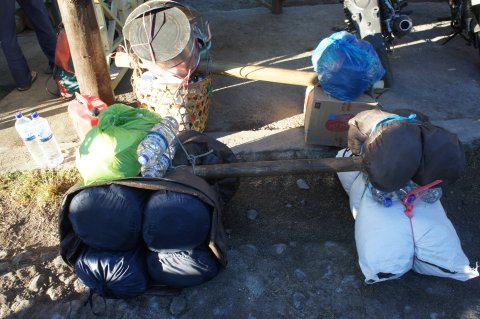 While the rest had toast, Bob and I had Nasi Goreng.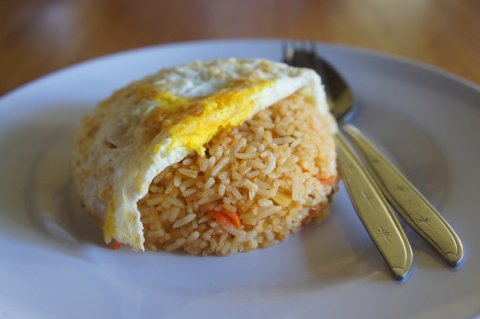 I forgot the names of this flower but it's supposed to give the same hallucinatory effects as magic mushrooms.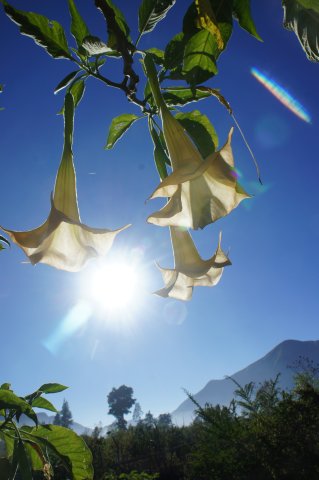 At the Rinjani Information Centre where we settled our registration.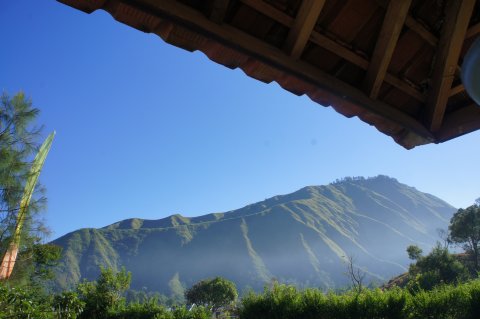 Abdul described to us the volcano, route details, local cultural traditions, what we might see, rubbish management and safety procedures.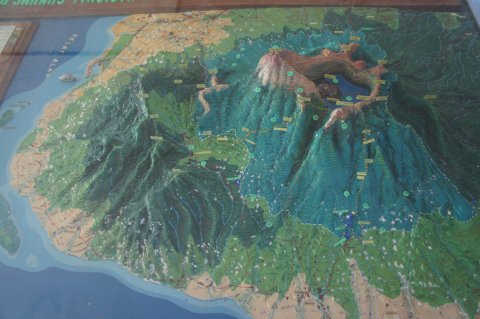 We started officially at 8 am, with Abdul leading the way.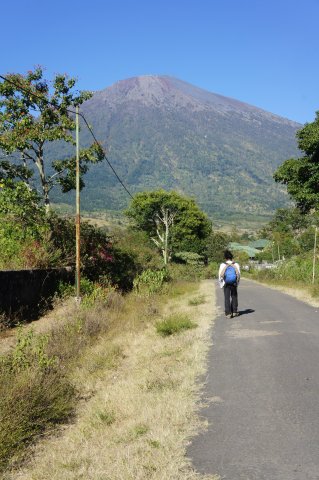 Bob and LY lent me a spare hiking stick.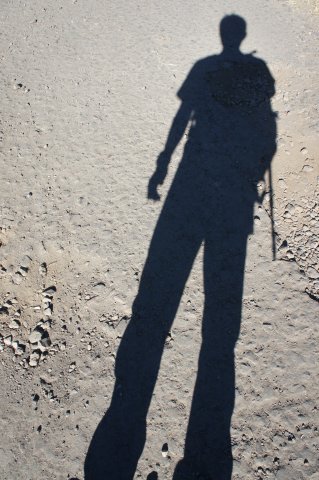 Expensive sunblock from LY.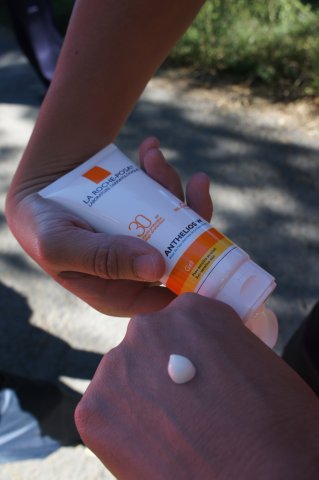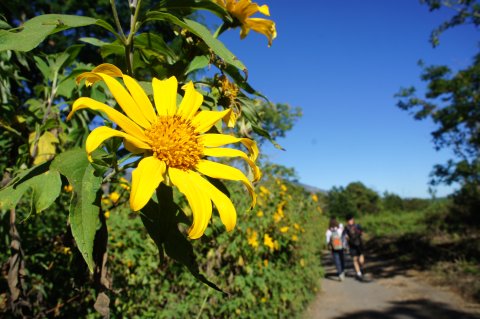 The trek starts from Sembalun Lawang with a gentle ascent walking through open grassland used as cattle grazing by local people.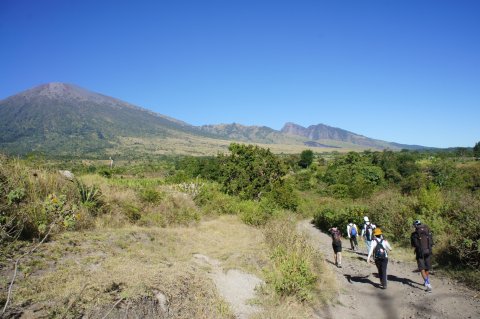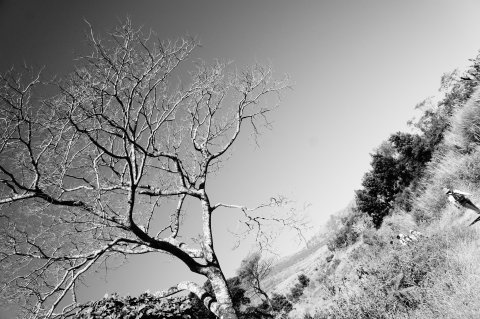 While we came with professional looking trekking shoes, this local made do with socks and slippers.
Dung and me.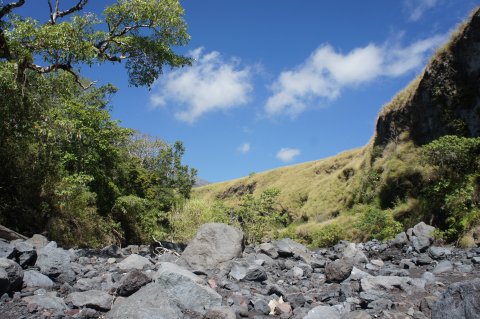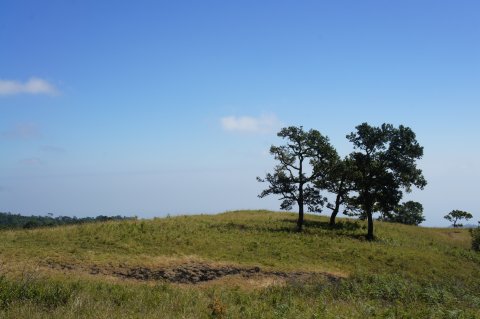 Abdul's brother brought along a water-melon.  He was just too happy to get rid of it during our first break at Pos I Pemantauan (1,300m) . 😀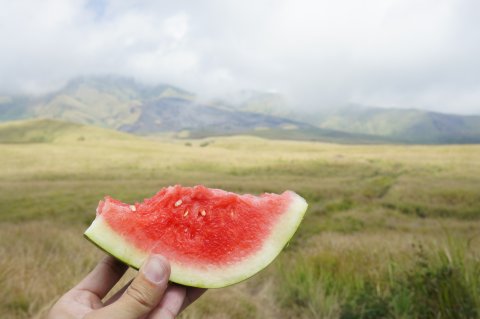 We carried on and arrived at Pos II Tengengean (1,500m) for our lunch.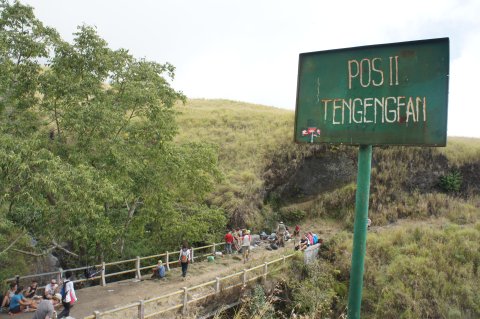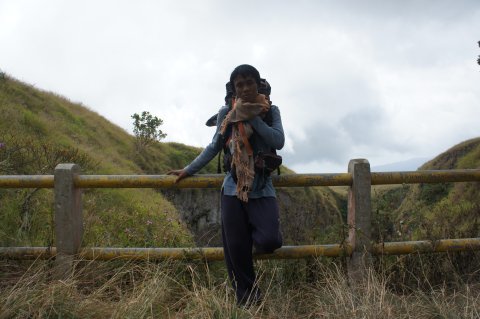 We met a group of very professionally dressed South Koreans.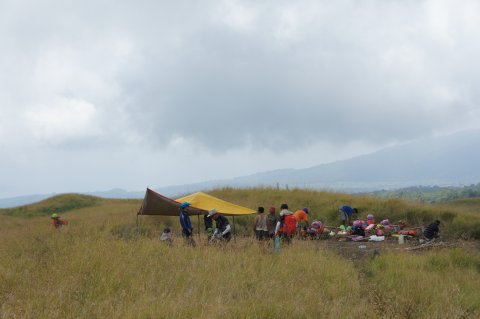 Scenery around Pos II Tengengean.
August is a good month for visiting Rinjani for the dry weather and there were many tourists.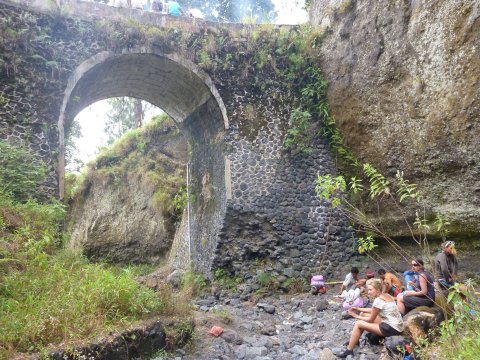 Each visitor to Rinjani must carry the tag below.
My Columbia trekking shoes gave way during my recent Gunung Ledang trip and I didn't have time to get and break in a new pair of shoes so I brought along my ever-reliable army boots.
Our porters serving lunch.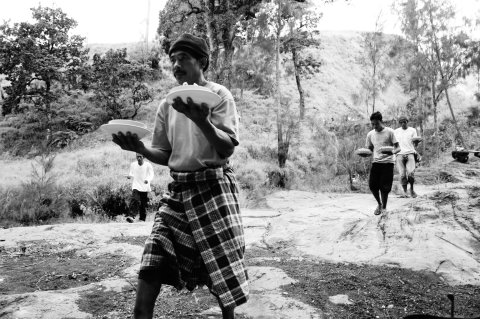 Lunch was a simple yet delicious bowl of noodles with lots of vegetables.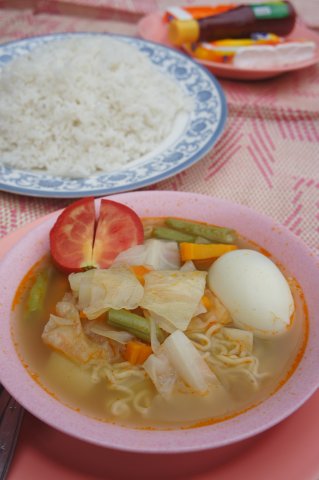 Fruits were part of the menu as well!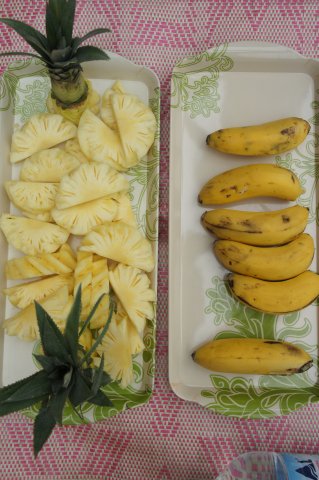 At around 1pm, we continued with the hike.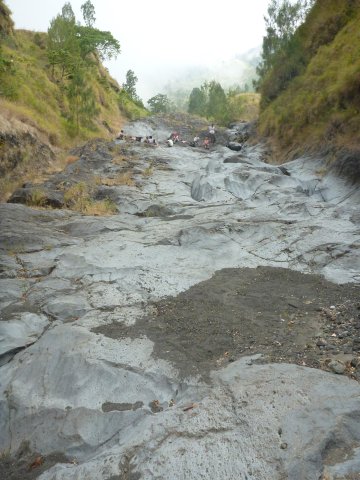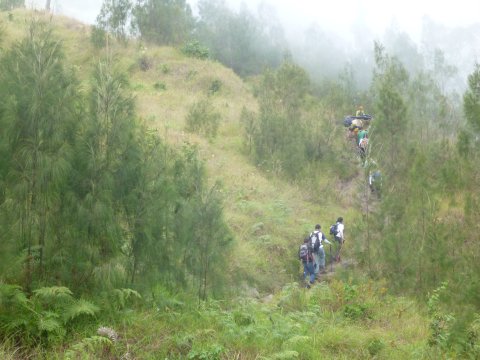 It took about an hour to reach to Pos 3 Pada Balong (1,800m).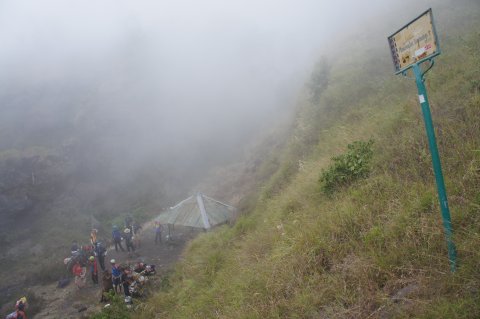 After that, it's a steep 3.5 hour climb amidst the pine-like Casuarina species locally known as Cemara to the camp site at Plawangan 2 Sembalun crater rim.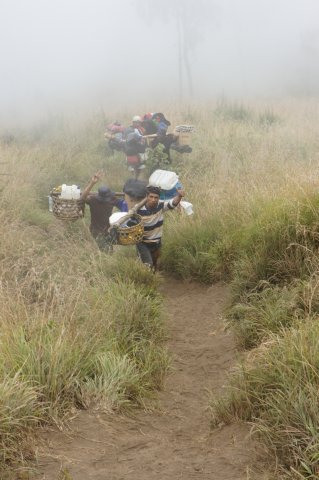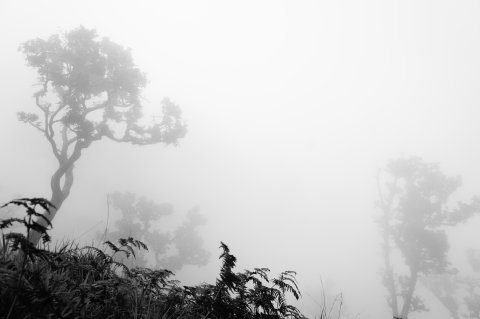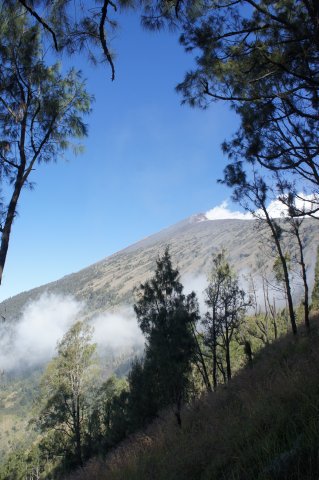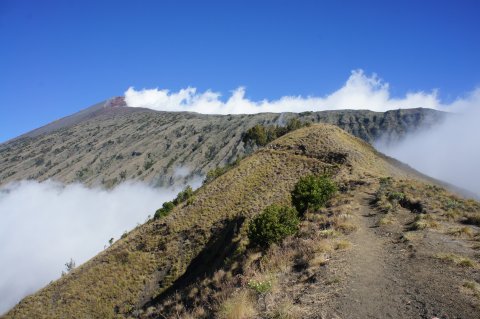 You would see such scenes throughout the hike, be careful of where you step.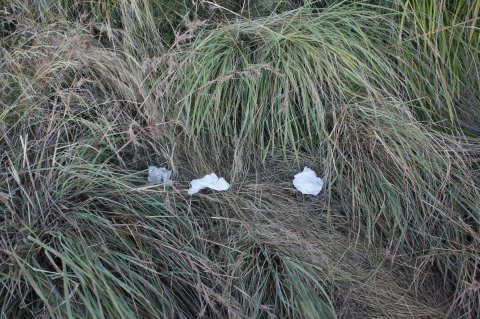 Yes, we have reached Plawangan 2 Sembalun crater rim (2,639m)!  It's 5pm.
Elite tour packages with field chairs.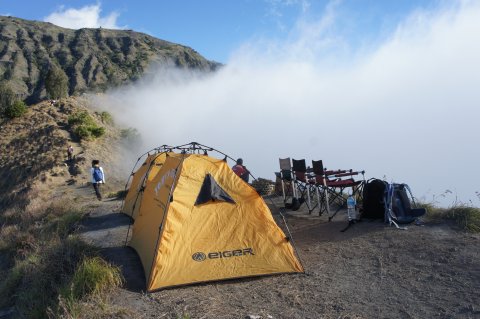 One fellow carried his bicycle all the way up.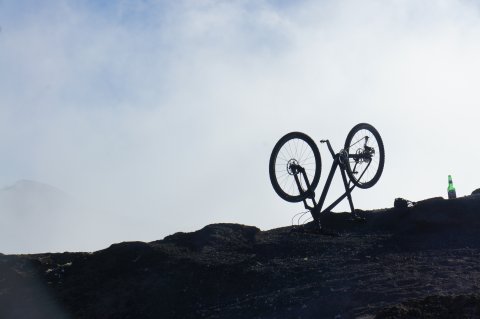 A small sale booth for drinks and snacks.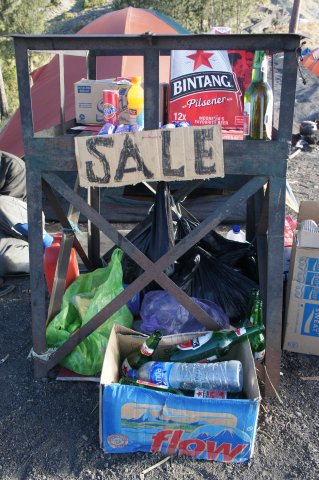 Our tents and campsite for the night. I hung my sweat-soaked clothes for drying.
Welcome to my humble abode.  Already reading up for my North Korea trip in September – Escaping North Korea.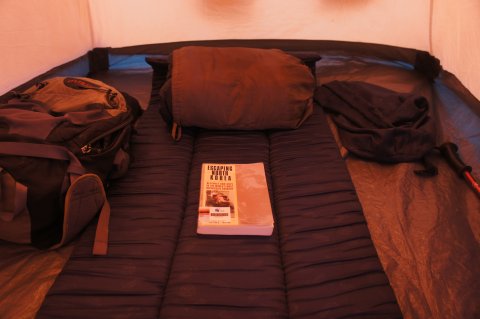 I got back my isotonic drinks.  Looking back, the bottled water was enough and there's no real need to carry additional energy drinks.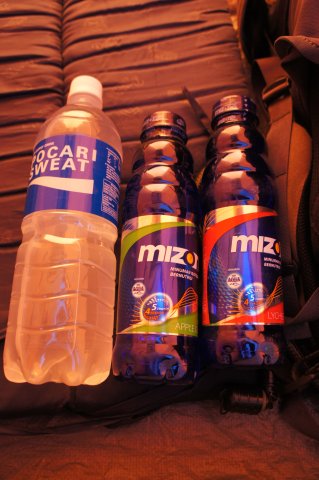 That's our mobile toilet sitting precariously by the cliff.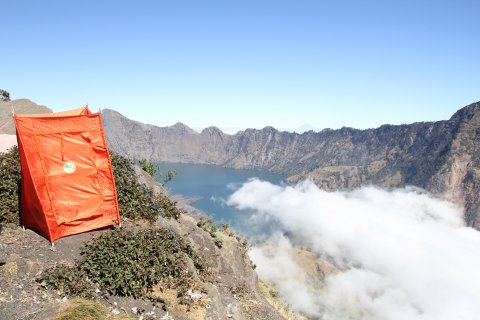 It's basically a hole in the ground.
Our porters aka multi-taskers preparing for our dinner.
A nice Nasi Briyani with hot chocolate by the Rinjani crater.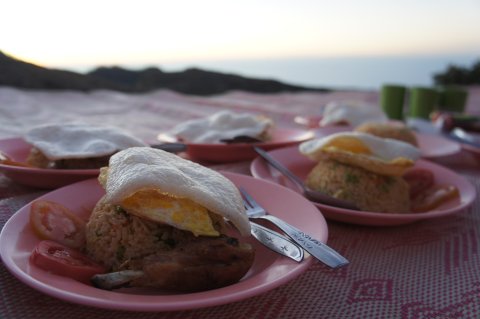 6 of us!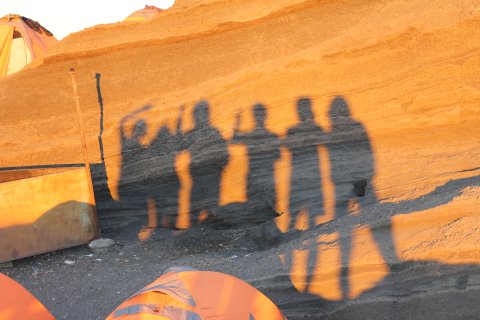 Sunset by the crater lake.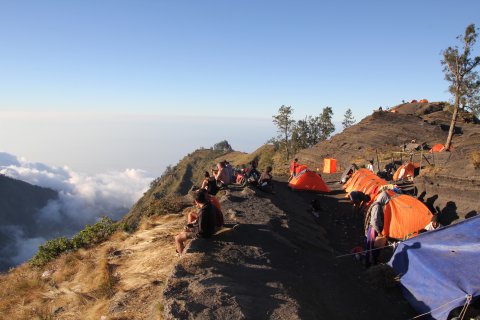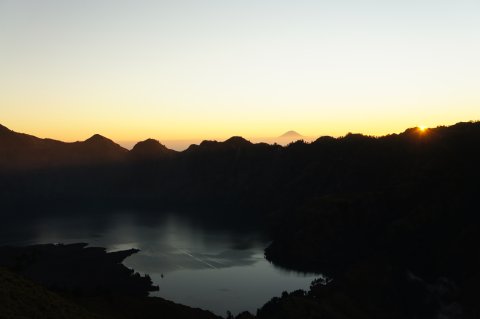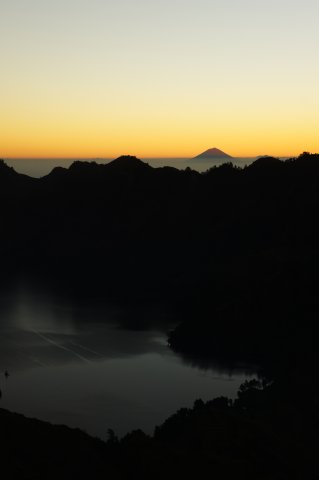 It's still early and we had a camp fire which kept us comfortably warm.