Journey Day 4 (Crater Rim 2 & Descent)

Woke up at 630am to a breakfast of banana fritters, french toast and the usual pineapples.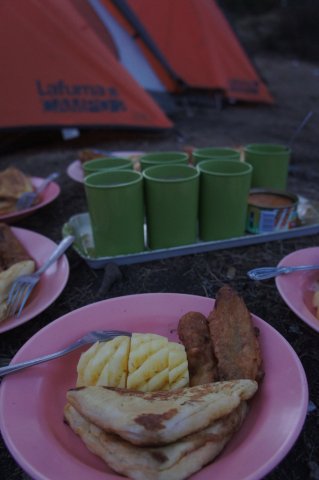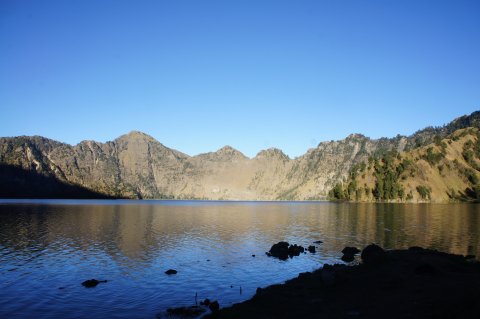 A video of the crater lake in the morning:
The tour company provide and carry more than enough water for us so there is no need to carry additional water on our own.
Some fellow Singaporeans were also camping by the lake.  It's always fun to meet fellow countrymen and countrywomen on foreign soils.  We exchanged our Rinjani experience and took a group photo together.
We finally left at 720am.
But not before Abdul received a Singapore flag as souvenir from the other Singaporeans we met. It's Singapore's national day and they brought along our flag to plant at Rinjani's summit.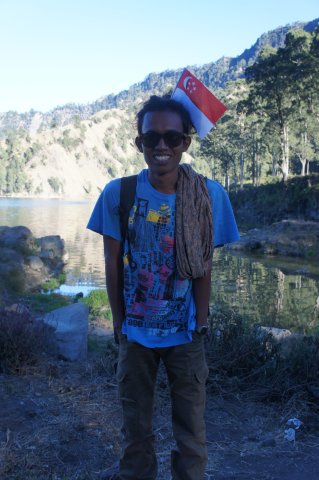 Another shot of the beautiful caldera lake.
Up we go towards Plawangan 1 Senaru Crater Rim (2,461m) to explore the views of the lake from the other side.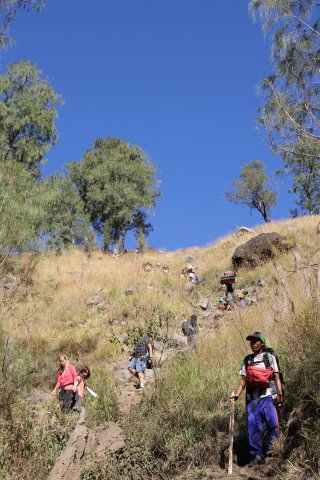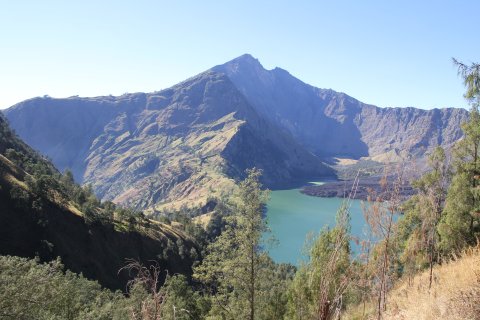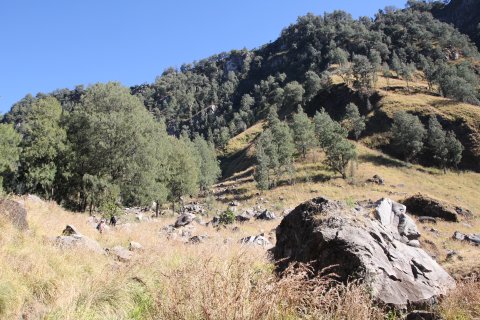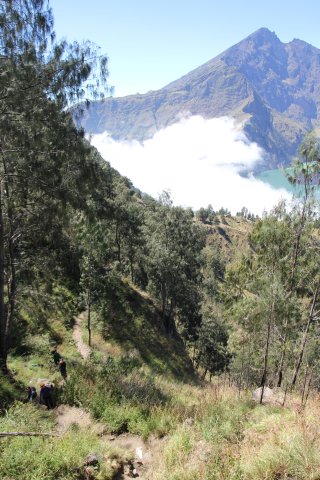 We reached Plawangan 1 Senaru Crater Rim just before 12pm.
We took a lot of photos with the fluffy clouds.  Now that I think about clouds, I find that I am often mesmerized by the different cloud formations and how little I know about them.  A good read over at Wikipedia.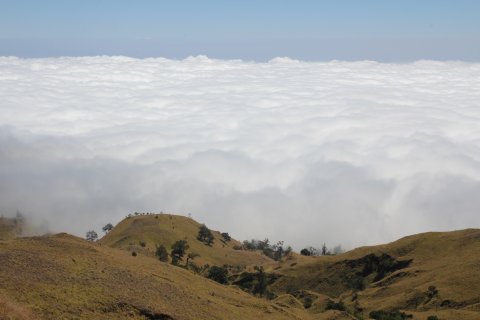 Descend again.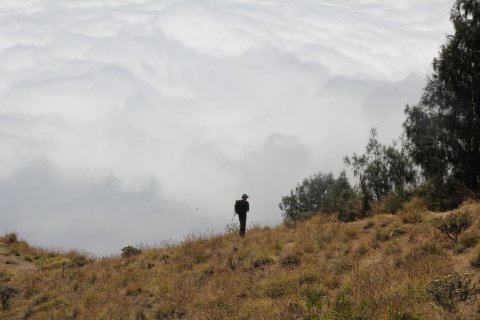 We reached a rest point at 1230pm. After a short rest, I decided to do a run down with Abdul for Pos 3.  Leaving the rest point at 1245pm, we finished the trail in just 20 minutes.  Normal walking would have taken an hour.  I found the run to be exhilarating.  As it's a steep and winding downward slope, you have to keep your gravity low and place your step carefully to prevent "overruns".  I wonder if this is how trail running feels like.  I should do it more often.
Pos 3 was pretty crowded as a common stop point for meals.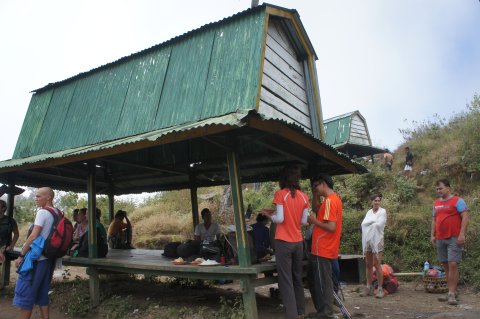 We had gado-gado.  With the same few basic ingredients, the cooks still managed to dish out a variety of meals every time.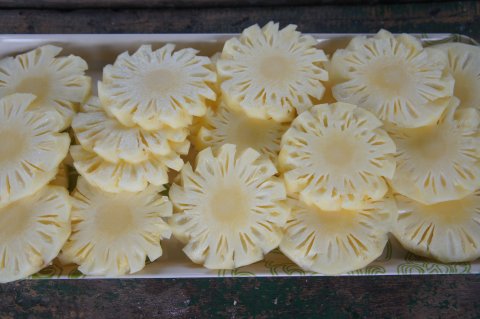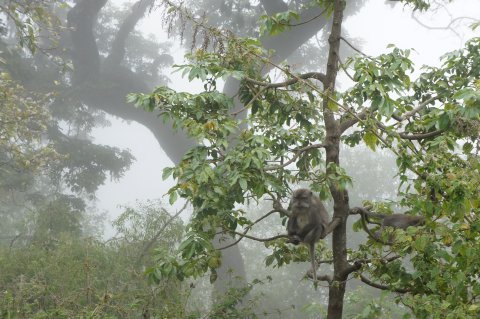 By this time, most of us were tired after these few days of walking.  We were basically just looking forward to reaching the next Pos and completing our journey.
Here are some of the timings I took for the remaining hike down:
240pm – Left Pos 3
410pm – Pos 2
450pm – Pos Extra
530pm – Pos 1
6pm – Plantation
650pm – Rinjani Trek Centre
In case you are wondering what exactly does Pos means, I believe it's an abbreviation of Position.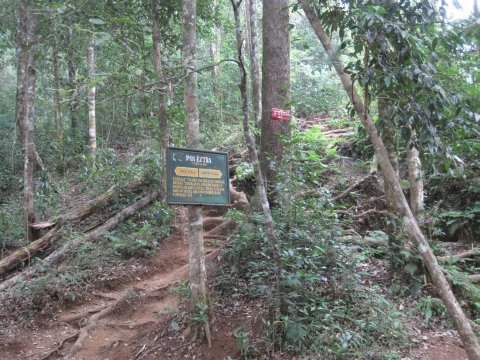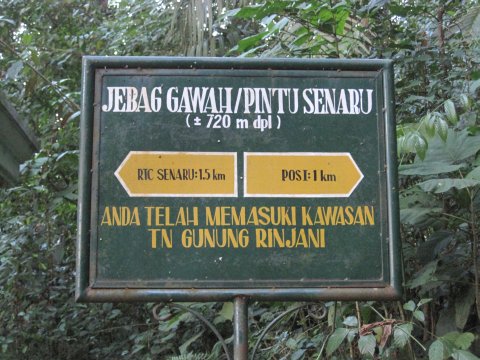 The entrance to Gunung Rinjani National Park from Senaru.
But it's still a walk through some plantations to the Rinjani Trek Centre.
There are basic bathing facilities at Rinjani Trek Centre.  After cleaning up, we gave out tips (100k per porter), took a group photo and bade farewell to our friends.
We reached Senggigi at around 10pm and had a grilled dinner at Restaurant Rembulan located along Jalan Raya Senggigi.  Food was great and price was fair.  We went for the seafood set meals with various drinks and paid less than 700,000 IDR.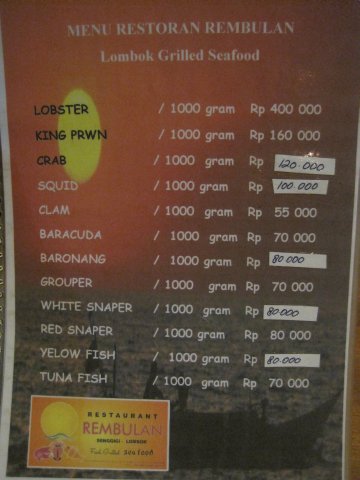 We checked in to Jayakarta Hotel at 1130pm.  After a bath, I quickly fell asleep.