Day 1 (Phnom Penh – Kampong Cham)
While waiting for my motorcycle to be ready, I had an early lunch of Loc Lac. Loc Lac is supposedly a famous Khmer dish of sauteed beef served with rice, green pepper, onion and some sauce. It was pretty good, if a little salty. At 11am, Angkor Motorcycles declared my motorcycle fit for adventure. I first filled the tank at a nearby petrol kiosk. After paying US$8 for the petrol and taking a photograph of the friendly PTT staffs, I set off for Kampong Cham.

Friendly petrol kids posing for a photo
Alas, 10km into Highway 6, I found out that my odometer was not working. I briefly considered continuing with the journey but decided that a working odometer was worth the backtracking. Angkor Motorcycles apologized for the mistake and quickly sorted out the problem. I set off from Phnom Penh again at 1230pm.
Basically, there are two ways to reach Kampong Cham. One is take Highway 6A from Phnom Penh to Skuon before turning right and following Highway 7 to Kampong Cham. An alternative route is to to follow the road by the west bank of Mekong river. Take a look at your Cambodia map and you will understand I am talking about. I opted for the former route as I wanted to visit Skuon, a town famous for fried tarantulas. But no, I did not eat it. Because you see, I just had my lunch and I was not feeling well and.. alright, alright, I wimped out. For those who like a description of its taste, Rhymer described it as:
"Well, you might expect it to be crispy on the outside and gooey in the middle and that's not a bad start. The legs are pleasantly crunchy and have little flesh in them. Then you get to the head and body which have a delicate white meat inside, rather like a cross between chicken and cod. These bits are quite moreish and the only downside is that, after munching a few, you can develop little spider fur balls in your throat. But then there's the spider's large, globular abdomen. This is the only really disturbing part of the animal: it's full of a dark brown paste that includes everything from eggs to the heart and spider excrement."
Anyway, I reached Kampong Cham at 3pm and found a room at Mekong hotel. The hotel was huge and two can have a game of tennis in the corridors. I spent the rest of the day wandering around town and relaxing by Mekong river. I slept early at 9pm.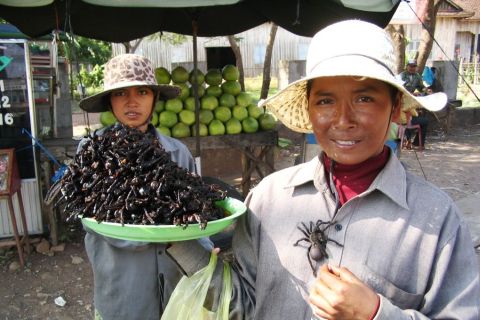 Creepy snacks. Fried tarantulas at Skuon aka Spiderville.
Day 2 Part 1 (Kampong Cham)
I woke up early at 5am and went to the river to wait for sunrise. With the soft glow of the morning sun upon the Mekong river, it is easy for one to admire the beauty of our surroundings and forget the worries of life.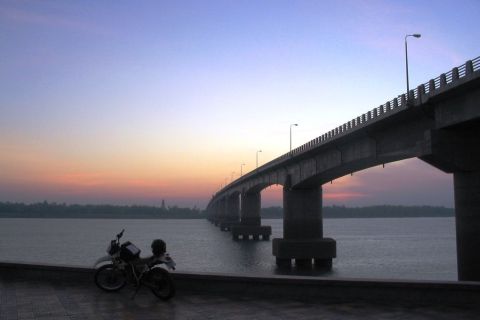 Sunrise at Kampong Cham along Mekong river. On the right is the Cambodia's first bridge to span the Mekong River.
There are a few attractions around Kampong Cham. Wat Nokor, Phnom Bproh, Phnom Sray, Tuk Chha ancient ruins, Phnom Teat Broh, Phnom Teat Sray, Wat Han Chey and a few rubber plantations are places to fill your time. Adventure Cambodia gives good road directions to these places of interest.

Nokor Temple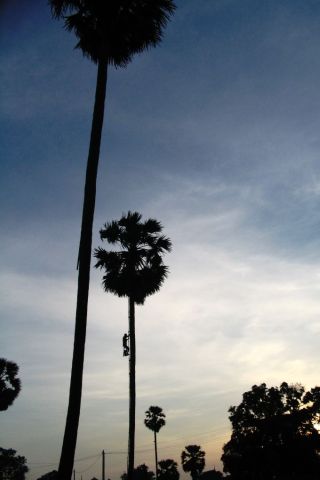 Not for the faint-hearted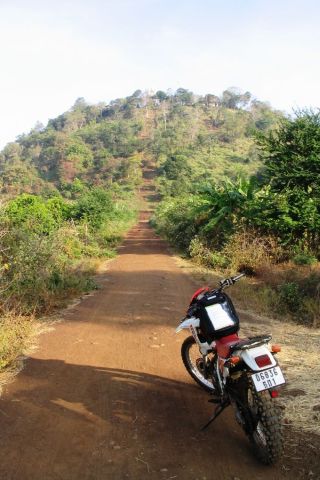 Phnom Teat Broh