WWOOF Korea helped me to contact Sandeul farm, which is a short distance away from Seoul. Even though my request came very last minute, the host kindly accepted my volunteering.

Here are some information about Sandeul Farm found in WWOOF Korea's guidebook: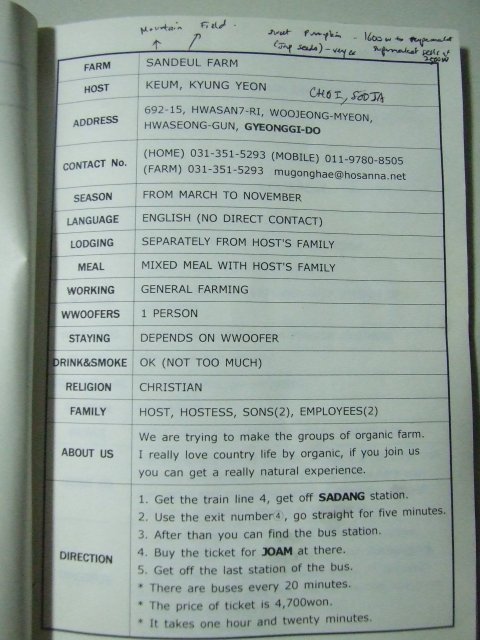 Day 1
Following the directions given in the guide, I could not find the elusive bus station at Sadang. I must have spent 30 minutes walking to and fro, asking around before finally deciding to call my host for help. Mrs Keum and I seemed to have difficulty understanding each other but I was given the impression that I was at the correct place and the bus I should look for has no numbers. Mrs Keum cheerfully ended the conversation with "See you later".  She sure has some confidence in me. I stopped by a shop and gave some bewildering gestures and mispronounced the word "Joam". The shopkeeper pointed ahead. I followed his direction. There was a bus at a bus stop. Wait, could this be it? Why was I expecting a bus interchange with buses, passengers and queues? I saw no numbers on the bus but there were some Korean characters which were probably destinations. I said "Joam" with a question mark to the driver and he nodded. I paid up and was on my way.
I tormented myself during the bus journey by trying to imagine that I was on the wrong bus. The fact that I did not reach my destination after 1.5 hrs helped raise my anxiety level. As usual, things often turned out better than we imagined. I reached Joam bus station after 2 hours. It's a small and rundown terminal, quite unlike the modern facilities I have seen in Seoul. I smiled expectantly at every person in the terminal. After a period of unrequited friendship, I searched for a public phone to contact Mrs Keum. Arrangements were made and Mr Keum soon arrived in a blue tractor. Their house was a 10 minutes ride away.
Mr Keum started pumpkin cultivation about 3 years ago.  Small sweet pumpkins were getting popular and margins were improving. An average sized pumpkin was sold to the supermarket at 1500w which the supermarket resells at around 2500w. Before getting into the pumpkin business, Mr Keum farmed other vegetables such as onions. Mrs Keum used to be a nurse but joined her husband's farming business after getting married.  The couple have 2 sons who were both still schooling. I was given a room with a private bathroom in the house. There were pumpkins in various rooms and along the corridors of the house. It's picking time and the Keums were very busy. It appeared that I came at the right time. There were no other Wwoofers in the house.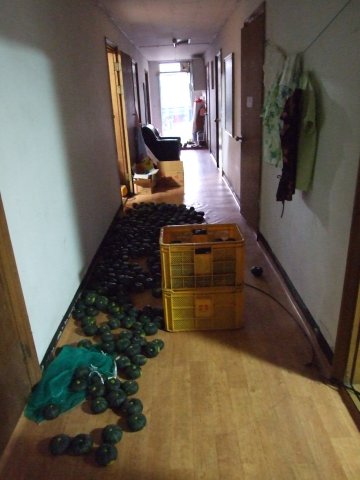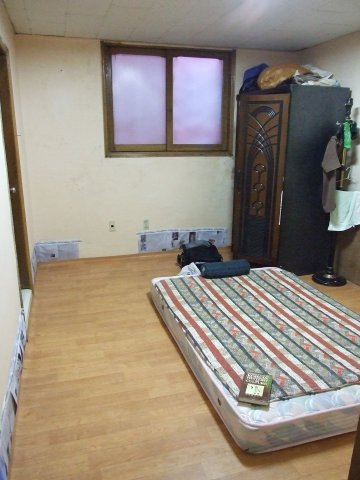 My first duties included wiping the pumpkins dry, making cardboard boxes and banding the pumpkins. The youngest son was around to help. He was an elementary student at the nearby school and spoke good English. He enjoys singing English pop songs and playing computer games. Dinner was ramen (instant noodles), rice, kimchi, seaweed and watermelon. Simple but great food nonetheless. I especially liked Korean rice wrapped with seaweed.
At 8pm, I went out with Mr Keum to his friend's farm to pick up a few bags of pumpkins.  We passed by rice fields and  Mr Keum told me that unlike other countries like Vietnam, rice only harvests once a year in South Korea. We returned to the house at 10pm and repacked the pumpkins according to size.
Day 2
I woke up at 7am plus, washed up and had breakfast.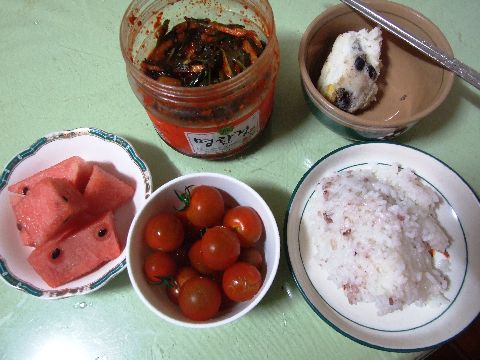 My first duty of the day was to wash the mud off the pumpkins picked from the fields. It's not terribly exciting and I was glad when Mr Deum asked me to follow him to the fields later. We bent our backs, plucked pumpkins, put them into bags and carried the bags to the tractor. We did this routine for 2 hours. It's hard work. I was sweaty and dirty. I had scratch marks on my legs and an aching back.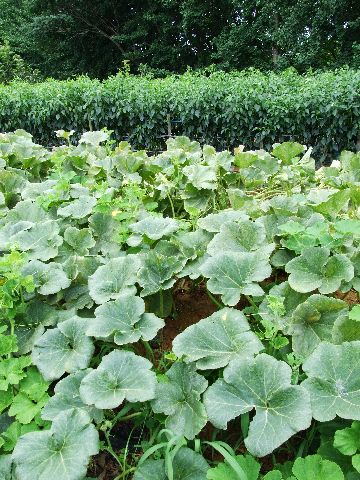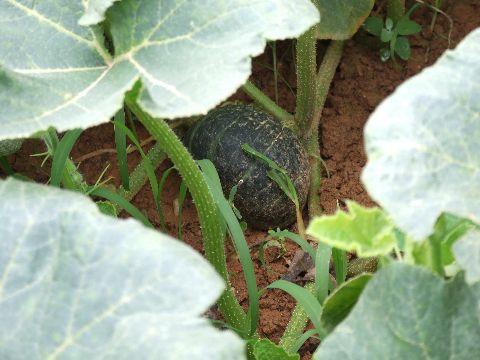 Lunch time, Mrs Deum brought me to the nearby school. I was introduced to the principal, vice principal and teachers. I felt out of place but queued with them with a tray for food to be dispensed by the canteen staffs. We made polite conversations and after the lunch, I walked with Thomas, an English teacher from South Africa. Among the topics we discussed were the many foreign English teachers there are in South Korea and the discipline of the students. Talking about the students, they bowed to me as a form of greetings and I reacted awkwardly.
Soon, I was back to more mundane farm work and appreciating more and more the life of a desk-bound worker. Dinner time arrived  and I was back at school for another healthy meal. After dinner, a Korean language teacher brought me to the library where I spent some time on the internet.  Then, it's back for more companionship with the pumpkins.
Day 3
Today's breakfast was rice, kimchi, toufu, soup and milk. After the meal, I went back to my room and before I could get dressed, Mrs Deum was at the door beckoning me to work. I knew I had been working much more than the 4-6 hours suggested in the Wwoof guide. I can understand that the Deums were short on manpower but I couldn't help feeling somewhat exploited. I even showed Mrs Deum an unflattering article of a Wwoofer's experience at Sandeul farm hoping she would go easy on Wwoofers. She said she was too busy to read. Anyway, I clocked 4 hours before lunch doing banding work. Lunch was ginseng chicken, kimchi, toufu and yogurt. Mrs Deum told me the price of the meal. I tried to show some appreciation.
After lunch, I continued to work. I started feeling quite bored and arranged the pumpkins for a photo shoot. I even took a video of myself juggling 3 small pumpkins to the amusement of young Deum. No pumpkins were harmed in the process.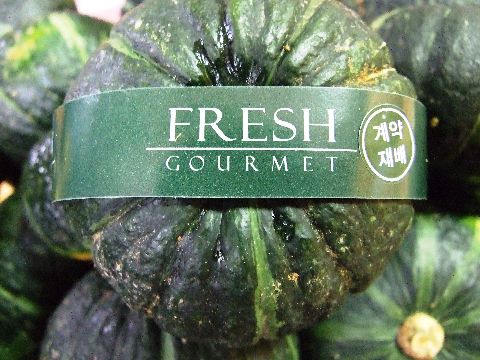 In the evening, I was still restless and strolled around the village. There were plenty of flora around and I snapped some photos.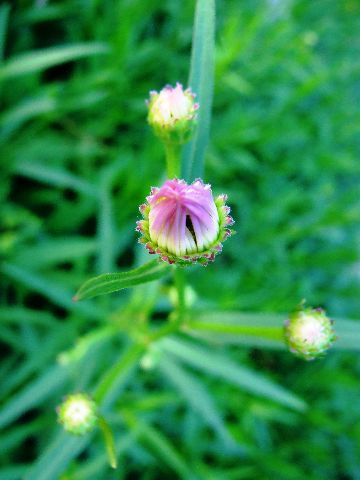 Supper was sweet pumpkin and milk. After supper activity was soccer with young Deum. South Korea 3, Singapore 5.
Day 4
I had a good night sleep of 9 hours. Morning was quite carefree and I didn't start work until 9am. This time, I had to remove the stems from the small pumpkins. At 12pm, I went to the school with Mrs Deum as she wanted to introduce me to the pastor. Unfortunately, the pastor was not around. We then visited the kindergarten and took photos of the playful kids.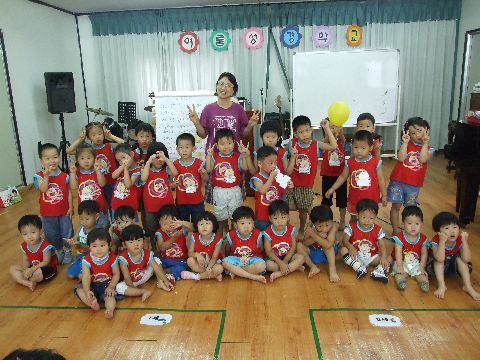 I returned back to work at 2pm for more stem removal. It's not as easy as it sounds because you need to have some good thumb strength to be able to pluck the stem off the pumpkin.  Later, I realised that Thomas had called Mrs Deum and asked for permission to show me around. In the evening, Mr Deum and Mrs Deum drove me to Thomas' apartment. Along the way, we stopped at a florist who's a friend of the Deums.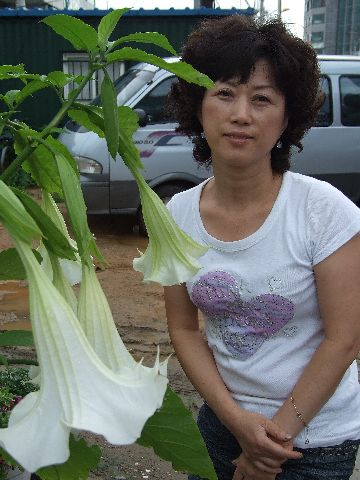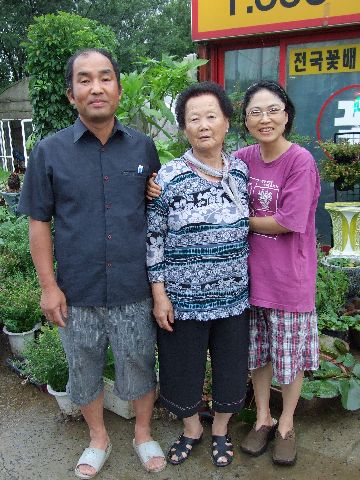 At Thomas' apartment, I met his lovely wife and daughters. His buddies – Yanti, Jung and Matthew were also around. We drank and chatted. Later, Jung drove us around and we reached Pyeongtaek where there was a drive through Korean movie.  In the end, we settled for a pub in Joam. We discussed many things and I learnt a bit about vineyard and wine from Matthew, who recently bought a vineyard in Scotland. I had a great time and returned to the farm at 1am.
Day 5
It's my last day at the farm. I woke up early as usual, packed up and read some Korean history. Mrs Keum dropped by and brought me to the church. I was introduced to the pastors and one pastor cheekily introduced me to a university student who was there to help out. Mrs Keum tried to get us to exchange contacts. Anyway, I helped to distribute drinks and food to the kids attending church. Ever zealous Mrs Deum tried to teach me to say "God bless you" to the kids in Korean.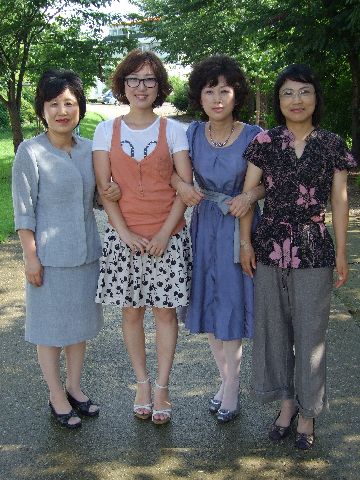 I left the farm at 11am with Mr Deum who drove me to Joam's bus station and made sure I got onto the correct bus. Despite the occasional hard work, I had a wonderful experience at Sandeul farm. Thanks to Mr Deum & family and Thomas & friends for everything!