Day 18 – Around Lijiang – Yulong Xueshan
It's Yulong Xueshan day.  I woke early at 7am and took a stroll.  It's quite cold but that's not a surprise.  Afterall, Lijiang stands at an altitude of 2500m.
Taijiquan as morning exercise.
Kids going to school.
Back to Mu's Inn for breakfast.  I had a set meal which cost only 11 RMB.   It consists of soya bean drink, pickles, dough stick, hard boiled egg (yes!) and a Lijiang speciality called Baba.
Met up with Zheng and we proceeded to Aladdin for the day tour to Yulong Xueshan.  Aladdin is a popular travel company in China which promises only worthy sites and no shopping.  I paid 630 RMB (after discount) for the day tour which included Impression Lijiang (Yinxiang Lijiang), Yulong Xueshan and Blue Valley.  Buying impression Lijiang, Yulong Xueshan and chairlift tickets separately already cost 550 RMB.  So I thought the tour was of excellent value.
Aladdin tour agency is located at Yuhe Guangchang, north of Sifang Jie, besides the water wheels you see above.
We were issued bottled oxygen and warm coats for the tour.  I ended up using neither of them though.
Our tour guide, Lao He.  It's always nice to have a tour guide explaining the sights and making sure everything goes smoothly.
If you have read Lonely Planet, you would know that there are 3 locations with chairlifts up Yulong Xueshan – Dry Sea Meadow (Ganhaizi), Cloud Fir Meadow (Yunshanping) and Yak Meadow (Maoniuping).  We stopped over at Dry Sea Meadow or Ganhaizi for some photo-taking first.  This place used to be a lake and thus its name.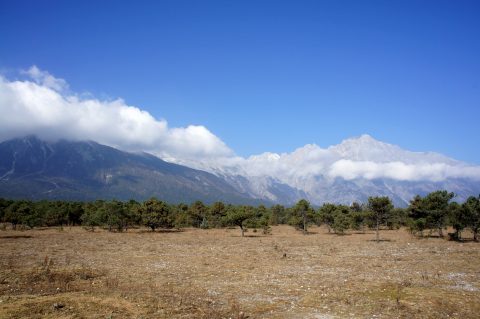 Click on photo for a larger view.

Before we headed for the mountains, we went to watch Impression Lijiang (or Yinxiang Lijiang) at a 3000m+ outdoor theatre inside Yulong Xueshan park.  It's a cultural show about the minority tribes in Lijiang with a special focus on Naxi.  Directed by Zhang Yi Mou, it boasts a cast of over 500 people.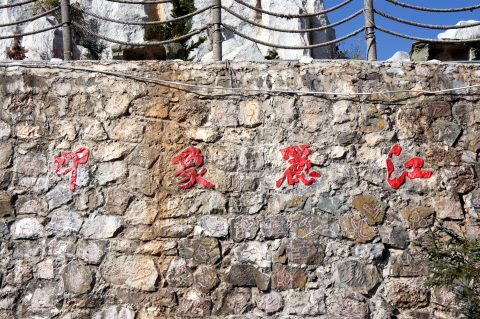 Photos from Impression Lijiang.  There was a scrolling marquee of Mandarin and English subtitles.  But note that there were some speeches in Mandarin.
We were each given a cap to shield ourselves from the hot sun.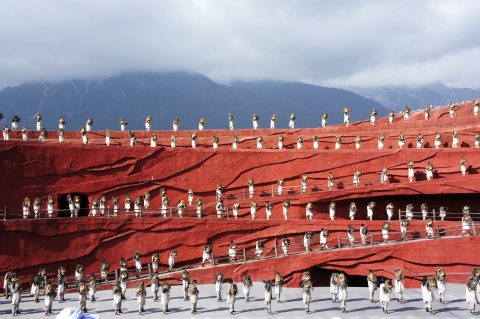 I thought the show was pretty interesting and moving.  If anybody knows where I can find the music they used in the show, please let me know.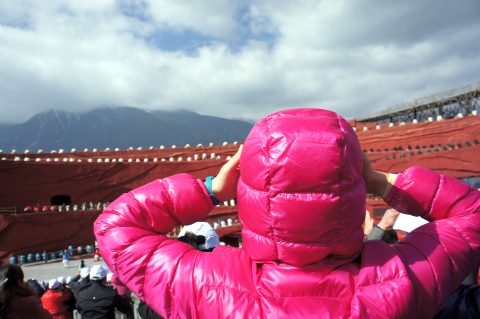 After the almost 2 hour show, we headed to Yulong Xueshan proper.  There, we had a simple packed lunch.
Then we took a chairlift up.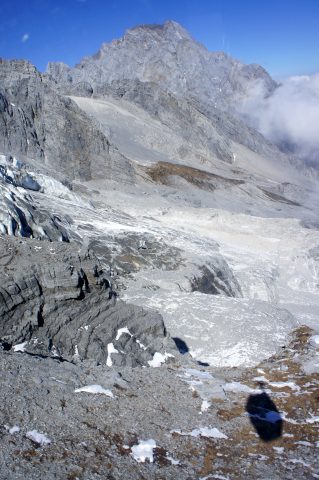 The chairlift took us to 4506m.  We were allowed to climb a further 130m.
Excellent views at Yulong Xueshan.  Translated to English, Yulong Xueshan means Jade Dragon Snow Mountain.  Or, it is also known as Mt Satseto.
Click on photo for a bigger view.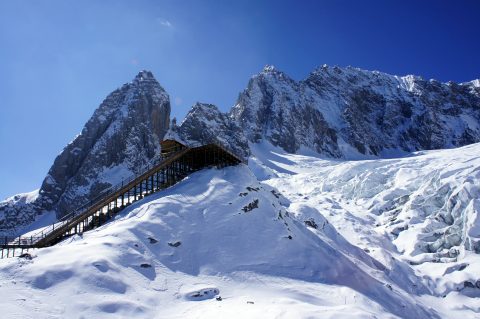 This was the highest we were allowed to ascent.
Click on photo for a bigger view.
My initials again.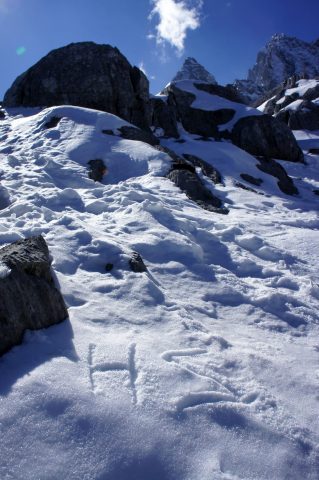 Last sight of the tour was Blue Valley.  I did not see any ticket office here so it's probably a free tourist attraction
Map of Blue Valley.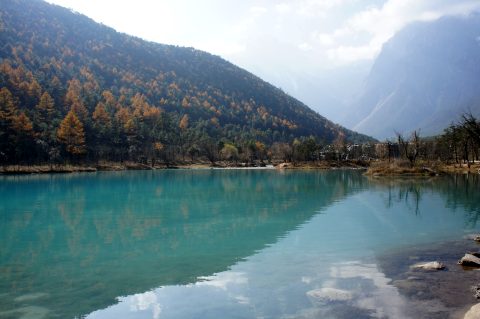 Poor man's Baishuitai. 😛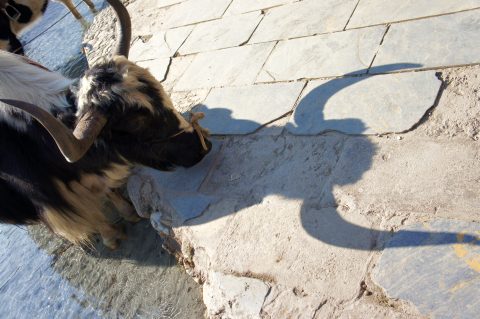 I finally learnt how to adjust the shutter speed of my camera.
We were back at Aladdin at 5pm.  After arranging to have dinner with Zheng at 7pm, I took off to Black Dragon Pool.  It's a huge park and I did not climb Elephant hill as it's getting dark and it seemed very isloated.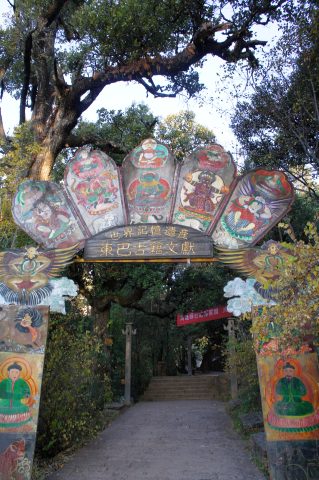 Sneaked a peek of modern Lijiang.
More shots of Lijiang old town.
Can't live without KFC and Pizza Hut can we?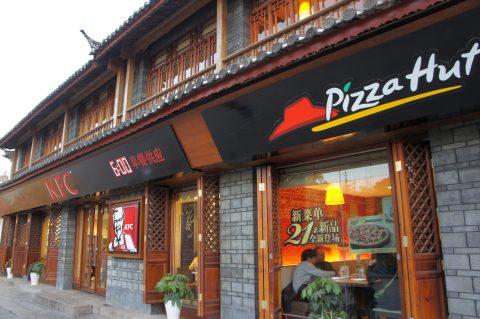 Oh, a small Panda sourvenir I got from Chengdu Panda Conservatory.
Dinner time.
Special promotion, 1 RMB per bottle.
We had Mao Niu Ruo Dan Ba (Yak Meat) and Zhu Shun San Xian (some shoots, I can't really translate).
Saw this hanging outside one of the restaurants.
Zheng had some very useful iPhone apps with him which gave us information on nearby restaurants, bars and sights.  That's how we came to a bar called Bamboo.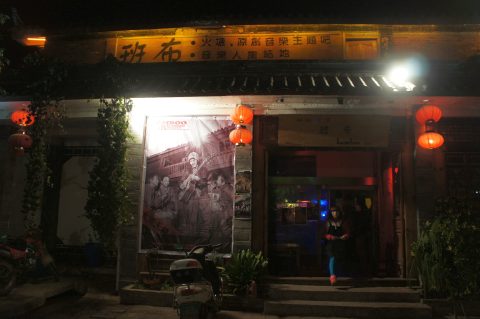 This artiste has released her own albums and is supposedly well known in Lijiang.  I stealthily recorded one of her performances.  Let me know if you want to listen to it.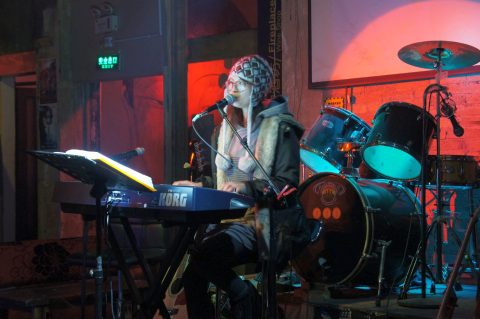 After a few bottles of Fenghua Xueyu beer, we left Bamboo at 10pm.  Bidded farewell to Zheng as he's going to Lugu Lake tomorrow while I am heading to Dali.