Day 17 – Tiger Leaping Gorge to Lijiang
I woke up at 7am and did not see any majestic sunrise.  After a breakfast of hot steaming noodles, I set off at 810am.
Those mountains you kept seeing in the photos belong to the Yulong Snow Mountain Range.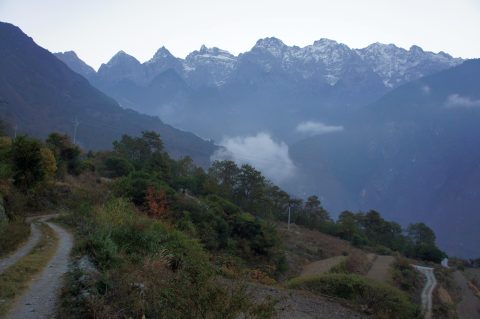 Sometimes trails split into 2, just keep a watch out for arrows.
Woah, I found money!  Maybe I will get lucky today!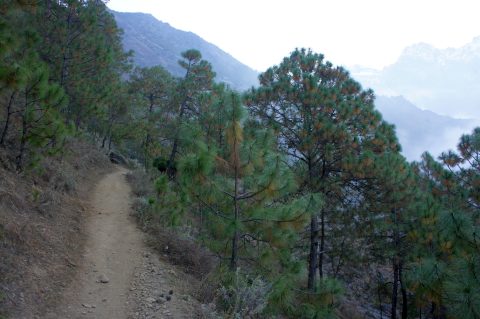 The famous 28 bends.  It really wasn't that bad.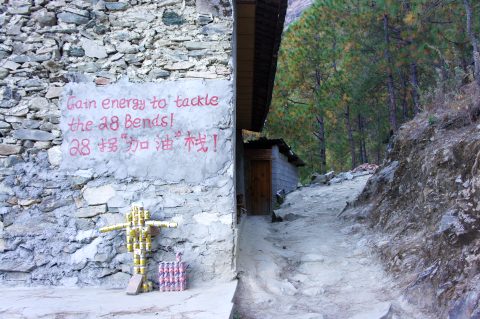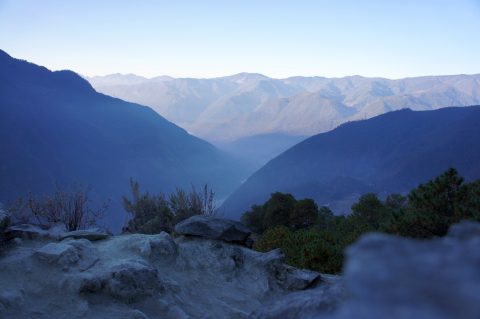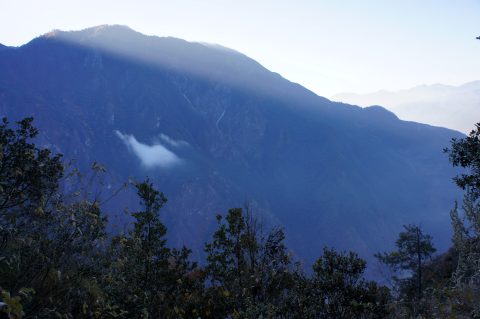 I  wandered lonely as a cloud
That floats on high o'er vales and hills,
When all at once I saw a crowd,
A host, of golden daffodils;
Beside the lake, beneath the trees,
Fluttering and dancing in the breeze.
Continuous as the stars that shine
And twinkle on the milky way,
They stretched in never-ending line
Along the margin of a bay:
Ten thousand saw I at a glance,
Tossing their heads in sprightly dance.
The waves beside them danced; but they
Out-did the sparkling waves in glee:
A poet could not but be gay,
In such a jocund company:
I gazed—and gazed—but little thought
What wealth the show to me had brought:
For oft, when on my couch I lie
In vacant or in pensive mood,
They flash upon that inward eye
Which is the bliss of solitude;
And then my heart with pleasure fills,
And dances with the daffodils.
William Wordsworth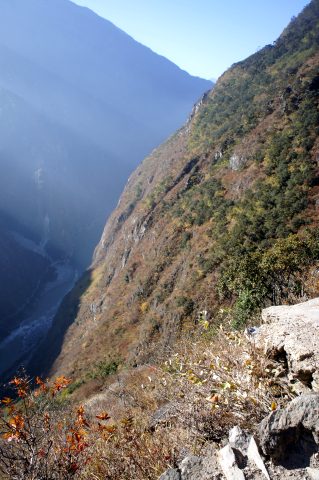 Tea Horse Guesthouse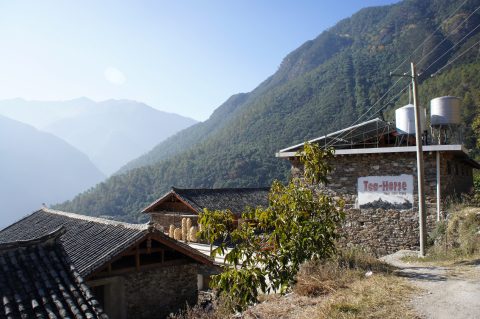 These are the arrows you need to follow.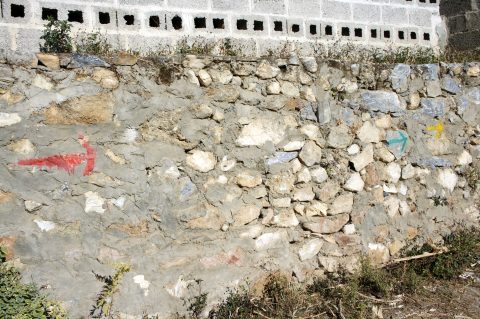 Spot the farmer.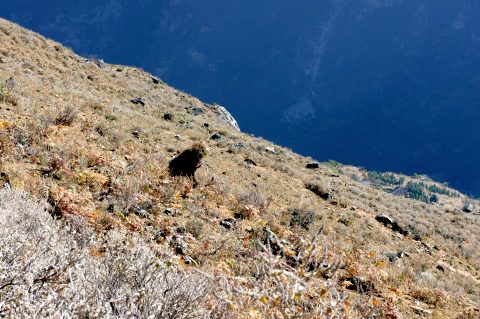 Wonderful views guaranteed throughout the hike.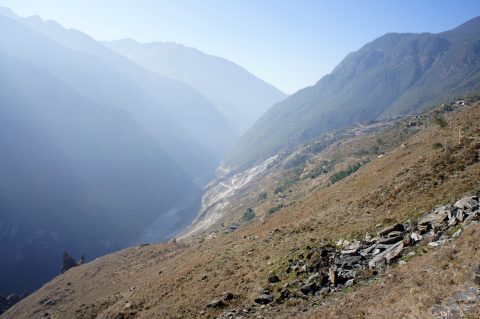 You will pass by farms and animals.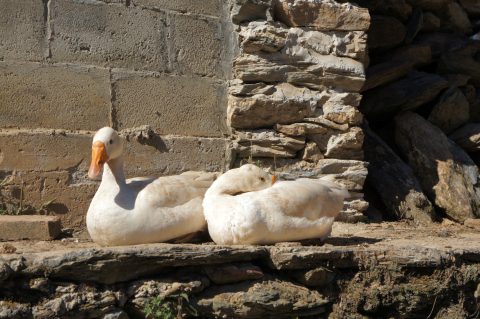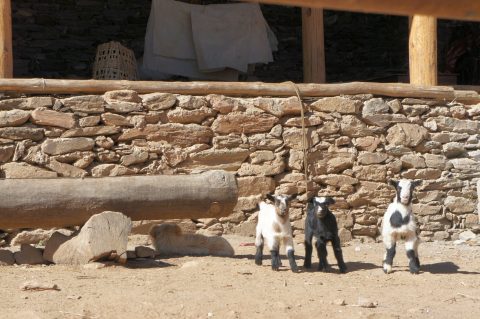 These goats were very scared of me.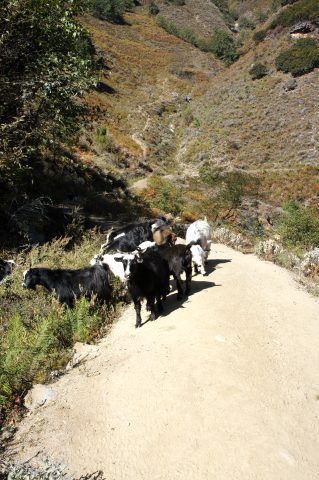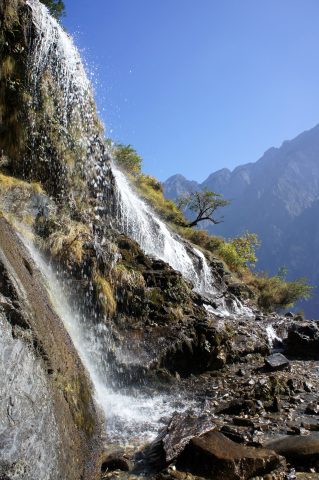 Even though I do not think the trek is too strenuous but I feel it might pose a problem to people who're afraid of heights.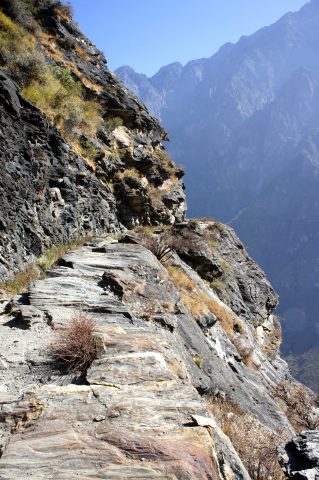 Pray for a smooth journey at a temple along the trek.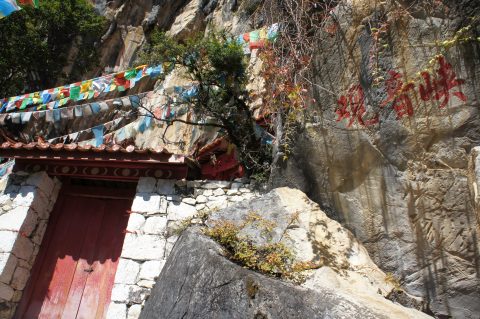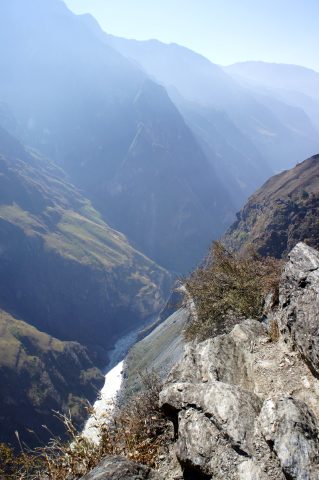 Reached Tina's before 1pm.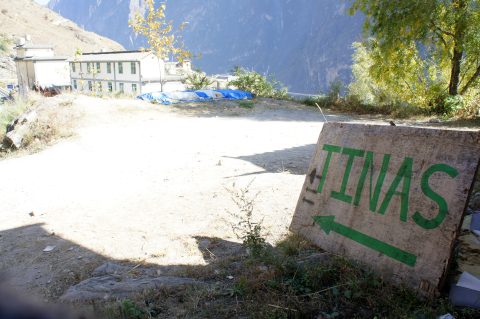 A better map over at Tina's.  They recommended me to go down to Middle Tiger Leaping Gorge via Tian Ti Guesthouse.  The views there were supposedly better.  Going down one route and coming up a different route would incur a double admission charge.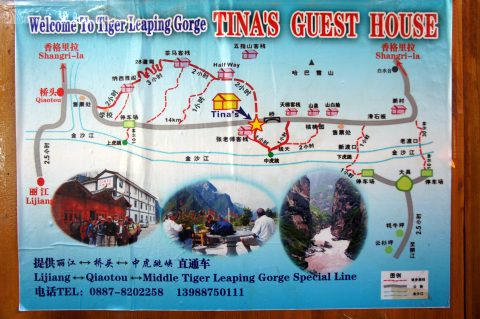 To get to Tian Ti Guesthouse, just cross the bridge for a short 5 mins walk.
But before that, I fueled up with a plate of egg fried rice and a bottle of vitamin drink.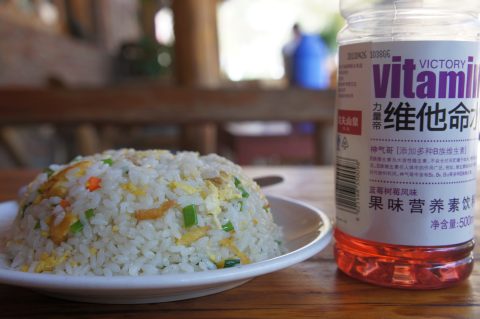 I paid 10 RMB for access down to Middle Tiger Leaping Gorge.  I also booked a 4pm bus to Lijiang.  The driver will stop at Qiaotou to wait for those who need to retrieve their bags from Jane's.
Well, do you want to live life safely or dangerously?  You have a choice here.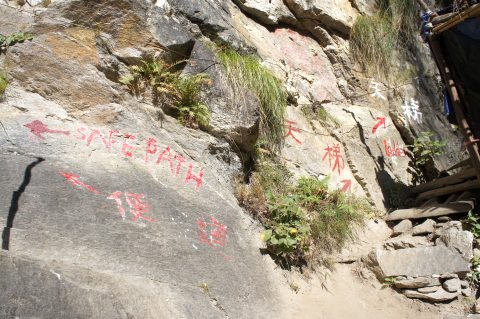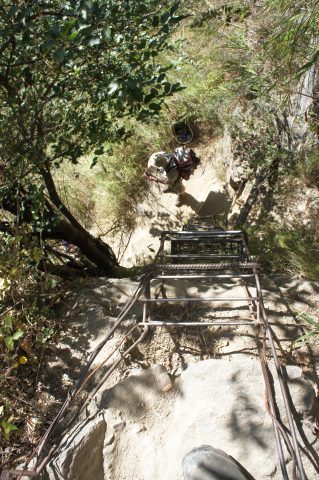 Gorge scenery.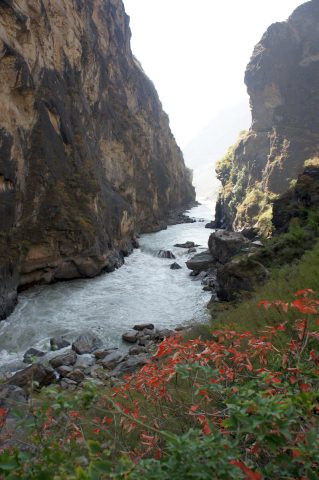 I will try to post a video of the rushing waters one of these days.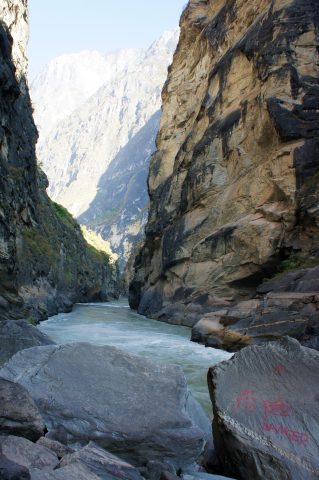 Heading back, it's scarier than it looked.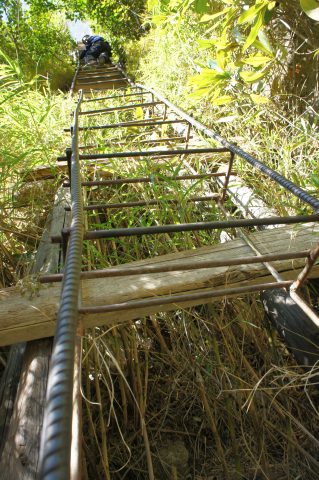 That's Haba mountain range in the background.
I reached Lijiang at 7pm.  I met a fellow traveler, Zheng, at Tiger Leaping Gorge who's also on the same bus.  As I have not booked any room for the night, he helped me check his hotel for vacancy.  There's one and I took it.
The chosen hotel was Mu's Inn and it's located near Mu's residence, south of Sifang Jie.  Getting there is rather tricky with the maze of cobbled lanes.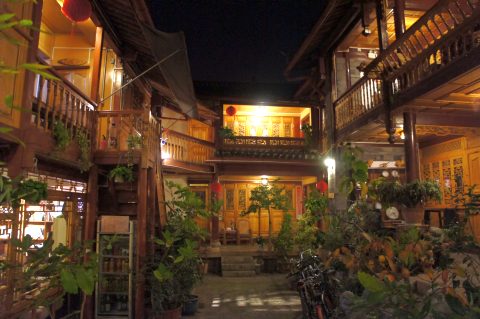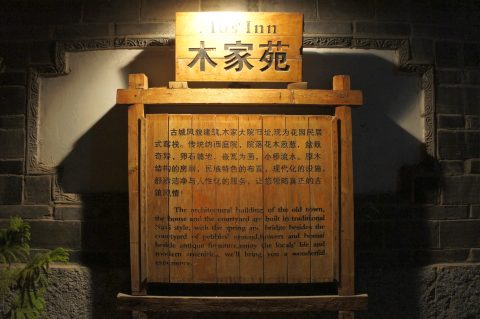 But it's a really nice place.  Room was 130RMB per night with private bathroom.  They also offer free wifi, free use of washing machines, free pickup from airports and free use of bicycles.  Mu's Inn website can be found at www.lijiang123.com and their contacts are 0888-5130360 or 0888-5130373.
Note that one need to pay Lijiang's conservation fees of 80 RMB which I paid at Mu's Inn.  I am not sure if you can get away without buying at other lodgings.  But if you intend to visit sites such as Yulong Xueshan, you would need to purchase it anyway as it would be checked.  To encourage people to buy the conservation ticket, there is even a biannual lucky draw where results can be found at the official website of Lijiang Old Town.  My draw date is 6th January 2012, wish me luck!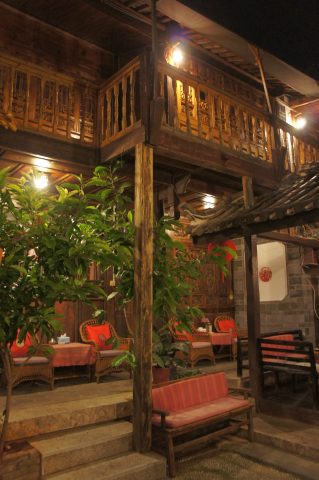 Coffee place with free use of computer and complimentary fruits!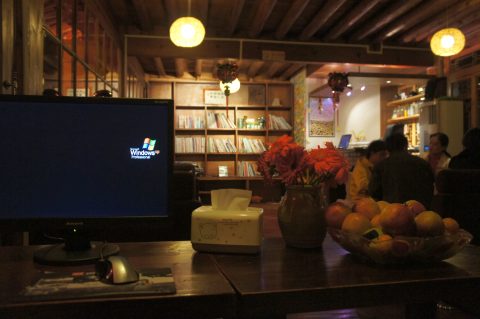 Out to Lijiang Old Town for walkabout and dinner.  It's quite cold and I was in my slippers.  I had some abrasions on my feet from all the rubbing against my slightly loose boots at Tiger Leaping Gorge.  It's a lesson I did not learn from my Mt Ophir climb in Malaysia earlier this year.  Story for another time.
How can I resist BBQed Yak Meat sticks?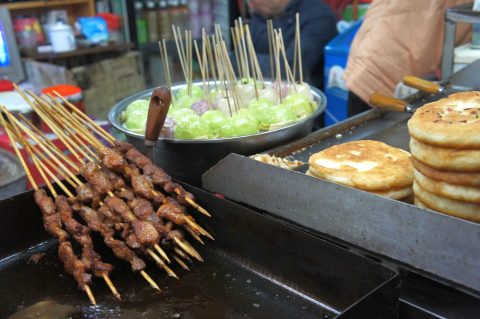 Even though it's the off-peak season, Lijiang was still crowded.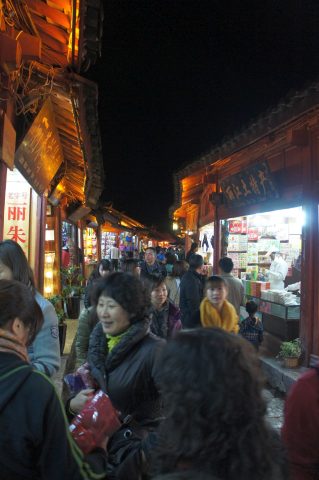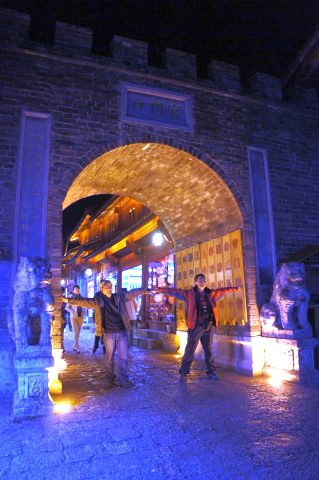 Place for dinner!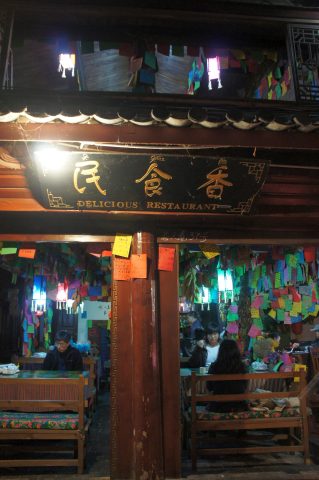 A sample of their menu.  The dishes to try are the Naxi specialties.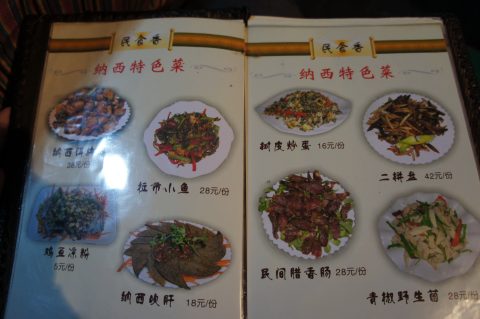 I thought I was resigned to egg fried rice.  Luckily, I now have somebody to share a variety of dishes.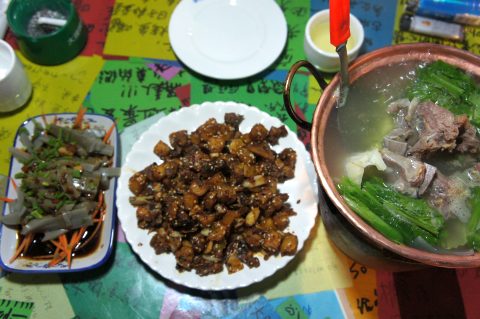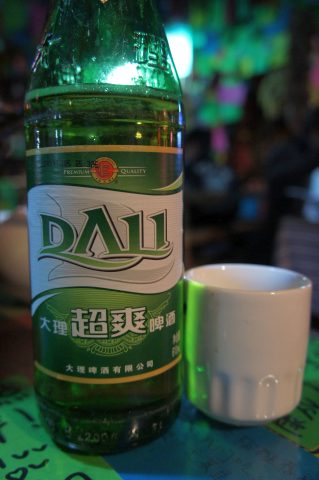 Naxi scripts.