Day 09 – Around Lhasa – Potala Palace, Jokhang Temple, Barkhor Street
I woke up in the middle of night shivering.  The portable heater had stopped running.  It was another power cut.  I disturbed the reception but unfortunately, the guy did not know where the master switch was and advised me to try to get some sleep and wait until the morning.  J and I tried the row of swiches along the stairs just below our floor but none worked.  So we resigned ourselves to our fate and put on extra layers of clothings.  But it's still too cold for a good sleep.
The girls gave us a wake up call at 7am (one of them lost a game yesterday night).  I asked if they had any electricity trouble.  They gave the affirmative but added that they still managed to sleep through without any troubles.  How?  With the extra blankets found in the wardrobe, it's almost too warm.  So they didn't even bother to leave the room for the master switches found along the stairs just above our floor.
Gals 1, Guys 0.
We booked Kyichu Hotel because it's a safe choice.  But what I really wanted to try were the charming and atmospheric boutique hotels which were converted from traditional and historical Tibetan courtyard homes.  The power problem gave us a good excuse.
So we went hotel hunting at 8am.  There was only one moon in the sky.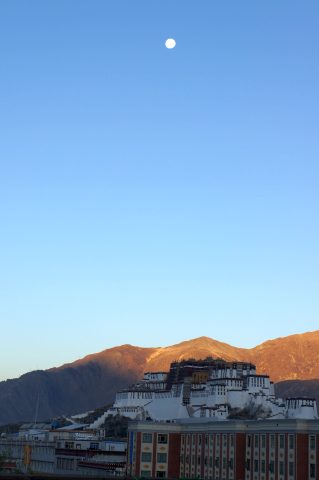 The map from Lonely Planet showed the locations of the hotels in a maze of nameless streets in Barkhor old town.  But the map was surprisingly accurate if you follow it carefully.  The day's activities were just beginning when we took to the streets.  Following three photos were courtesy of J.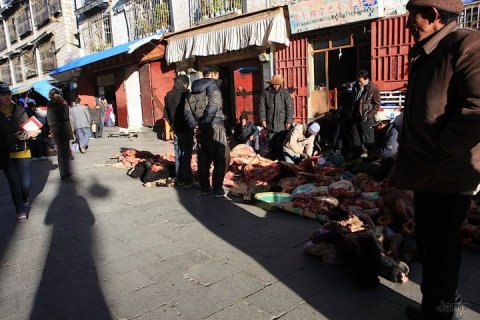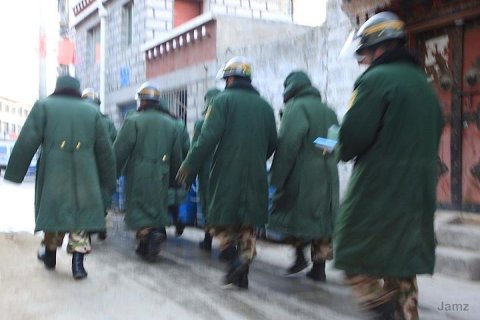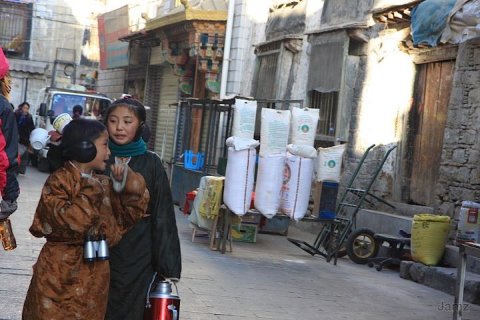 From Kyichu Hotel, we visited the nearby hotels namely Yabshi Phunkhang, Dhood Gu Hotel, House of Shambhala and Shambhala Palace.  It was the winter season and vacancy was high.  Well, maybe except for Dhood Gu Hotel which was closed altogether during this lull period.  Yabshi Phunkhang, House of Shambhala and Shambhala Palace offered us rooms at 280RMB, 400RMB and 240RMB respectively.  What a steal I thought.  A room at these hotels go above 1000RMB during peak season.  We selected Yabshi Phunkhang for its convenient location and interesting heritage.
Lonely Planet wrote:
Architectural integrity is rare in Lhasa these days, which makes the four-year restoration of this mid-19th-century mansion all the more special.  The complex was built for the parents of the 11th Dalai Lama (yabshi is the title given to the parents of a Dalai Lama) and the collection of 21 large, well-equipped rooms linked by lovely courtyards and sitting areas is both stylish and very Tibetan.  There's also a good restaurant, cafe and cosy winter bar.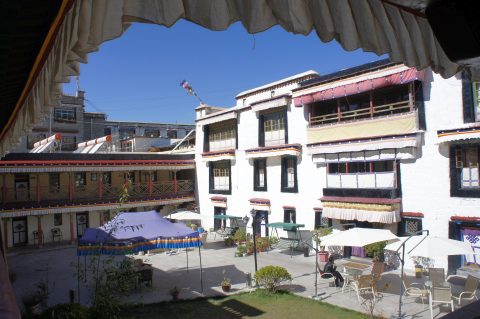 Furthermore, at the same rates as Kyichu Hotel, we see little reason not to switch.
Here are the address and contacts of Yabshi Phunkhang Heritage Hotel.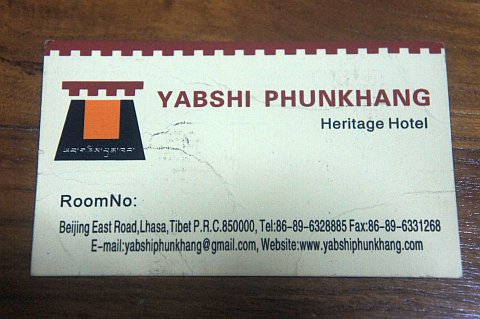 Walking back, we patronised the street stalls selling meat buns.   J and I paid 2 RMB each for a bun.  The girls paid 1RMB each at another stall.
Gals 2, Guys 0.
In any case, the meat buns were steaming hot and absolutely tasty.  Quite glad we cancelled our 40RMB hotel breakfast buffet.
When we got back to Kyichu Hotel, Dawa was already there waiting to take us to Potala Palace. We explained our wishes to switch hotels and we spoke to the staff.  They were very nice about it and all was okay. We would leave our luggage at Kyichu Hotel until we got back from Potala Palace.
After a 15 minutes walk, we reached the palace vicinity and spotted Tibetans doing the kora (pilgrimage circuit).  There are four main koras in Lhasa – Nangkhor (inner precincts of Jokhang), Barkhor (outskirts of Jokhang and old town), Lingkhor (8km old city route) and Potala Kora.  In Tibetan Buddhist tradition, kora is performed clockwise.  Bon adherents do it anti-clockwise though.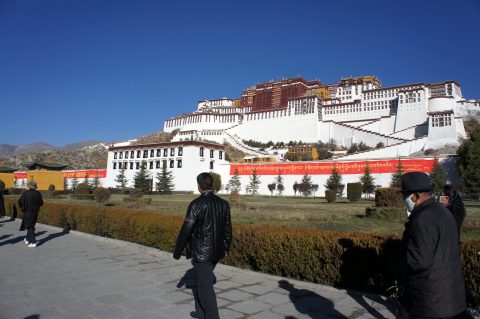 Potala Palace was once the chief residence of the Dalai Lama until 1959 when the 14th Dalai Lama fled to Dharamasala in India.  Today, the awe-inspiring place is mostly a museum.  Read more about Potala Palace at Wikipedia.
Climbing the long flight of steps up the palace at Lhasa's altitude was no easy task.  We frequently had to stop in order to catch our breath.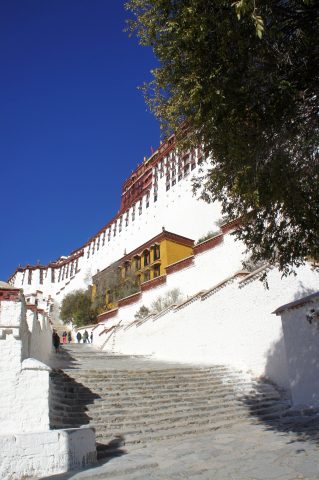 Click on photo for a bigger view


View from Potala Palace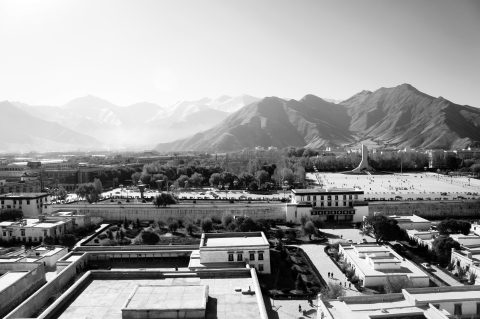 At around 1pm, we got back to Kyichu Hotel and transferred to Yabshi Phunkhang Heritage Hotel.  Then, we visited Barkhor for lunch.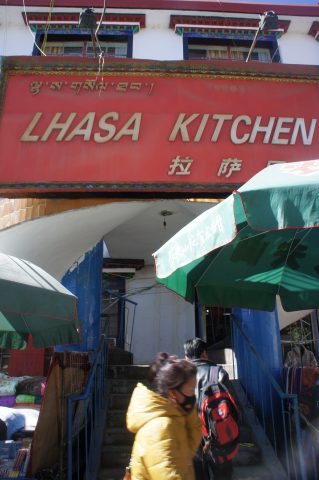 We liked the minced meat balls a lot.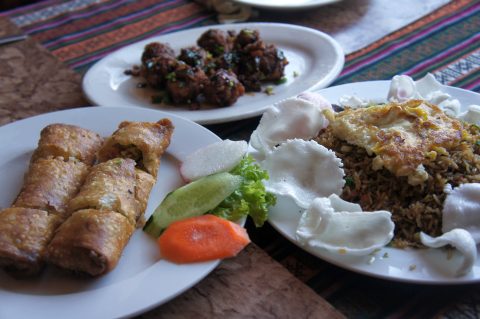 We followed Dawa in his choice of drink.
After lunch, we walked to the Jokhang.   Jokhang was built by King Songsten Gampo to house the Buddha image of Mikyoba brought to Tibet by his Nepali wife Princess Bhrikuti.  At the same time, the Ramoche temple was built to house another Buddha image of Jowo Sakyamuni brought to Tibet by his Chinese wife Princess Wencheng.  But why was Jokhang aka Jowokhang which means 'chapel of Jowo' the site holding the Buddha image of Jowo Sakyamuni today?  Wu Zetian, an empress of Tang dynasty and founder of Zhou dynasty, was a devoted Buddhist.  When she learnt that the Jowo Sakyamuni image was in Ramoche temple, she wanted to get her hands on it.  To protect the image, the image was moved to Jokhang.
Prayer pole outside Jokhang.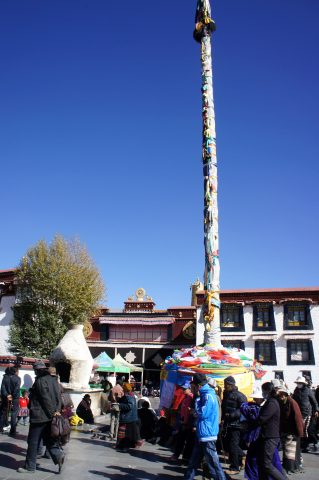 It's all real, I do not have imaginery friends.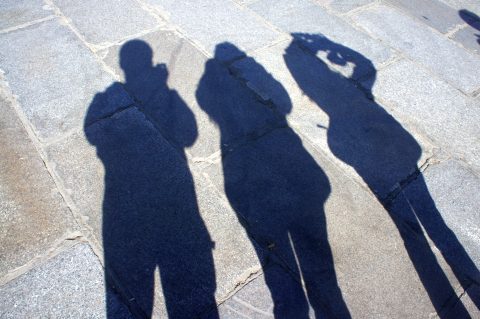 As with Potala, we are not allowed to take photos inside the chapels of Jokhang.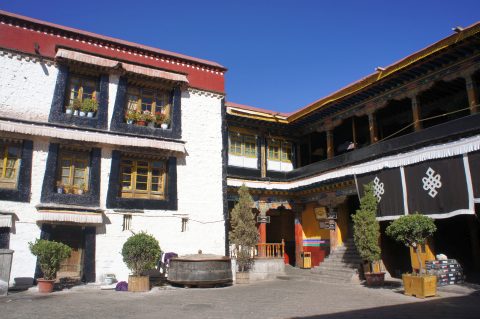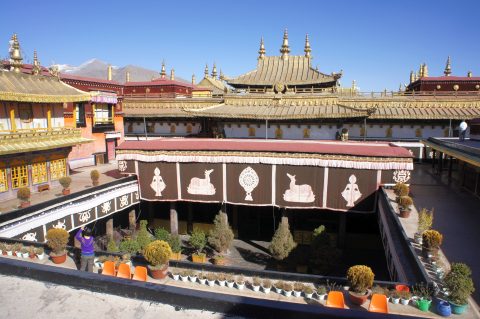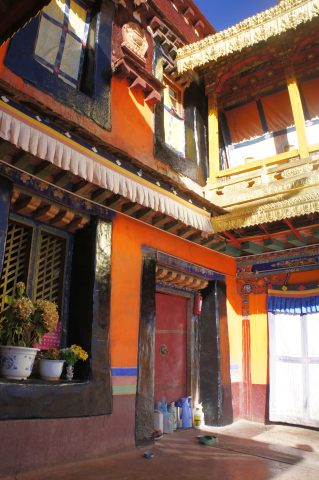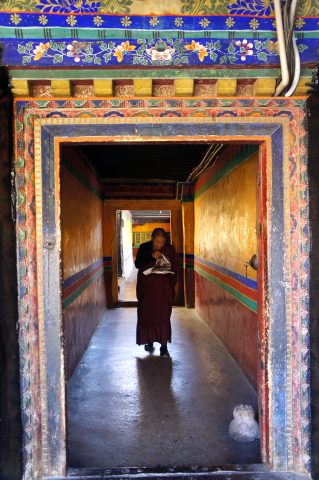 After Jokhang, Dawa left us and we decided to earn some merits by doing the Barkhor kora.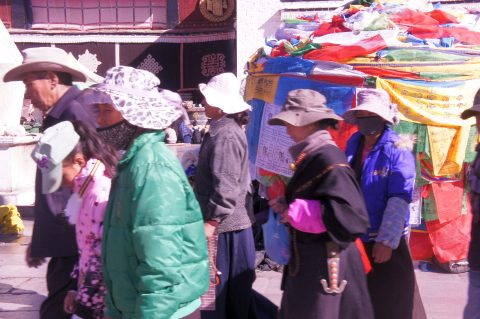 It's a nice walk.  There were shops selling tourist trinkets.  Oh, a small boy snatched a half-empty can of coke off my hands.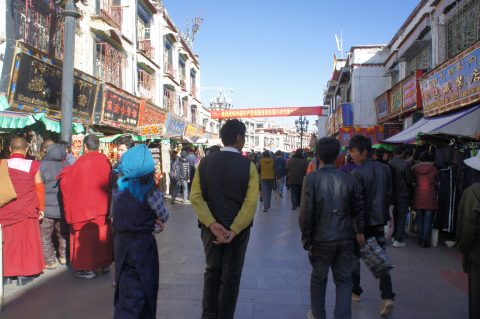 We went back to Yabshi Phunkhang.  We hang around the courtyard taking photos and checking the free wifi.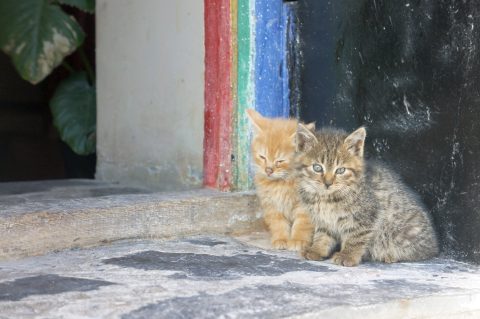 Our huge room.  I like it a lot even though it's quite cold with just a portable heater to be shared between J and me.  But hot water was available and the hair dryer helped a lot.  We were the only guests in the hotel.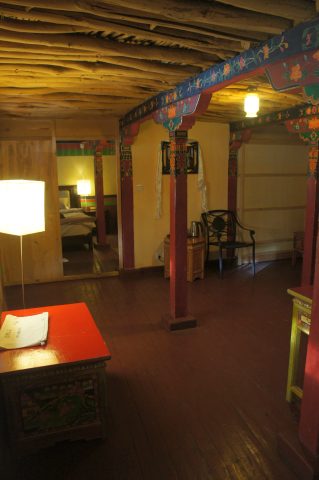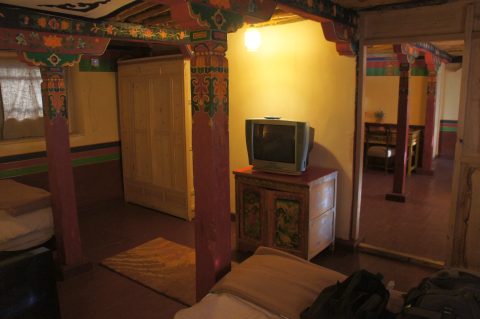 After a soothing hot water bath, we visited the supermarket for some grocery and stopped by a restaurant for dinner.
We had our first taste of the famed butter tea of Tibet.  It's made from tea leaves, yak butter and salt.  Supposedly providing a lot of claroic energy, preventing charred lips and especially good for high altitudes, I tried to drink more.  Many foreigners do not like the taste but I found it acceptable especially when taken hot.