Day 10 – Around Lhasa – Norbulingka Palace & Sera Monastery
I woke up at 7am and yes, cold as usual.
Dawa did not turn up at our appointed time and when we called him, he told us he's still stucked in a queue for some permits.  He advised us to visit Norbulingka Palace on our own and he would meet us after lunch to visit Sera Monastery.
So we flagged a taxi to Norbulingka at 10 RMB.
Norbulingka means Treasure Park and was the summer residence of the Dalai Lamas.  It was from the Norbulingka that the 14th Dalai Lama escaped to India on 17 March 1959.  From Wikipedia:
On this day, the Dalai Lama dressed like an ordinary Tibetan carrying a rifle across his shoulder left the Norbulinga palace and Tibet to seek asylum in India. As there was a dust storm blowing at that time he was not recognized. According to Reuters, "The Dalai Lama and his officials, who had also escaped from the palace, rode out of the city on horses to join his family for the trek to India". The Chinese discovered this "great escape" only two days later. The party journeyed through the Himalayas for two weeks and finally crossed the Indian border where they received political asylum.
The small movie theatre which Heinrich Harrer built for the 14th Dalai Lama was also in Norbulingka.
These days, the Norbulingka is a tourist attraction and has undergone numerous renovation works by the Chinese government.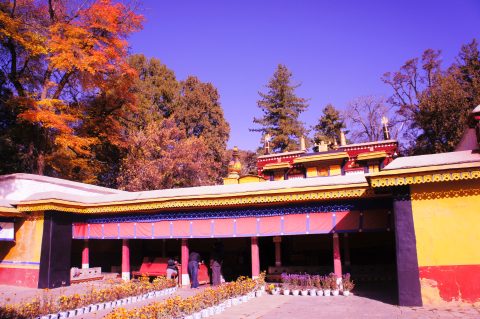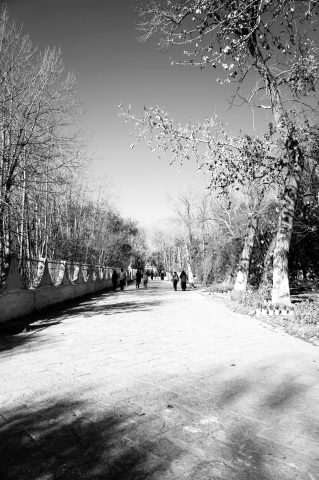 Strolling on the vast grounds of Norbulingka led me to ponder over various things.  One frequent thought on my mind these days was the dynamics of walking in a group.  Some people automatically pairs off and walk in duos.  Some people slow their pace and let a person lead the way.  Some people walk so fast that others are left behind.  Just like when a friend gives us a car ride, we would automatically sit in the front instead of at the back.  But I guess when compared to walking, it's easier in the car since the pace is controlled and you can't really move around.  It's interesting if you think more about it.  In any case, I feel it's more friendly to walk together even if there is nothing to talk about.
Albert Camus puts it nicely:
Don't walk behind me; I may not lead.
Don't walk in front of me; I may not follow.
Just walk beside me and be my friend.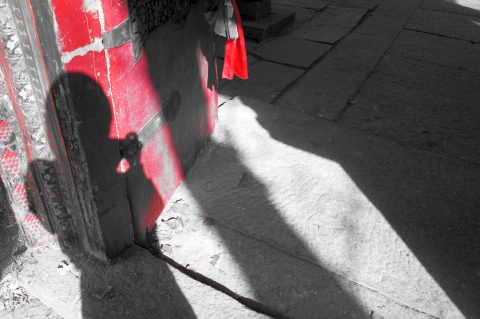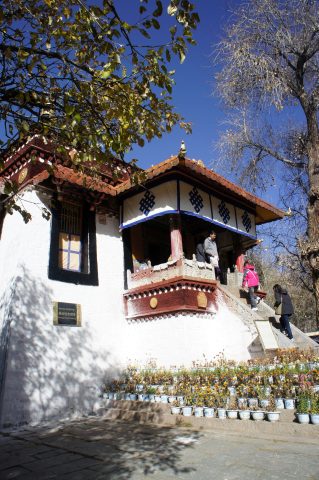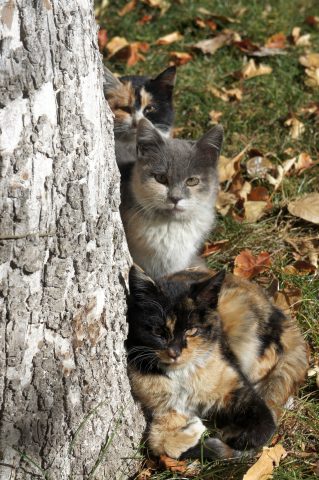 Tourists dressing up in traditional costumes for photo mementos.  I'm sure they will look back with fondness of these happy moments many years from now.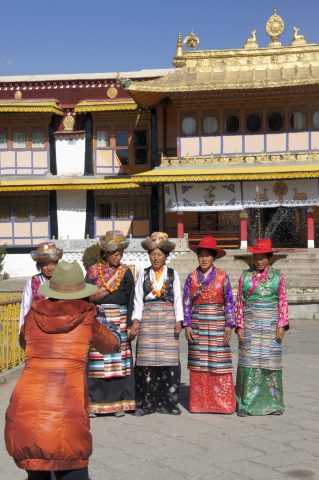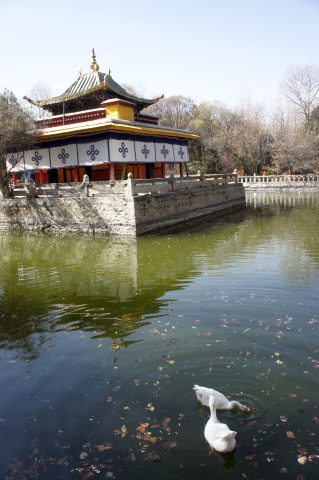 The Tibet Museum was closed on Monday.  It's rather unfortunate as I really would like to see the Chinese government's representation of the history of Tibet.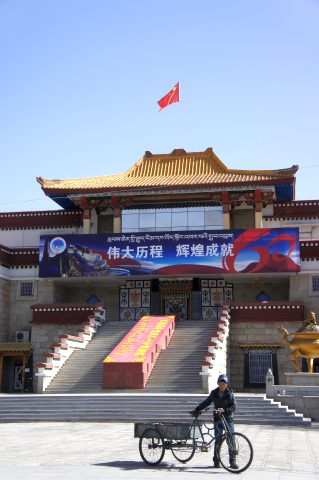 Lunch at Jazz Island Coffee.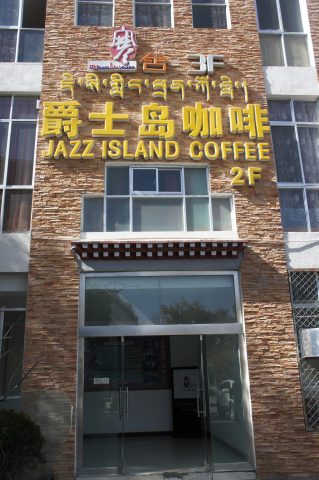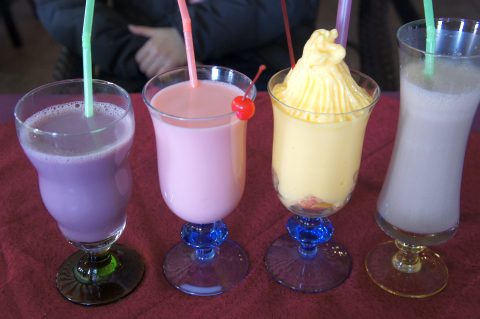 At around 1pm, we headed for Sera Monastery.  Sera Monastery is one of the three most important Gelukpa university monasteries of Tibet, the other two being Ganden Monastery and Drepung Monastery.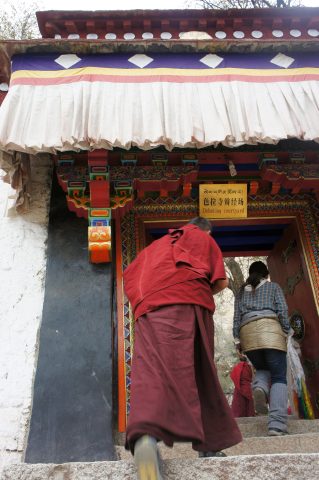 Sera Monastery used to house around 5000 monks but the numbers have been reduced due to Chinese government restrictions.  At 3pm to 5pm on weekdays, monks debates took place in the monastery's debating courtyard.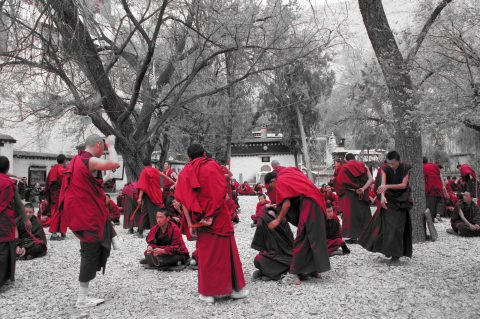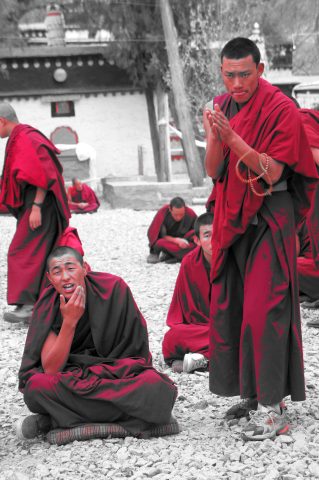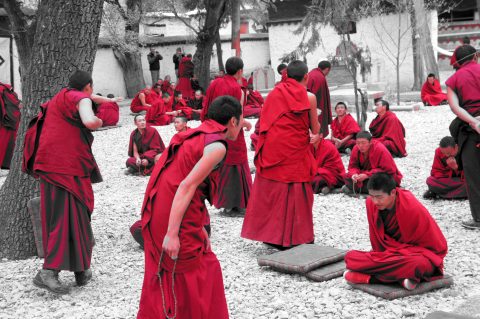 After the monastery tour, J and I decided to do the Sera kora.  The ladies went to a teahouse with Dawa while J and I cleansed ourselves of sins.
You might noticed ladders drawn using chalks on stones in Tibet.  Please do not step on them as they represent the paths to heaven for the departed after sky burial.  Read more about sky burials at Wikipedia.
Do you know why Tibetans seldom eat fish?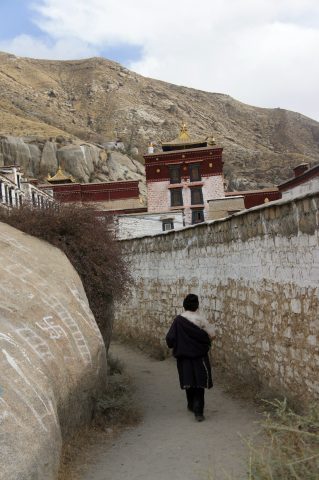 Click on photo for a bigger view

J and I took around 45 mins for the kora.  We met up with the rest and headed back to the hotel.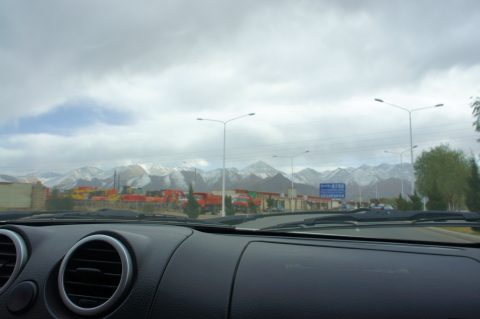 After a nice hot bath and short rest, we ventured out for dinner.  Anglamedo was a cozy restaurant with a lively atmosphere.  A group of locals at a nearby table even belted local ballads.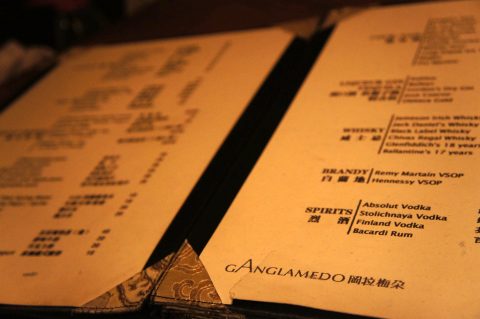 Tried another variety of local beer.  It's good!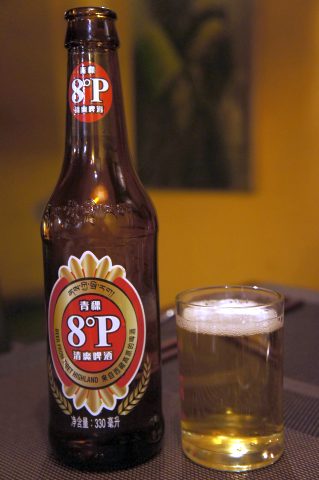 The food here was pretty tasty except for the rather bland chicken chop I picked.  My bad.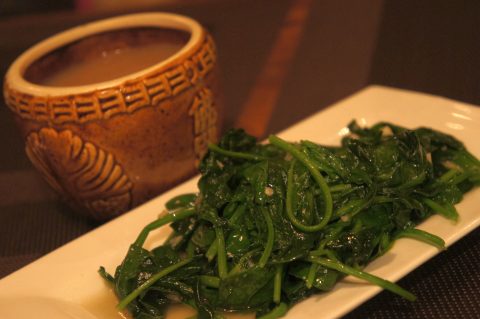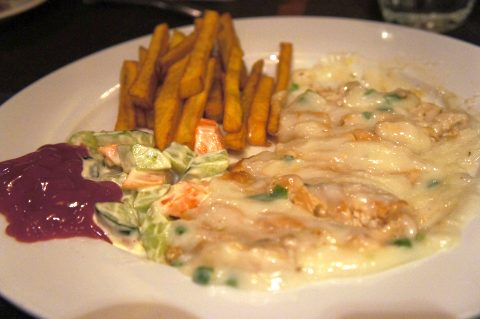 After dinner, we went grocery shopping again.  This time we bought face masks and I also bought a scarf.  We would be heading for higher altitudes tomorrow!