Day 08 – Train Journey & Arrival at Lhasa
Woke up early but there's no glorious sunrise as it's very cloudy.
For breakfast, we had some of the confectionary from Chengdu.  But as we wanted something hot, we visited the restaurant and ordered 1 set meal to share.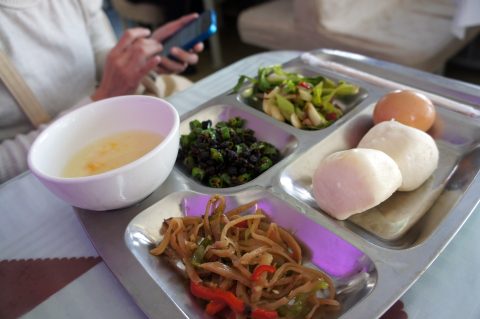 The train had reached the highest attitudes of the journey.  The railway's highest point is at Tanggula Pass which is 5,231m above sea level.  Tanggula Mountain railway station, at 5,068m, is the world's highest.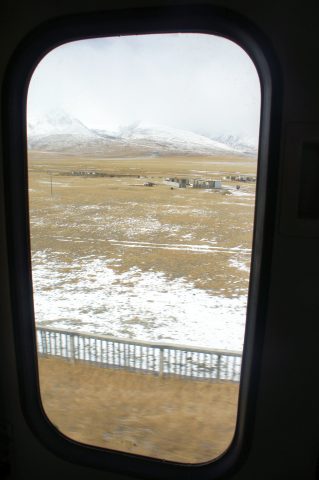 Click on photo for a bigger view

We played card games again and this time the losers had to prepare our lunches for us – cup noodles.
It's time for another nap and we reached Lhasa station at 450pm.  Once out of the train, I felt slightly out of breath just after a short walk.  We were advised to take things slow.  That's Lhasa railway station in the photo below.  The station was guarded by military and we met our guide Dawa outside the perimeter.  At 3500m nearer to the sun, it's scorching hot.
We were driven to Kyichu hotel which was recommended in Lonely Planet and Tripadvisor.  Kyichu sounds Japanese but it is the Tibetan name of the river that runs through the city.  Kyichu means happiness.  We planned to stay here for 3 nights.  The hotel is conveniently located along Beijing road and is within walking distance to Potala Palace and Barkhor. Dawa left and arranged to meet us tomorrow morning.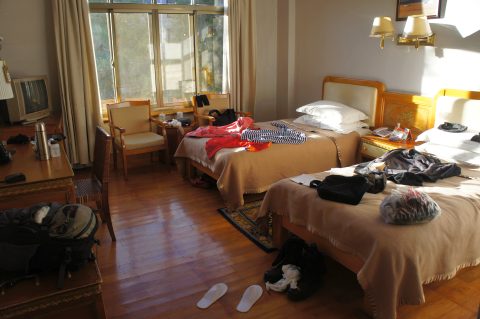 Our bathroom look a bit run down.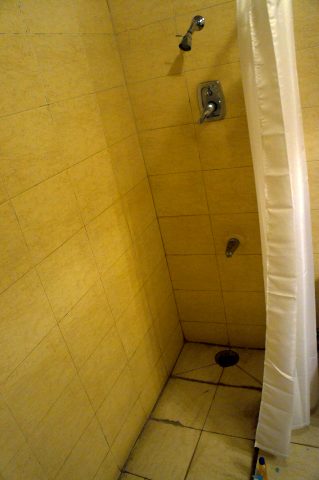 But hey, why did the girls get a bathtub!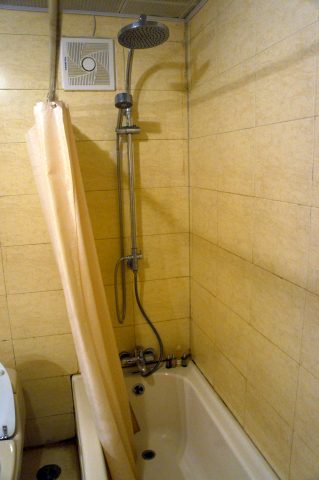 Some people advised us not to take a shower on our first day in Tibet as it's easy to catch a cold.  But if we really wanted to take a shower, it's recommended to do so in the afternoons when the temperature is not too low.  Since we had not bathed for a few days, we took the risk.
The portable heaters in our rooms weren't particularly effective and we experienced a few blackouts.  However, credit must be given to the friendly staffs who came running whenever we needed help.
View from the top of Kyichu Hotel.  Maybe it's not obvious to city folks like me who lives in a country with no mountains.  But towns are usually built in the flat valleys of mountainous regions.  Lhasa is no different.  It's surrounded by glorious peaks.
View of Potala palace which we would be visiting tomorrow.
Dinner at Kyichu hotel.  We had Yak burger, cheese momos (Tibetan dumplings), Thukpa (Tibetan noodle soup), chicken pizza and local beer.  Food was good except for the chewy momos which took a fair bit of coaxing down our throats.
Yak is a pretty interesting animal.  Taken from Wikipedia:
Yak physiology is well adapted to high altitudes, having larger lungs and heart than cattle found at lower altitudes, as well as greater capacity for transporting oxygen through their blood due to the persistence of foetal haemoglobin throughout life. Conversely, yaks do not thrive at lower altitudes, and begin to suffer from heat exhaustion above about 15 °C (59 °F). Further adaptations to the cold include a thick layer of subcutaneous fat, and an almost complete lack of functional sweat glands.
Compared with domestic cattle, the rumen of yaks is unusually large, relative to the omasum. This likely allows them to consume greater quantities of low-quality food at a time, and to ferment it longer so as to extract more nutrients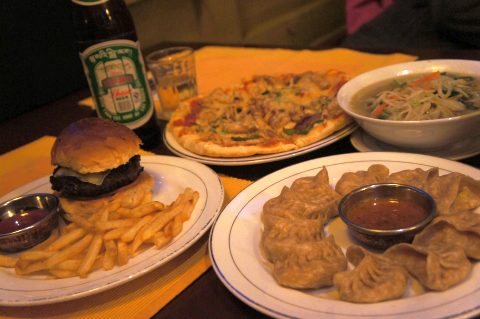 At night, we continued with movies and card games before retiring early for sleep.  Little did J and I knew at that time that we weren't going to get a lot of rest.