Day 07 – Train Journey to Lhasa
"Did I snore?" I asked my friends.  They heard some snoring.  But they were quick to add that it wasn't too loud.  Now, that made me really wondered how exactly loud I was.  One of these days I got to use a tape recorder.  I knew I sometimes snore when I was too tired.  An instructor once commented that a section mate and I played the fifth symphony throughout the night in the deep jungles of Brunei and he couldn't get a wink of sleep.
Well, I hereby declare my deepest regrets to all the sleeps I have disturbed.
Not sure if this small boy with a sleepy look was one of my victims, I apologise to you anyway.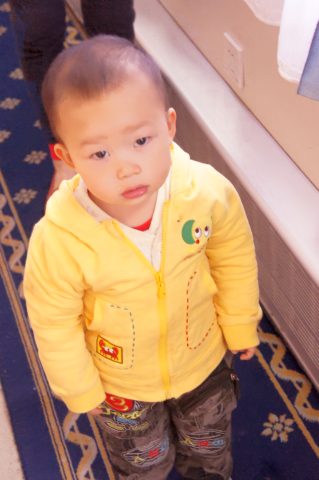 We passed the morning watching a retro vampire movie and playing card games.  I always enjoyed card games and used to pick up a new card game every few days at Yahoo! Games during a period of frenzied interest.  But three card games remained my favourite – Canasta, Hearts and Spades.  I prefer games that requires a higher degree of skill than luck.  A 70/30 ratio would be just nice I thought.  That's why I also like word games like Scrabble.  I feel that these are very nice social games as they are complex enough to be fun yet do not require the players to focus so much that they cannot chat while playing.  An almost 100% game of skill like Chinese Chess would be very difficult for me.  Sure, I can have a good game with amateurs.  But I just do not have the intelligence to play it really well.  Anyway, I do not have many friends who enjoy the same sort of games as me.  Mostly, we just do Mahjong and Dai Di.  Not that I am complaining, we can't expect our close friends to share the exact interests as us.  To quote from Haruki Murakami, there is no all-in-one friend.
For lunch, we made our way to the restaurant car.  We ordered some safe dishes at 107RMB.
As the train gained in attitude, oxygen was being released in small quantities to the cabins.  There were also oxygen connect points for emergencies.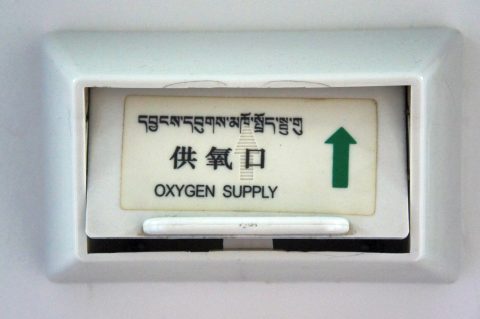 The walkway along side the train are where people stretch their legs and talk to strangers.  If I can help it, I always prefer to take trains rather than planes or buses for long distance journies.  There is just something soothing and romantic about a train journey.  Ferries aren't too bad as well.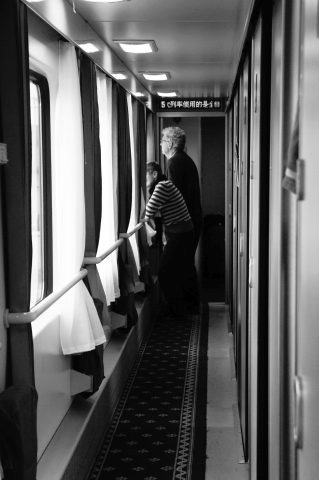 Beautiful scenery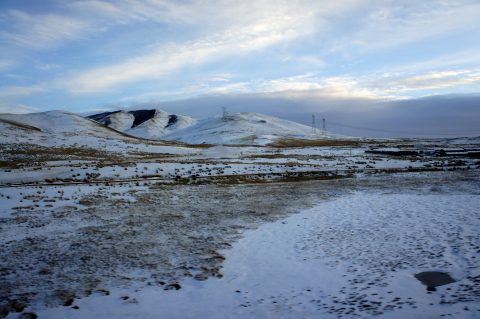 After lunch, we took a nap.  It's a holiday afterall, let's take things easy.  Later on, we played more card games and started to keep scores.  It isn't much fun if there is no punishment for the losers right?   Well, it isn't very fun when I turned out to be one of the losers.  It can be a trifle embarrassing and painful to have a big clip on your ear lobe while waiting for your dinner to arrive.  So I told the waitress to hurry and that we were in a rush for time (我们赶时间!).  With a look that's a cross between puzzlement and amusement, the waitress informed me that the train schedule was fixed.  It's not like I can rush off to anywhere by finishing my dinner earlier.  Everybody laughed.
Late night movie was Seven Years in Tibet.  Did you know that Brad Pitt and David Thewlis were banned from ever entering China because of their roles in the movie?