Day 03 – Emeishan to Leshan
I woke up early and moved off at 7am.  At 8am, I stopped by a stall for noodles and learnt from the owner that it has snowed twice in Emeishan this year, once in May and once in October.  It rained at Emeishan about 200 days in a year.  Well, it kind of explain why my wet foldable umbrella was constantly hooked at my side.
When I reached Jieyin Monastery, it was around 9am.  After that, I had to walk on the main road for a while before rejoining the trail to the summit. This is also the area where floods of tourists started appearing.
Sometimes crowds bring in with them a festive atmosphere but I rather prefer a serene mountain.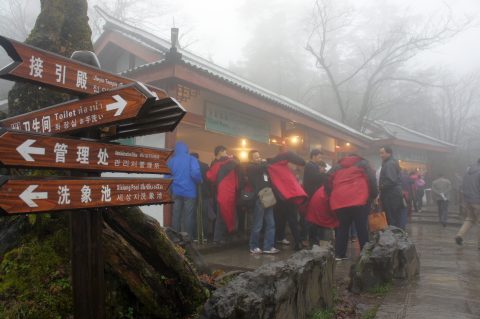 This is the cable car station at Leidongping which travels up to Wuyun.  I sucuumbed to fatigue and paid 65rmb for a one way ticket.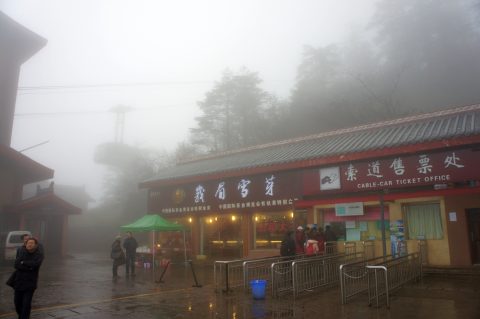 From Wuyun, it's a short climb to Golden Summit.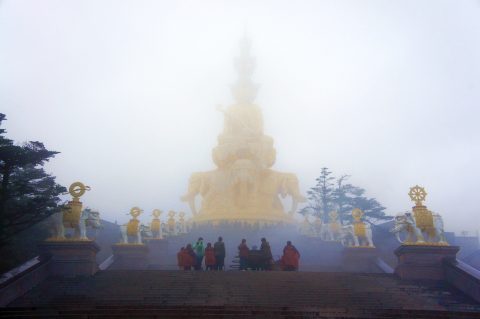 It's 3079m and I like to think  that I am acclimatising for Tibet.
These monkeys know how to unwrap food packagings and eat deftly with their hands.
Haha, no food no photo.
I descended and reached Leidongping bus station in time to catch the 11am bus back to Baoguo bus station.  At 1pm, I repacked my stuffs at Teddy Bear and joined a private mini-van which waylaid me.  I paid them 15 RMB to take me to a hotel at Leshan. I thought it's a fair deal and the vehicle was spacious and comfortable.
By 4pm, I have settled in at Xiao Gong Zui hotel in Leshan which cost me 128RMB.  It is conveniently located at Binhe Lu which is near to the rivers and jetty.  I originally did not want to visit the Grand Buddha site and thought of just taking a tourist boat ride for some quick photo-taking.  But a few people I spoke to persuaded me that the Grand Buddha site is worth a visit.  I heeded their advice.
From my hotel's rooftop cafe, one can see the confluence of Minjiang, Dadu and Qingyi rivers.  If you have good eyes, you can try to spot the tourist boats hanging around the Grand Buddha site in the photo below.
I strolled around and find that Leshan is quite a nice place.  Not very crowded and plenty of street snacks. 🙂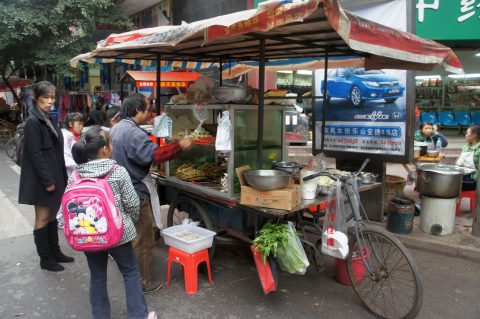 The retired seemed to be having a great time playing cards and mahjong.
By evening, I was back at hotel and watched a movie titled Xi Feng Lie before reading myself to sleep.