Day 02 – Emeishan
I woke up at 6am to a cold morning.  I packed two bags – one bag is to be stored at Teddy Bear which I will pick up after my climb and another bag which I will carry up Emeishan.  There are various entry points to Emeishan and thus various routes to take.  I would start the hike from Wuxiangang bus station and take the route passing through Hongchun Ping , Xianfeng Temple, Yuxian Temple, Elephant Bathing Pool and Jieyin Hall for the Golden Summit.  I would spent a night at one of these monasteries.  On the descent, I would take the bus from Leidongping back to Baoguo and depending on the time, head for Leshan.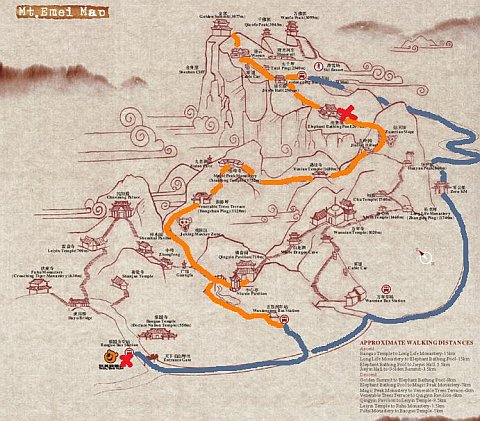 Entrance to Qingyin Pavilion and the first of many B&W photos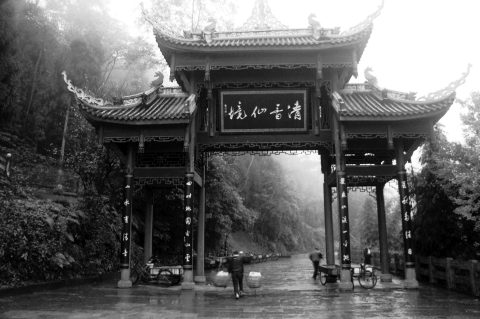 Ebony Logs.  There is actually a Madame White Snake legend interwined with them, check it out when you are there.
There are many places to stay within Emeishan, some of them looks absolutely atmospheric in the natural and misty surroundings.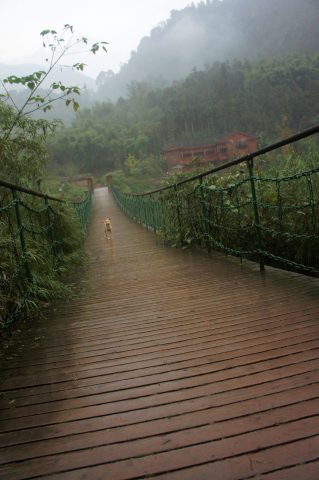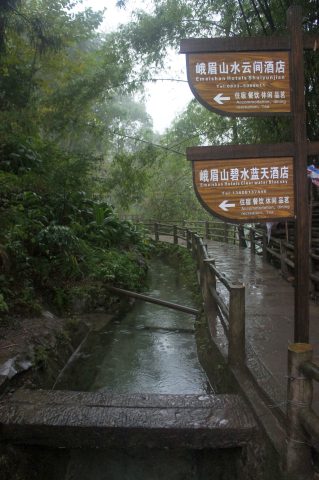 Fancy a stay here? Click on photo for a bigger view.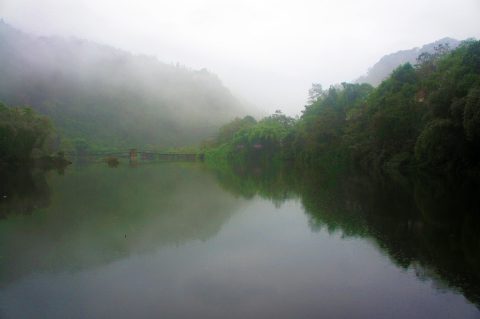 Various famous people have visited Emeishan. One of them was Emperor Kangxi as depicted in the carvings below.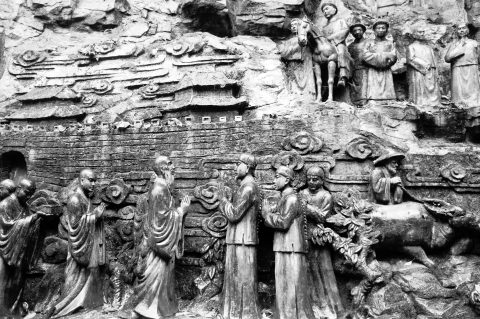 While doing research for Emeishan, I have read about the infamous monkeys of Emei. They are known to be aggressive and there are signs warning tourists to avoid hiking alone in the paths of the monkey lords.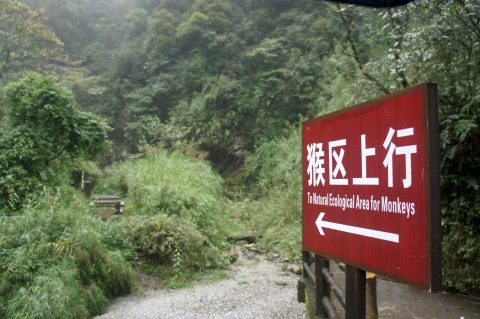 Luckily for me, I hiked through the Monkey Ecological Zone without seeing a real monkey.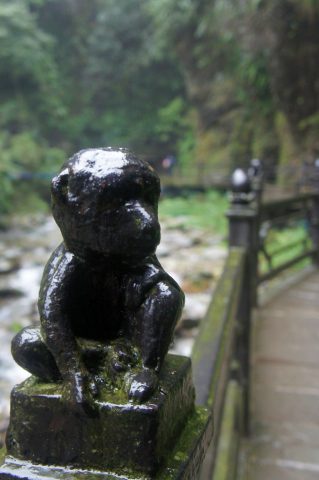 I wore 2 layers of clothings because of the cold and I sweated profusely because of the climb.  This guy didn't seem to have the same problems.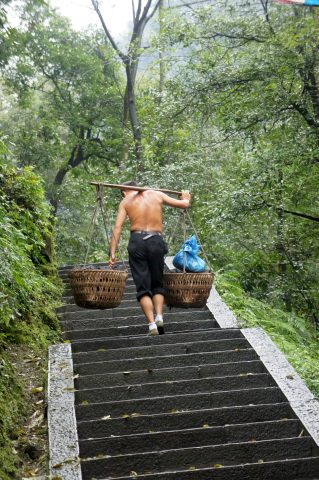 Hongchun Ping, looks like a very nice place to stay for the night.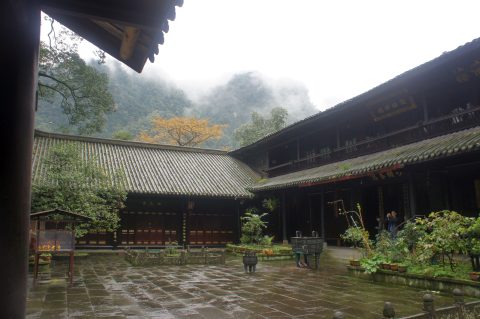 But it's still early so I continued my slow hike while enjoying the beautiful scenery.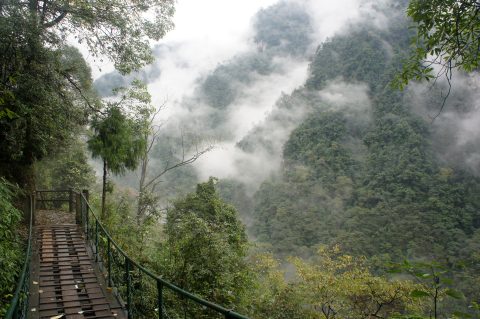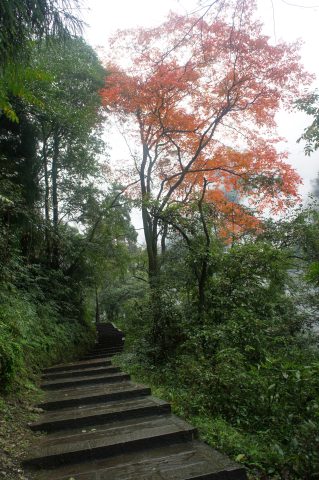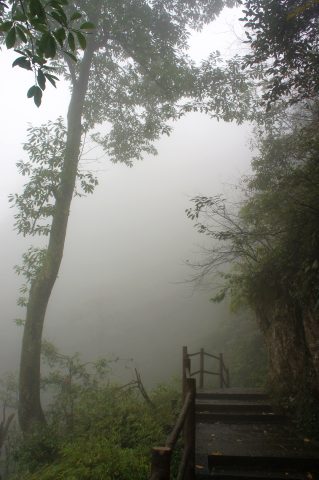 At 1130am, I stopped at a shop for hot noodles and Mai Dong (energy drink).  By this time, my legs were getting very heavy and I wondered how I can last all the way to the summit.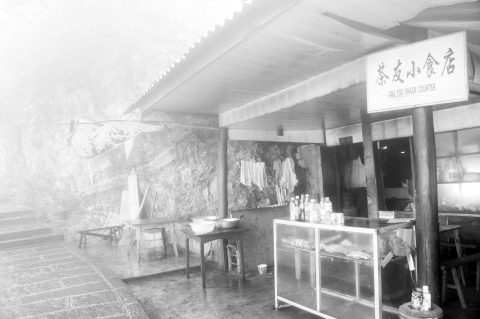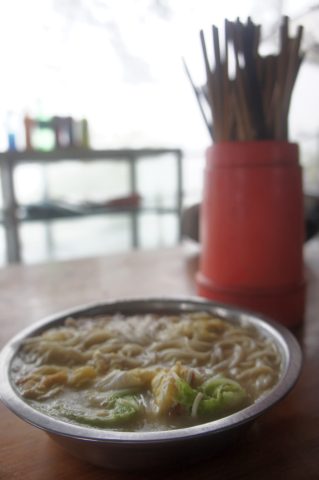 I shot at random things while resting.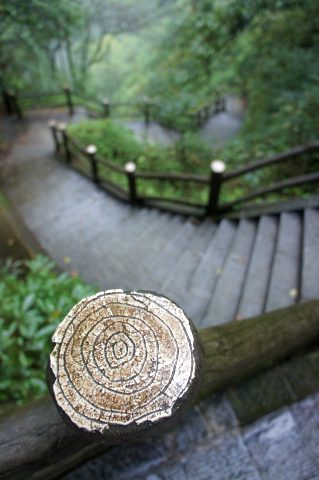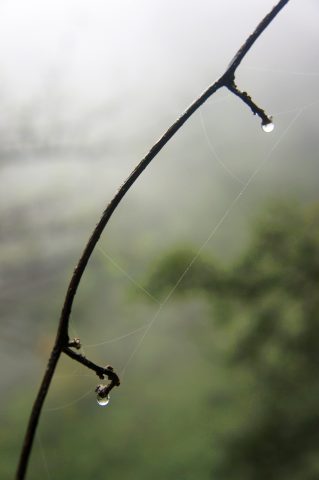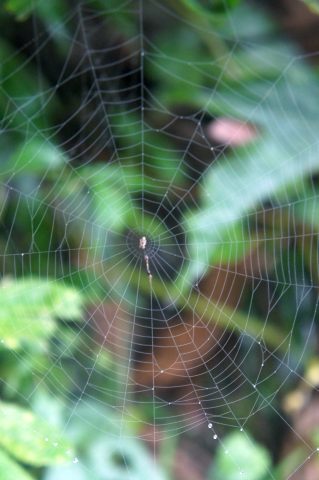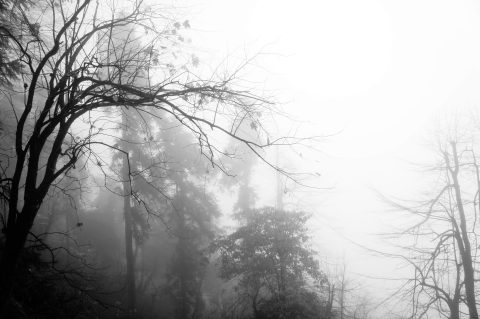 After what seemed like a long time, I reached Xianfeng Temple. The elevation was 1752m. I really have to stop for the day soon as my leg muscles were becoming very tight.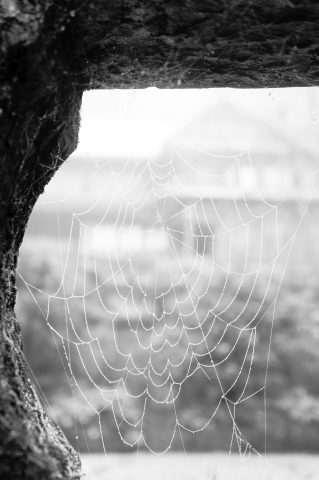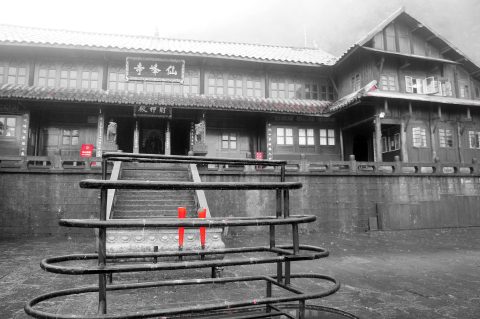 View around Xianfeng Temple (Click on photo for a bigger view)
Finally, I saw some threatening monkeys.  Actually, some of them were so huge that I prefer to call them mini gorillas.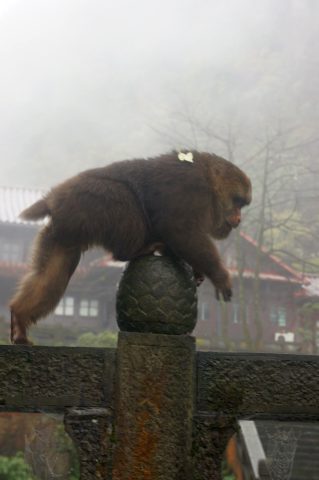 Trying out the selective coloring mode of my camera but not yellow enough.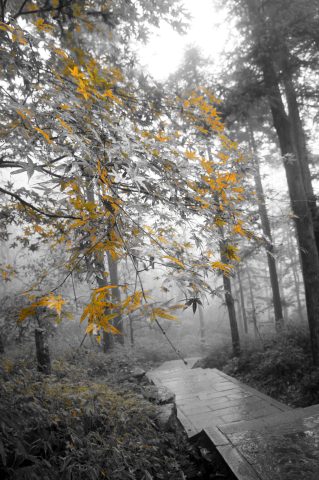 So I pieced the yellow leaves together to form my initials. 😛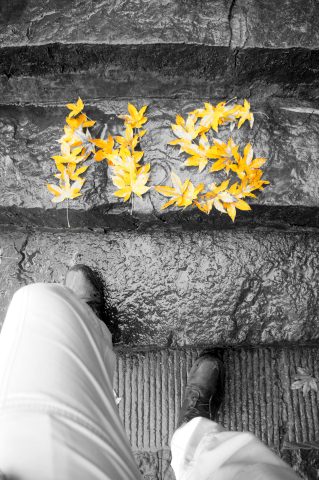 More nice scenery along the way.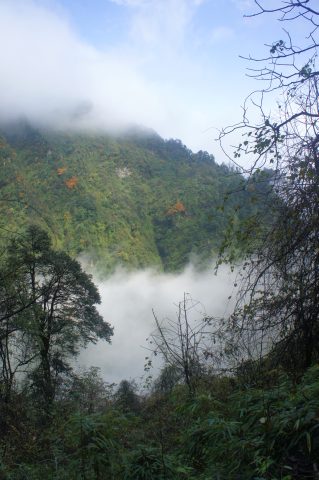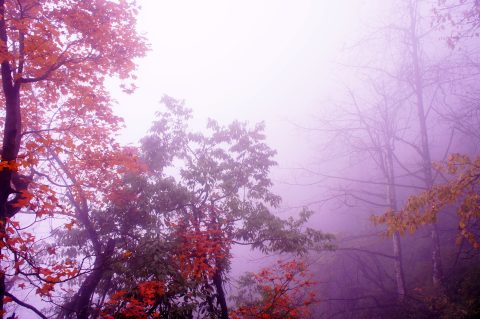 I reached Yuxian Temple at 230pm and I was really worn out.  But when I requested for a room, the lady looked at me with surprise.  She informed that it's just 230pm and I have more than enough time to reach Elephant Bathing Pool or beyond for the night.
Okay, I struggled on.
At 4pm, I reached Elephant Bathing Pool. Altitude here is 2070m. The name of the place does not inspire confidence but it turned out to be a rather nice place to stay for the night.  There are plenty of rooms available.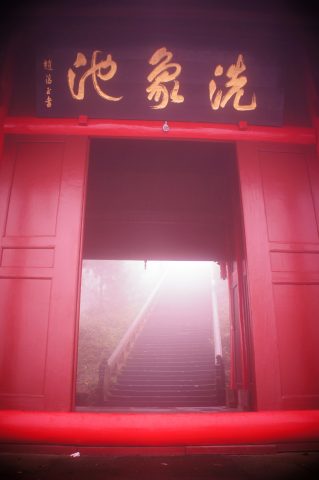 Vegetarian dinner at the restaurant here for 20 RMB.  I don't remember ever having so many carrots in my life. But I dare not waste any of the food.  I thought it would be considered bad form.
The dorm room I had cost 40 RMB.  Bathing facilities were available but I was too cold and lazy to bath.  The bed came with an electric heating mattress which I found sufficient.  The only other person in the dorm was a local eldery who was heading downhill.  We discussed our hiking plans and he offered me some spicy beef jerkies which I have seen in supermarkets but never dared to try.  It tasted great!