Day 01 – Singapore to Chengdu to Emeishan
After a few weeks of arrangement, it's finally time for the big trip.  As usual, it's a mixed of feelings going on a trip which promised unknown places and unforseen situations.  Excitement yes, but also a bit of anxiety.
I woke up at 340am and rode to Changi Airport Terminal 3 on my Vespa LX150 where I would be parking my scooter for 22 days.  Yes, I am quite tight when it comes to paying almost SGD40 for a taxi ride to the airport.  After a short skytrain ride, I reached terminal 1 and checked in.  With some time to spare, I had a breakfast of Wanton noodles.  It might look okay on photo but I wouldn't recommend it to anyone.  You can easily find better Wanton noodles in any food centers in Singapore.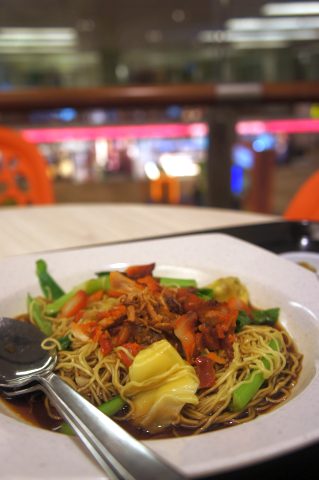 As usual, I like to have a tight schedule.  My flight is due to arrive at Kuala Lumpur at 0725H and the flight to Chengdu is due to depart at 0915H.  As things have a habit of working out well, I managed through the customs with time to spare.
Here I am, enjoy a sandwich on the flight to Chengdu and reading Lost Horizons by James Hilton. As I mentioned before, I feel it's useful to read books about the places you are visiting to have a better appreciation and also to get yourself into the mood.
In case you are wondering, that's a Sony PRS-350 Ebook Reader.  It's the most compact model I can find which supports EPUB format.  I thought it's an excellent way to read when traveling light.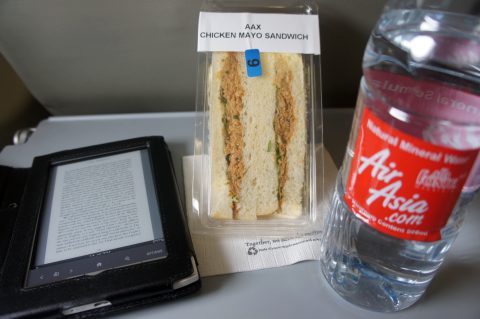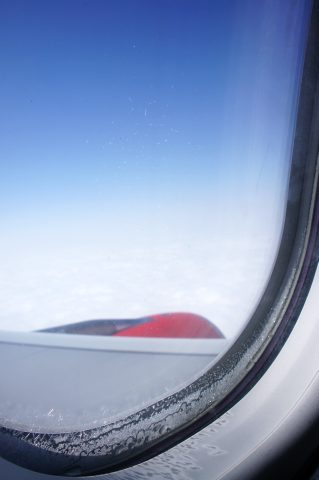 There are a few public buses outside Chengdu Airport.  Bus 303 departs directly outside the airport and brings you to the center of the city, near Tianfu Square Metro station.  As I need to get to the train station, after exiting the airport, I turned right and walked along the roads for around 150m for bus 300.  The bus journey cost 10RMB and took almost 1.5hr.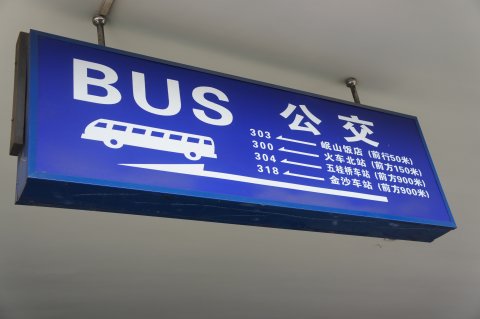 At Chengdu Railway Station, I queued up for train tickets to Emei only to be told that there were no seats left today.  I asked the staff about alternatives to reach Emei and she suggested bus.  I was about to leave when she asked if I mind taking a sleeping berth for the short train journey to Emei at 6pm instead.  I readily accepted and paid 75RMB.  I also tried to purchase train tickets to Qingchengshan but was told that I need to furnish passport information for all passengers for the superfast trains.  Nevermind, I will settle that when I get back to Chengdu.  I loitered around for the next two hours and bought a Unicom SIM card with data plan for 100RMB.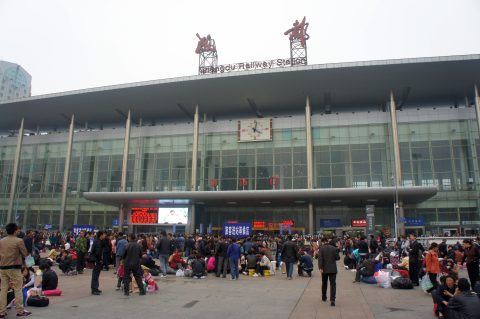 Even though I had a sleeping berth, I sat at a folding seat and chatted with a young Zhan Zhu policeman from Ganzi who's going to Panzhihua for training.  Once we started discussing about China and its issues, an eldery passenger joined in the conversation but I could not understand half of his dialect.  So the policeman had to help in the translation.
The train reached Emei Station at 825pm.  I took a cab to Teddy Bear Hotel located at Baoguo Village, near the foot of Emeishan.  The simple room with private hot bath cost me 80RMB.
Street BBQed food for dinner before I call it a day.