Day 4 Part 2 (Ratanakiri)
In less than an hour, we reached Kachon (N13 58.305 E106 53.331). After paying US$1 for admission, I was led to the Tompuon cemeteries located inside the jungle, a short distance from the village. According to Tompuon customs, families are buried together and tombs are companied with effigies of the deceased. Wealthier families have concrete tombs and shelters. Not very sure if it will be disrespectful, I asked the guide if I could take some photos. He nodded and I quickly snapped some shots.

Tompuon cemetery
We went back to the boat for the ride back. The Chinese village (N13 57.912 E106 48.079) is located just across the river from Voen Sai. This is also the village where the guide lives. The villagers belong to the Chinese dialect group of Hakka and they can still speak the language.
The guide took me to a Chinese school and told me that one of the teachers at the school is a Malaysian Chinese but she's back in Malaysia for vacation. It would be interesting to know how she came to be a teacher in this remote region of Cambodia.
I noticed that there were no school children around and the guide explained that there was a wedding going on and the village were celebrating. He also told me that the 300-strong Chinese community still practices Chinese traditions like celebration of the Lunar New Year. During the new year, they would take a break for 8 to 9 days and visit nearby towns like Ban Lung.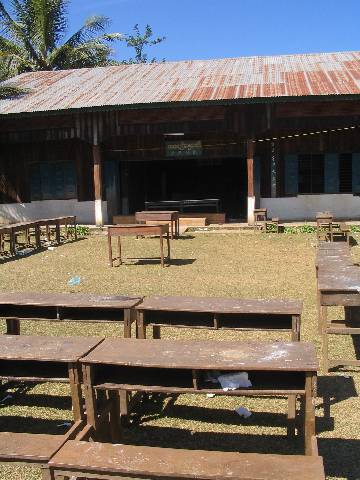 A Chinese school
At 1230pm, I was ready to leave the place. The friendly guide offered me some glutinous rice filled with red bean paste wrapped in banana leaves. They were delicious and filled my stomach for the trip back to Ban Lung.
Back in Ban Lung, I took a short rest before moving off again at 2pm. I decided to find Bai S'rohk waterfall but had trouble with the roads. There were multiple forks and junctions which were all very confusing. Feeling unsure of the roads I had chosen and knowing that the waterfall is a good 32km away, I gave up the search.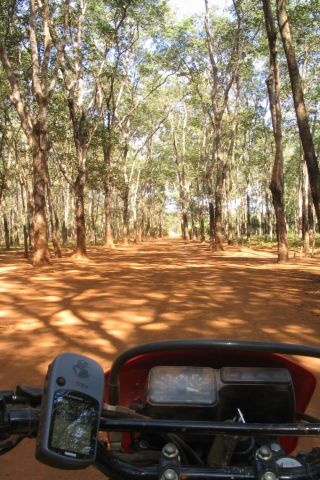 Looking for Bai S'rohk waterfall. Are these rubber plantations?
I headed off for Kah Chahng waterfall (N13 41.542 E106 59.357) which was easier to find. The waterfall seemed popular among Cambodians as there were quite a few families relaxing by the pool.

Kah Chahng waterfall
At 4pm, I decided I was done for the day. On the way back to Ban Lung, there were policemen stopping motorists and checking their papers. Luckily, they ignored me. I had an early dinner at American Restaurant. I spent the rest of the day wandering around before retiring for the night.

Hill Tribe Monument at Banlung