Day 5 (Ratanakiri – Mondulkiri)
I had a restless sleep, waking up a couple of times in the middle of the night. The staffs at Rattanak Hotel had told me that it's easy riding to Mondulkiri and they had done it many times. They offered to be my guide. I declined, not so much because of my desire to ride alone, but because I didn't want to spend the extra money. Yes, I am that tight. 🙂
By 6am, I was packed and ready to move off. I had difficulty finding the pier at Lumphat. Luckily, helpful locals directed me to the right track. The pier is not located along the main housing stretch but is located further down Tonle Srepok river, towards the south eastern direction. To get there, keep left when you reach the junction at N13 30.269 E106 58.621 (right brings you to the main town). Continue following the road until you see a small grocery and fuel shop at N13 28.670 E107 00.493. The ferry is located just further down the descending road. I paid 5000R to the boatman. The GPS coordinates across the river is N13 27.927 E107 00.399.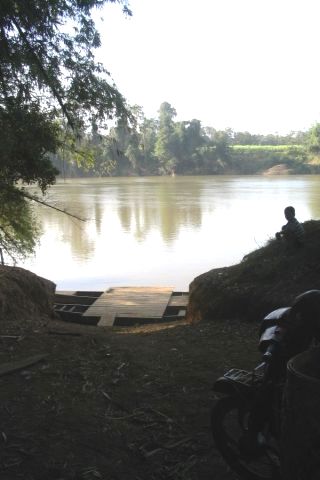 Tonle Srepok river of Apocalypse Now fame. The Death Highway awaits across the river.
At 8am, I officially started my Death Highway ride. Barely 20 minutes into the ride, my motorcycle suddenly stopped. Before I could get down from my motorcycle, three youngsters arrived and stopped by my stationary bike to see if they can help. I gave the electric start a try and the motorcycle purred into life. Ah, nothing was wrong with the motorcycle, the engine stall was probably a result of my poor clutch control. I chatted with the youngsters and found out that they were heading for Koh Nhek. Since Koh Nhek is the only town one will hit before reaching Sen Monorom, I decided to join them.
On some stretches, the road was uneven with rocks while on other stretches, it was soft and sandy. Whatever it was, the riding was not easy and I was restricted to a speed of less than 30km/h. Because of the road conditions, it's important to maintain proper control of the motorcycle to prevent skidding. Apparently, my companions had problems with the roads as well. Skidding and dropping the motorcycles were common and I often waited patiently behind them while they picked up their bikes. When they were ready to move again, I followed.
On one occasion, my motorcycle wouldn't start and my new friends rode ahead, unaware of my situation. I had no idea what's wrong with the motorcycle, it just refused to start. Moments later, I heard the sounds of motorcycle engines. My friends came back for me! Together, we tried push starting the motorcycle but to no avail. We moved our bikes to a shaded area before attempting to troubleshoot the motorcycle. When they asked for my tools and spare parts, I told them I had none. I was ashamed of my ill-preparedness.
Moments later, another local stopped by our motorcycles. The Cambodian speaks some English and according to him, he's both a bike mechanic and a tourist guide. He immediately took charge of my broken motorcycle. After 30 minutes, he suggested going back to Lumphat for spare parts. Needless to say, I was disappointed. The three youngsters bade their farewell and left. For some reasons, I had to give the Honda Degree another go. I pressed the electric start. Beautiful music filled my ears and a foolish grin appeared on my face. The time was 10am.
I soon discovered that my new companion was also going to Sen Monorom to visit his uncle. I decided to follow him. The guide was a fast rider, perfectly at ease with the rough terrain. In no time, we over took the three youngsters. Along the way, I saw a few small villages and its rural inhabitants. Coming from a urban city, it's hard for me to imagine that there are people living in such remote parts of the forests.
At 110pm, we reached Koh Nhek. We had a short rest at a sugar drink stall. The roads after Koh Nhek were excellent, certainly a welcomed change for tired riders from Lumphat.
At 4pm, we reached Sen Monorom. I gave the guide a generous tip and found myself a guest house. At the guest house, I asked the staff if the rooms come with air conditioning. She stared at me with curious eyes and informed me that I wouldn't require air-conditioning in Sen Monorom. Right, I forgot I was in high altitude area. I asked the same question in Sapa. The things I never learned.
Here are some GPS coordinates which I recorded between Lumphat and Koh Khek. Hopefully, it would be useful for fellow riders.
N13 23.149 E106 59.933
N13 14.154 E107 04.449
N13 04.577 E107 02.517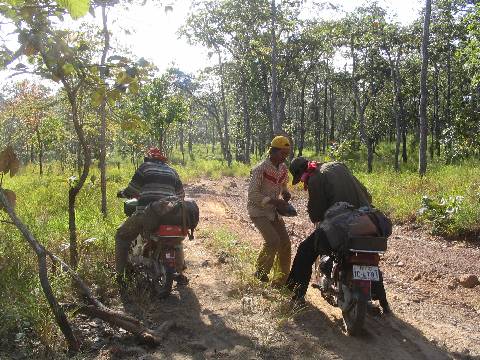 My three riding companions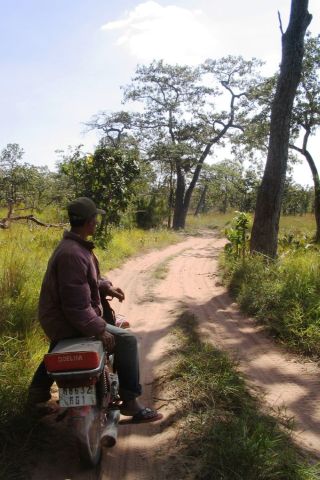 My new guide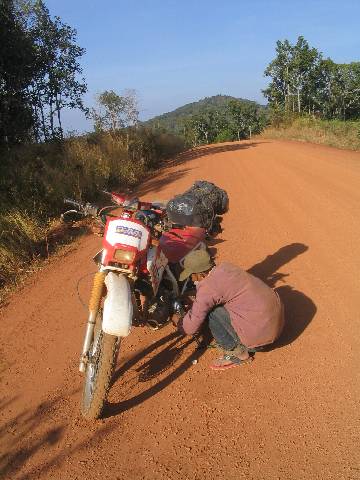 My guide's motorcycle ran out of petrol and he borrowed some from me.