Day 4 Part 1 (Ratanakiri)
I woke up to a chilly morning. Voen Sai, Chunchiet cemeteries, volcanic lakes and waterfalls were in my agenda. But I knew it would be impossible for me to squeeze in all the sights in one day. Voen Sai is 35km northwest of Ban Lung and the Chunchiet Cemeteries at Kachon is a further one-hour boat ride away. Lumkud volcanic lake is 63km to the east of Ban Lung. The waterfalls are scattered in the south and located as far as 35km from Ban Lung. Well, I will just plan and improvise along the way.
My first stop was the protected area of Yeak Lom (or Yak Loum or Yeak Laom). Located 5km east of Ban Lung, Yeak Lom lake (N13 44.009 E107 00.974) is believed to be created 700,000 years ago as the caldera of a large volcanic crater. The indigenous inhabitants of the area, the Khmer Leu hill tribe people, have long considered the lake as a sacred place where spiritual creatures reside. I reached the lake before 7am and both the ticketing booth and visitors center were closed. There was nobody around. It was peaceful. The beautiful lake was a pristine blue and exceptionally clear.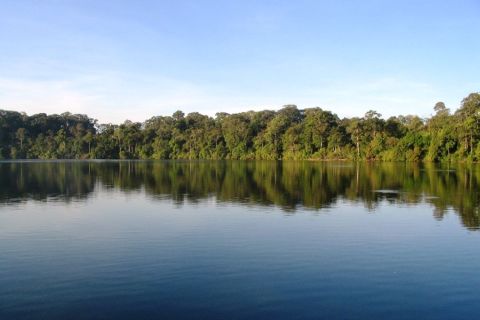 Almost perfectly round, Yeak Lom lake is 45m deep and 750m in diameter.

After Yeak Lom, I attempted to make my way to Lumkud Lake. But 10km and 30 minutes later, I decided to head back. The roads were quite bad and I didn't want to end up spending 6 hours for the trip. There were other sights which I was more interested in. Voen Sai was one of them.

Road to Lumkud Lake
I reached Voen Sai (or Ven Sai or Virochey or Virachay) town at 10am. Located on the southern banks of Tonle San river, Voen Sai (N13 58.313 E106 48.793) is the place to organize visits to old Chinese settlements and Chunchiet cemeteries. To reach these places on the northern banks of Tonle San river, a boat is necessary. It was not easy trying to make arrangements as most of the guides and boatmen do not understand English. I met a few tourists and they were on an organized tour from Ban Lung. I was about to leave when somebody shouted at me. It was a boatman who can speak Mandarin and some English. I took his offer to take me on a one-hour boat ride to Kachon. For US$15, he promised to show me the Chunchiet cemeteries belonging to the Tompuon minority and a Chinese village.

Voen Sai and Tonle San river.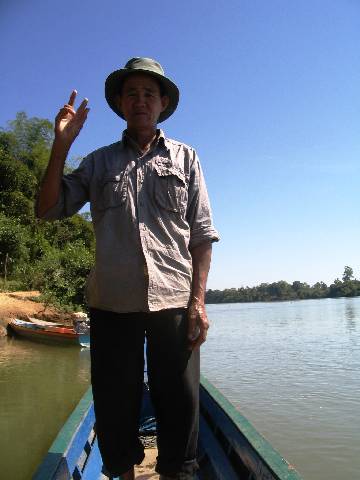 My guide and boatman