Day 3 (Kratie – Ratanakiri)
I woke up at 430am and started planning for the day's ride. I originally wanted to do a short 1-2 trip to Laos since the border is so close to Strung Treng. But Angkor Motorcycles would not agree to accept my international driving permit in place of my passport, unless I leave with them a hefty deposit of US$1000. Without the attraction of Laos, I couldn't decide if I should stay the night at Strung Treng. In the end, I thought I should just make my way to Strung Treng anyway and decide later.
I left Kratie at 630am and reached Phnom Sambok temples just before 7am. According to guidebooks, there are three levels in the temple. The first level is the living quarters, second level houses a reclining Buddha and the third level provides a view of the Mekong River. Unfortunately, I was unable to find out as I quickly left the place when a nun started shouting at me.
To my pleasant surprise, the roads (Highway 7) to Strung Treng were in pretty good condition. It was unlike what Adventure Cambodia had described. While the roads were a little deserted, there were no potholes or bomb craters. The roads must have been rebuilt recently. I made it to the Strung Treng / Ratanakiri junction (N13 25.986 E106 04.513) at 1015am and reached Strung Treng town at 1045am. I had a ride around town and along San River before I broke for lunch at Sunn Tha restaurant. The noodle dish I had was excellent. After a short rest, I decided to continue for Ratanakiri. Hopefully, I will get the chance to visit Strung Treng again and cross the northern border to Laos.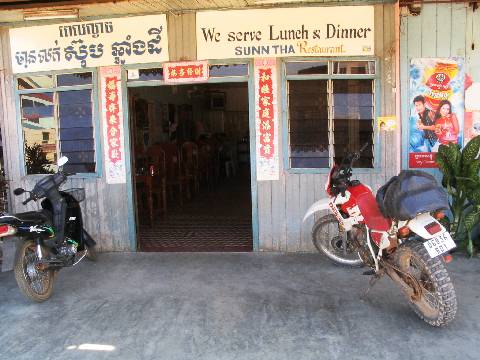 Excellent meal at Sunn Tha restaurant in Strung Treng town.
At 1130am, I headed back to the Strung Treng / Ratanakiri junction before turning left for the 125km stretch along Highway 78 to Banlung, the capital of Ratanakiri province. If you are wondering if Kampong Cham town, Kratie town and Strung Treng town are capitals of the provinces in the same name, you are right.
Did I mentioned that the roads from Kratie to Strung Treng were deserted? Well, the roads from Strung Treng to Ratanakiri were even more so. Not to mention, the roads were very bumpy and uneven. There were loose gravels all around. I rode standing on the pedals most of the way and while progress was slow, I had great fun.
At 2pm, I discovered that my trash bag was torn, the elastic hooks were loose and stuck to the chain. To make things worse, my bag of bike tools from Angkor Motorcycles were missing. They must had dropped out when the trash bag broke. I cursed myself for not securing my items properly. I removed the stuck elastic hooks and decided to backtrack a little to see if I can find the tool bag. But the motorcycle wouldn't start. Electric start and push start do not work. I was at a loss. I am not a mechanic. It's 210pm and I was still half way from Banlung. It's turning dark soon. I took a drink of water and started looking around for appropriate trees where I can tie my hummock for the night. I electric started the motorcycle again. The engine came to life! A rush of feelings came over me. Wow, what a momentous event. The time was 215pm. GPS coordinates N13 36.569 E106 30.696. Altitude 296 ft.
I backtracked feeling optimistic. Of course, I was disappointed. I made my way for Banlung again. While a little dusty, the next 60km was easy and I made good time.

Road to Ratanakiri
I reached Banlung at 4pm. I headed for Rattanak Hotel and was met with friendly staffs who spoke good English. After a quick wash, I roamed the town. Urban development had clearly left Banlung behind. There were piles of rubbish lying around the market. There were no asphalt roads and a passing vehicle will cough up smokes of dust. Adds to the charm you may say. 🙂
At 540pm, I settled at Labiensak Hotel for dinner. I don't know if I am too early but I was the only person eating there. I spent the rest of the night reading some books and making plans for tomorrow.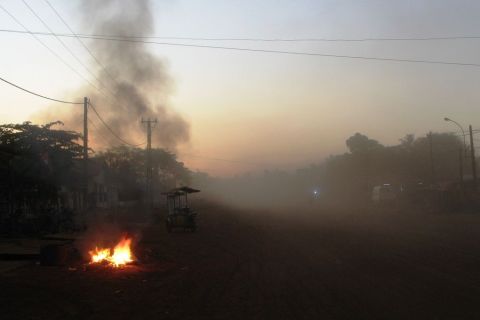 Banlung in Ratanakiri. Does it look like a scene out of a war movie?