Day 2 Part 2 (Kampong Cham – Kratie)
After the morning ride, I returned to Kampong Cham town for a short rest. I also visited the internet shop located near Caltex fuel station to send a few emails. By 10am, I was ready to move off.
To get from Kampong Cham to Kratie, the common road to take is Highway 7. The distance between the two towns on Highway 7 is to 216km and you will pass by Snuol town along the way. A quicker alternative that shaves off half the distance is to turn left for Highway 73 (some maps labeled it as Highway 75) at the T-junction (N11 50.817 E105 45.772) located near a petrol station along Highway 7. The T-junction is located around 29km from Kampong Cham town. After around 58km into Highway 73, you will hit the charming river town of Chhlong. From there, you turn right and follow the river road to Kratie, which is another 31km away.
While traveling along Highway 7, I took the opportunity to visit Chup rubber plantations and had a short rest. A short break was indeed required as the roads deteriorated soon after that. My magnetic tank bag even came off a few times because of the bumpy roads.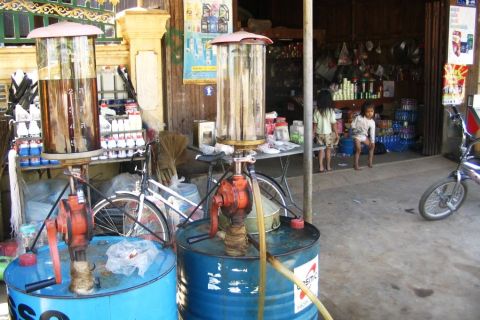 Petrol time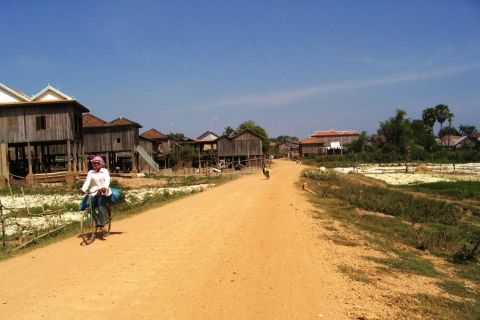 Passing through a village
At 230pm, I reached Kratie covered in dust. I must be the most miserable looking tourist Heng Heng Hotel has even seen. It did not help that I asked for the cheapest available room. Anyway, I quickly washed up and had lunch. Since it was still early, I explored the town before heading north (N12 35.973 E106 00.924, 14.3km from Kratie roundabout), hoping to catch the Irrawaddy dolphins. As I heard, these rare freshwater dolphins are most active in the early morning or late afternoon hours. In the end, I did see a few of these dolphins breaking the surface of the water but they were always too far away for me to have a good look.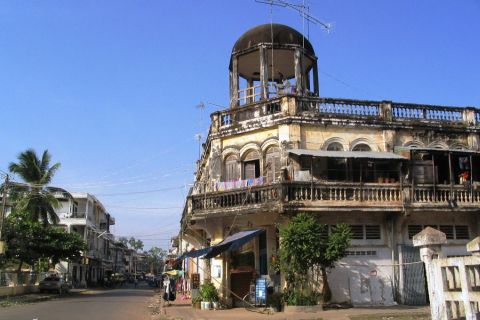 Colonial looking building in Kratie town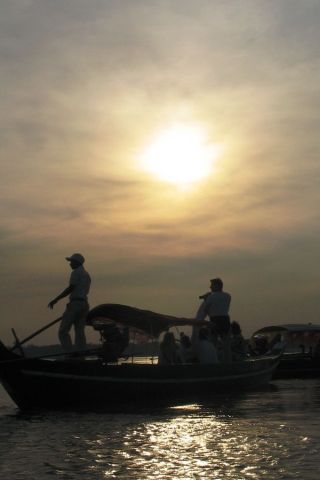 Looking out for Irrawaddy dolphins.
I returned to Kratie town and had an early night sleep, not realizing that it was Christmas Eve.

Sunset at Kratie