Day 3 (Luang Prabang – Nong Khiaw)
Luang Prabang is one of the most visited cities in Laos. Formerly the royal capital of a kingdom, it is now a UNESCO World Heritage site and boasts some of Laos' finest temples. I intend to spend the whole morning in Luang Prabang city before going to Nong Khiaw, a market village by the Nam Ou river in northern Luang Prabang province.
I woke up at 630am and took a morning stroll. Walking alone is an activity I enjoy. Evidently, Robert Louis Stevenson shared the same sentiment when he described it eloquently as follows:
A walking tour should be gone upon alone, because freedom is of the essence; because you should be able to stop and go on, and follow this way or that, as the freak takes you; and because you must have your own pace, and neither trot alongside a champion walker, nor mince in time with a girl. And then you must be open to all impressions and let your thoughts take colour from what you see. You should be as a pipe for any wind to play upon. "I cannot see the wit," says Hazlitt, "of walking and talking at the same time. When I am in the country I wish to vegetate like the country," – which is the gist of all that can be said upon the matter. There should be no cackle of voices at your elbow, to jar on the meditative silence of the morning.
I came by the pier and there was a row of ferries docked neatly by the shore. These ferries are popular with tourists as an interesting mean to reach destinations such as Huay Xai and Nong Khiaw.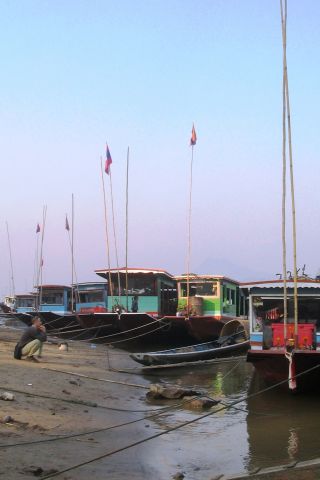 Ferries by the Mekong river
At 8am, I visited the Royal Palace Museum (Ho Kham). Housed in a building of Lao and French architectural styles, it is a place to soak up the local history. I find the pictorial stories hanging on the walls particularly interesting.
Next on my itinerary was Phu Si, a 100m tall hill dotted with a few temples. At the top of the hill, climbers are rewarded with a grand view of the town. After the descent, I visited the post office located opposite Phu Si where I changed some currencies.
I walked down Sisavangvong street for Green Discovery, where I hope to buy a spare tube. Unfortunately, the Green Discovery branch in Luang Prabang was just a tour agency and did not have motorcycle spare parts. But they gave me directions to the motorcycle shops in town. At 1130am, I finally found a motorcycle shop selling tubes of the correct size. Feeling more confident with a spare tube in my pack, I set off for Nong Khiaw.
After a three hour ride, I reached the riverside village of Nong Khiaw. I did a quick survey of the place and crossed the Nam Ou bridge to Ban Sop Houn village. Ban Sop Houn appeared more inviting and it reminded me of Lac Village in Vietnam. I found a room with a private bathroom at Sunrise Guesthouse for 40,000 Kips a night. The guest house is a Lao-style wooden stilt house commanding an excellent view of the Nam Ou river.
As I still have a couple of hours before sunset, I quickly headed for Tham Pha Pok. The limestone cave was a hideout for villagers during the Second Indochina War. After a tour of the cave, I returned to the villages for some photo taking and sunset. Dinner was a delightful meal of spring rolls and curry fried rice.

My guide at Tham Pha Thok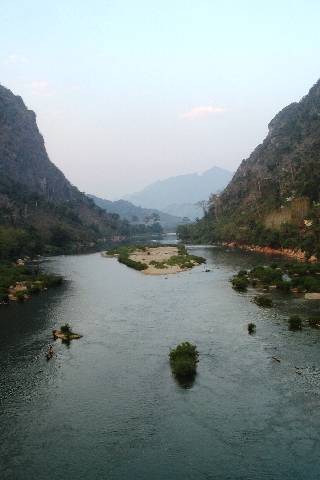 Nam Ou River – On the right is Ban Sop Houn while on the left is Nong Khiaw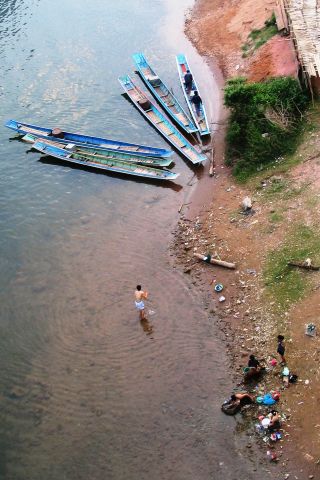 Nam Ou River- River of activities

Sunset view from Nam Ou Bridge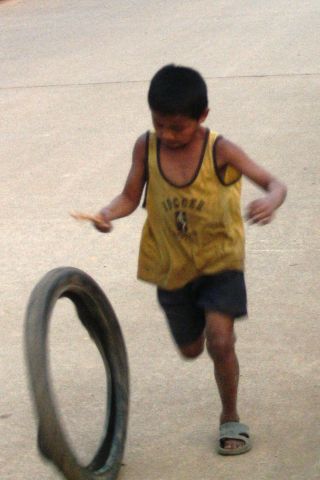 What's Sony PSP?