Day 4 (Nong Khiaw to Xam Neua)
If Luang Prabang is the most visited provincial capital in Laos, then Xam Neua (or Sam Neua) has got to be the least visited provincial capital in Laos. There are not many sites in Xam Neua to entice the tourist to travel to this remote city tucked in the north eastern corner of Laos. However, there are a few interesting attractions near Xam Neua – Suan Hin (Sao Hin Tang) stone garden and Vieng Xai Pathet Lao Caves. They were my reasons for taking the 320km ride from Nong Khiaw to Xam Neau.
I moved off from Sunrise Guesthouse at 7am. It was a chilly morning and the roads were all misty. For some reasons, it made the ride more interesting. Except for the gravel stretch from Vieng Thong to Phou Lau, the roads from Nong Khiaw to Sam Neua (Route 1C and Route 6) were mostly tarmac. There were some fun twisties from Phon Lau to Sam Neua.

Misty morning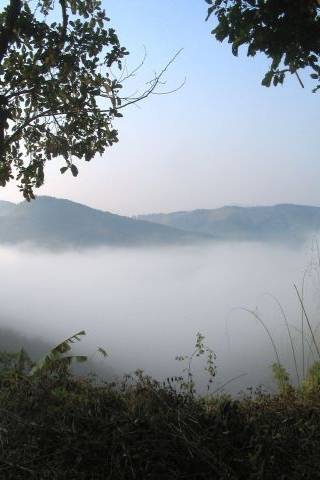 Misty Mountains
Sometimes, it is hard to remember how sparsely populated Laos is when you are in places like Luang Prabang or Vientiane, until you really get out of the cities. During my long ride to Xam Neua, I encountered only a handful of vehicles and more often than not, I was the only vehicle or person on the road. At one such lonely stretch, I thought I had gone the wrong way until I suddenly hit a bustling morning market that appeared without warning. It seemed as though I have entered a secret world. It was almost surreal.

Bustling morning market (GPS N20 31.423 E102 47.635)

Villages were decorated with bomb casings but note that it is illegal in Laos to trade in these war scrap.

Xam Neua city in view
I finally reached Xam Neua at 330pm and I settled at Kheam Xam Guest House. I spent the rest of the evening wandering around the town. There were not many foreigners. Sites worth visiting are the market, tourist office and independence monument.

Xam Neua Market

Sunset at Xam Neua