Day 1 (Hanoi – Mai Chau)

After a quick run-through of the Minsk, a filling up demonstration at a nearby petrol station and buying of a set of poncho, Cuong decided I was ready to go. Knowing Hanoi's notorious traffic, he offered to guide me out of Hanoi. I rejected his kind offer and quickly lost myself in the streets of Hanoi. It did not help that it started drizzling.
I finally made it out of Hanoi at 1pm. The roads near Mai Chau were twisty but fun. It was good introduction to the mountain roads at Sapa.
Near Mai Chau, I stopped at a viewpoint for some photo taking. I met two friendly locals who were also admiring the scenery. Realizing that I was going to spend the night in Mai Chau, they took upon the task of leading me to Lac Village. I reached Lac village at 4pm and stayed in a White Thai stilt house (Guesthouse 19). The dinner provided by the host was excellent.

Roads to Mai Chau

Friendly locals posing for a photo. Mai Chau town is in the background.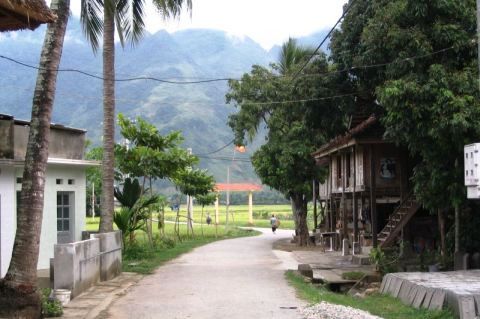 Lac village (White Thai minority)
Day 2 (Mai Chau – Dien Bien Phu)

I woke up early and moved off at 630am. For the first 20km out of Mai Chau, it was very misty and visibility was bad. I could not see beyond 20m.
I soon encountered my first problem 28km from Son La. My motorcycle ran out of petrol and I had to push the motorcycle for 1km before I found a petrol station. I wonder if the passing locals were laughing at this inexperienced rider.
After the fun mountain roads from Son La to Thuan Chau, I found myself riding on muddy paths. It was a messy affair. I reached Dien Bien Phu at 430pm and stayed at Binh Long Hotel.

Roads to Dien Bien Phu, troublesome ride.