Gunung Sinabung

I woke up at 6am in a misty room.  Ignoring it like an everyday occurence, I walked straight to the bathroom for a soothing hot morning shower.  That's how non-chalant some guys can get.
Smiley arrived at 7am sharp and pillioned me on his motorcycle to town.  We met up with his brother, Polo.
Polo on the left and Smiley on the right.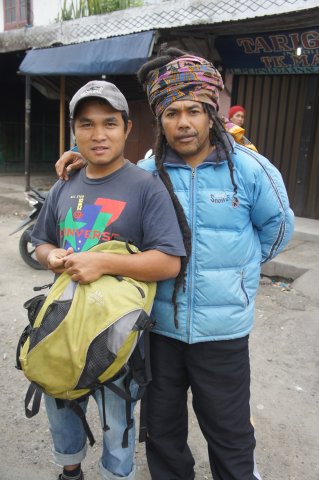 As the Angkot to Lake Kawar (trailhead for Gunung Sinabung) was not due to move off yet, we had breakfast at a food stall.
The spread below with tea cost us just 25K IDR.  It brought back fond memories of the occasional Sunday mornings when my father would take me to West Coast for such Malay cuisine for breakfast.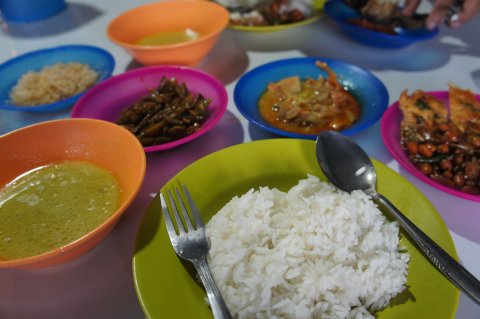 The Angkot moved off at 740am.  That's the view from the Angkot of Gunung Sinabung in the photo below.  I like these sort of tours where the guide take you on local transports instead of air-conditioned tour buses.  But some people might not like constant body contact, incessant betel chewing and smoking of fellow passengers.  It suits me just fine.  Enjoy whatever that comes along.  🙂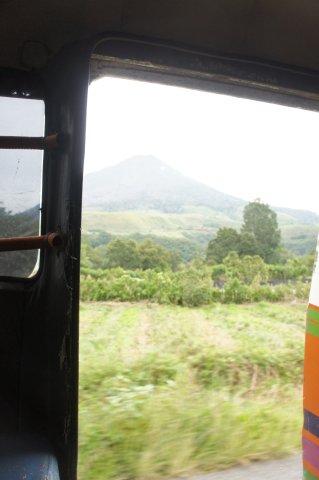 After an one hour ride, we reached Lake Kawar and paid the driver 10K IDR.  Lake Kawar stands at 1450m and is a popular place for camping and rafting.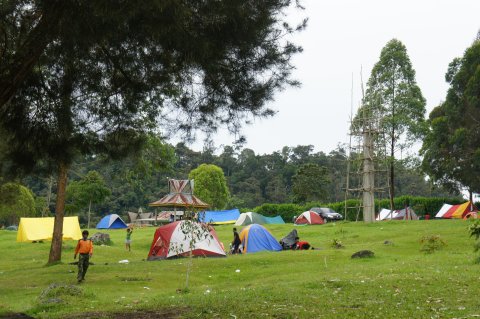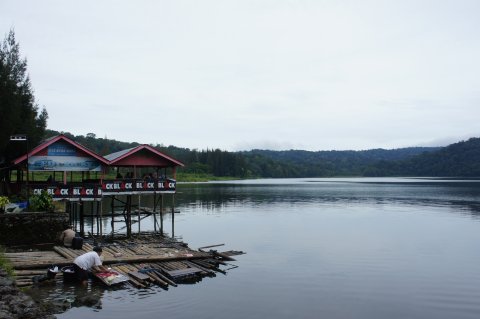 We start our hike!  Sometimes I accidentally told people I went mountain climbing and they had the impression that I am a hardcode outdoor junkie who carry ropes and dangle myself on cliffs.  Of course, all I did was walk on occasional uneven and steep grounds.  So a hike it is!
For the first part of the hike, we went through the jungles.
A guide points out various wild life which we might not be able to spot given our unfamiliarity in the area.
A pitcher plant.  In case you do not know, a pitcher plant is a carnivorous plant whose deep cavities contain a liquid to drown and dissolve insects unlucky enough to fall into the trap.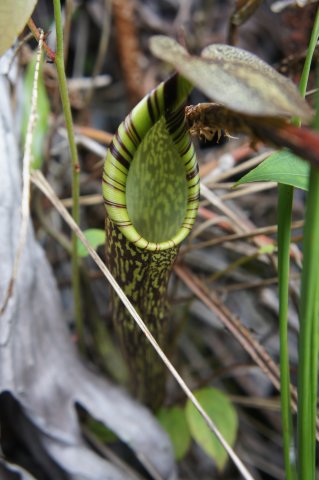 Mint leaves?  It gives off a similar smell but I am not a good student of botany.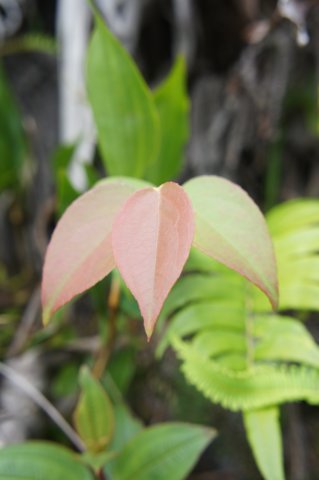 We met quite a few hikers coming down.  Many like to climb in the dark for the sunrise.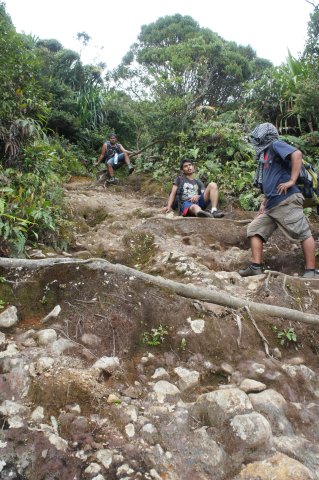 We stopped frequently for drinks and photos and chit chat all the way up the mountain.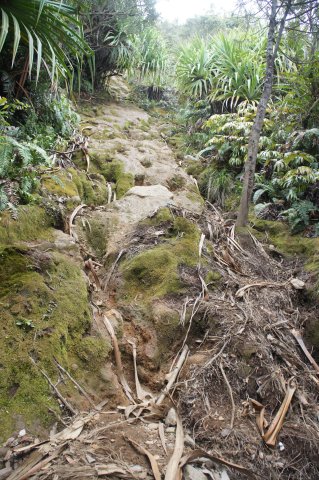 Ah, finally reached the summit of Gunung Sinabung at 1130am, almost 3 hours after we took off from Lake Kawar.  Gunung Sinabung stands at 2450m and last erupted in August 29th 2010.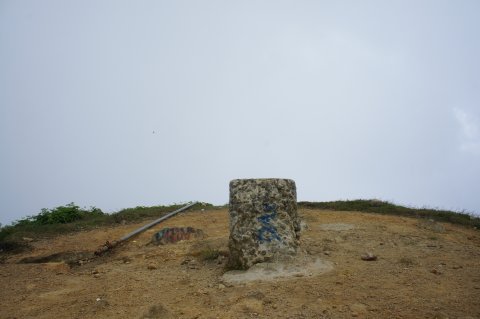 The crater.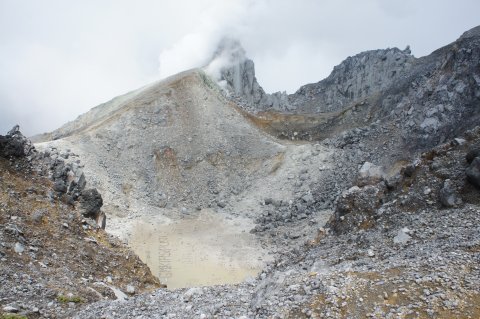 Sulphuric stones.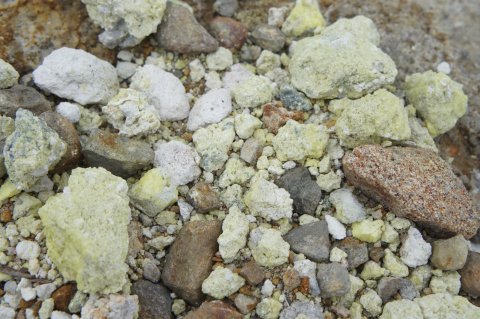 As it's noon and the clouds have moved in, the views were not as impressive as it would be in the mornings.  But I like the vast expanse of the summit where one can stroll around.  Polo was real patient and helped me took many photos.
At 12pm, we started heading down via another route which is unmarked and only known to the locals.  It's definitely more fun to go down on a different way to make the hike more interesting.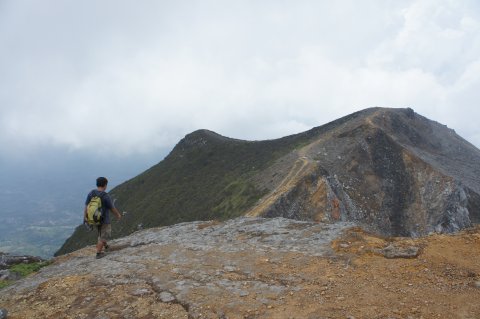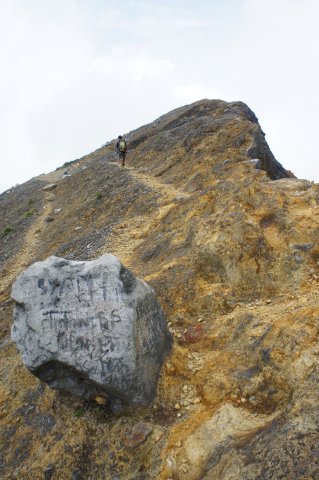 The path is slippery.
After another slip, I decided to take break and have some cashew nuts with Polo.  He accidentally dropped some to the ground but quickly picked them up and ate without hesitation.  I wonder how some people might react to them.  Maybe a concerned face asking him to not to worry about it and throw them away which I do not think is very appropriate.  I just kept quiet and continue munching on my nuts.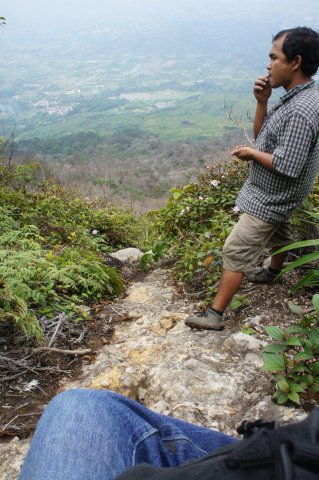 End of the slippery slopes and we reached the jungles.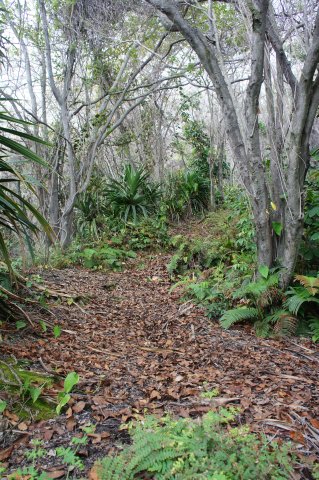 Bashing through the jungle.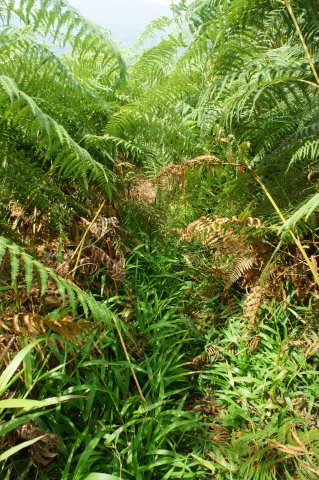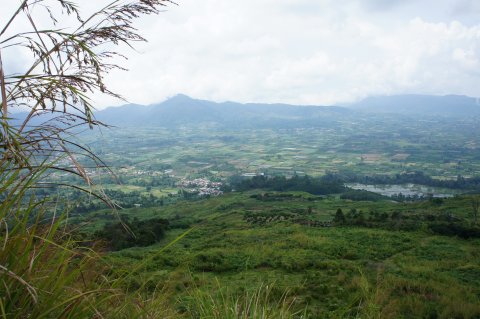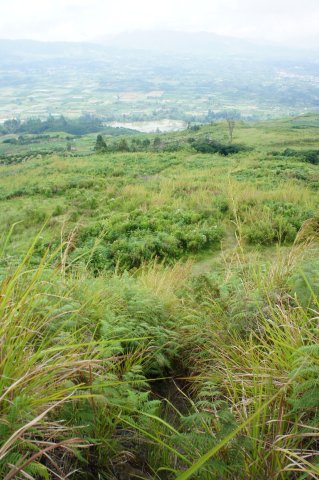 We cleared the jungles and reached the plantations.  Took the liberty to sample some local produce.  An orange and passion fruits.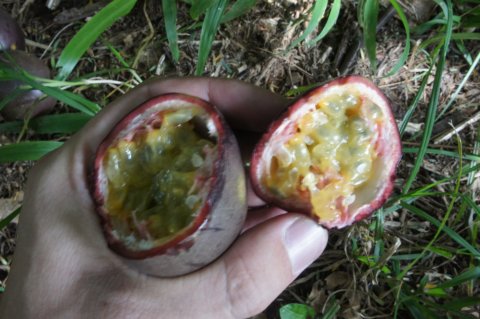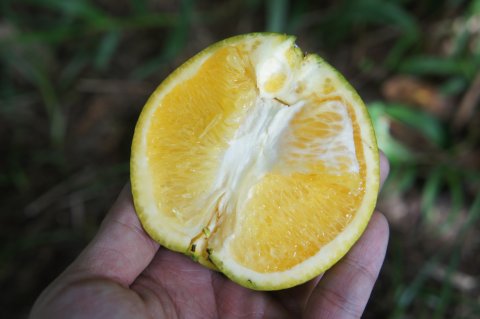 Cinnamon.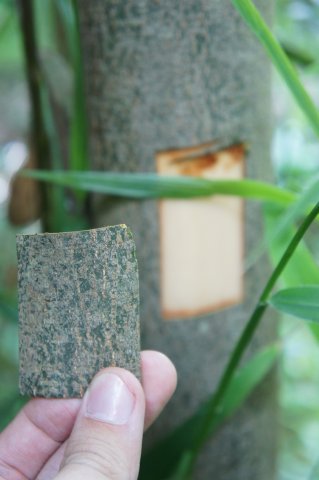 This is a huge insect.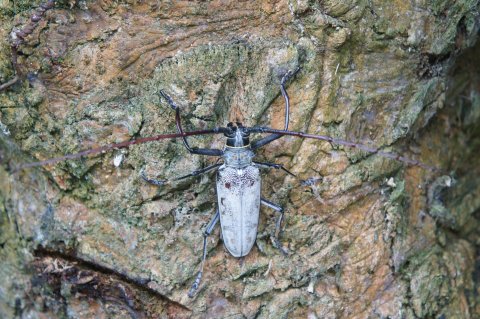 Reached a village where we would take an Angkot back to Berastagi town.  It took us almost 3 hours for the descent.
Polo told me that he hope to own a house and a farm one day.  Such a simple aspiration compared to city folks who want to have important sounding corporate titles, lots of money, beautiful house and fast cars.  When asked why he wasn't married, he said girls woudn't want a poor man.  Haha, I guess our cultures are not that different afterall.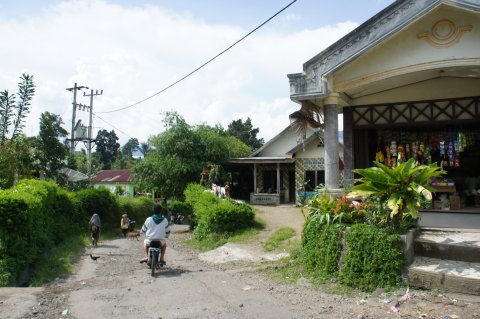 Dangling legs from the top of the Angkot.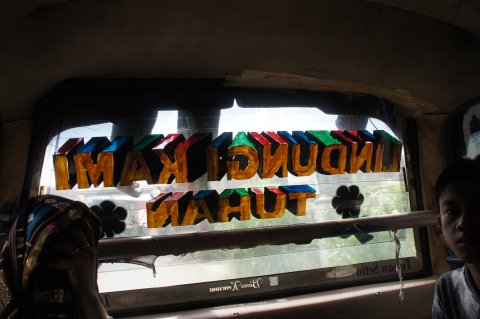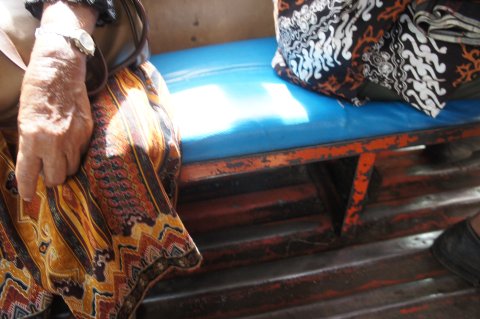 Back in Berastagi town.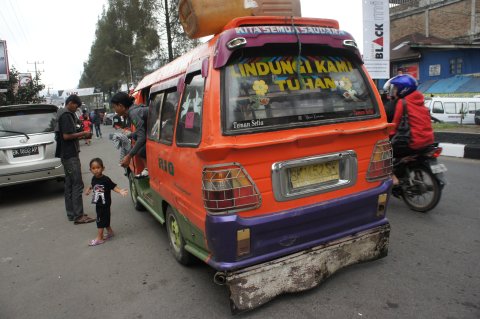 That's all for my Gunung Sinabung hike.  For more information on hiking Gunung Sinabung, a good reference is Gunung Bagging.
After a hot shower and washing of my stuff, I had a late lunch of Mee Goreng at Sibayak Multinational Rest House.  I hang around the restaurant and finished reading my book on happiness.  Lots of things to reflect on.
I try to nap but wasn't successful.  Somehow my energy level is high when I am on overseas trips.  Motivation is plenty and I can do a lot of things which I am usually too lethargic and lazy to do at home.
For example, after a friend brought to my attention a card game – Dou Di Zhu which is one of the most popular card games in China, I didn't manage to pick it up when I was at home.  It's only when I am overseas and alone that I felt the desire to learn it.
Anywhow, the Dou Di Zhu card game which I had installed on my phone.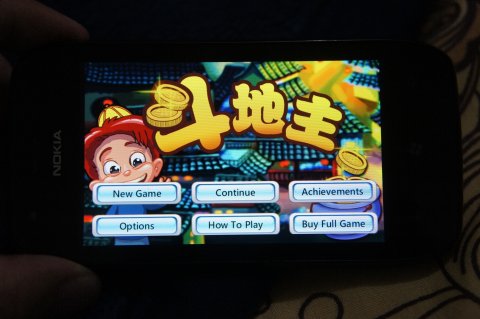 Off to a good start by winning my first round. 😀
A couple of weeks later, I have finished 543 games.  Managed to win more than half of them, not too shabby?
In the evening, Smiley came and picked me up to visit his place.  His neighbours happened to be having a wedding and I joined the banquet.  Can't say no to good food can I?
The happy couple, Mrs Smiley and her twins.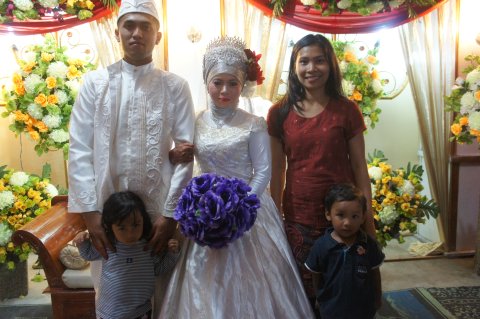 Had an interesting conversation with Mr and Mrs Smiley into the night over various topics like the tourists he met, his travels, their aspirations, the people in Berastagi and Medan.  Smiley suggested that I do not to marry a Chinese.  I will bear that in mind. 🙂
The eldest boy of Mr and Mrs Smiley.
It's Gunung Sibayak tomorrow and here are some reasons why we shouldn't do it solo.