Introduction
Gunung Nuang is a 1,493m tall mountain bordering the state of Selangor and Pahang in Peninsular Malaysia. Because of its accessibility from Kuala Lumpur, it is a popular training ground for people who intend to tackle tougher hikes like Gunung Tahan.
There are three hiking routes to the summit of Gunung Nuang.
Kuala Pangsoon in Hulu Langat, Selangor
Kampung Kemensah in Gombak, Selangor
Bukit Tinggi in Bentong, Pahang
From our research, the route at Kuala Pangsoon is more popular and well marked.  As we don't intend to hire a guide and wanted to simplify the transportation logistic, our plan is to hike up and down the same Kuala Pangsoon route.  The estimated time needed for the entire hike is 10 hours.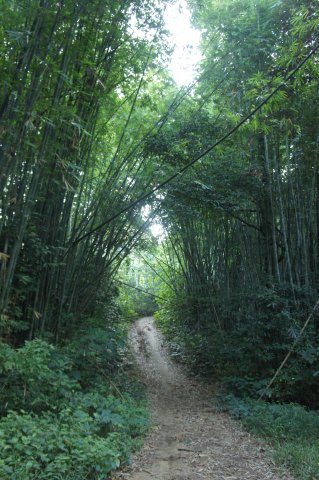 As my friends tracked the hike using their smartphone GPS, if you need the route and waypoints in GPX or KML formats, just post a comment and I will send the download link to your email.
Courtesy of Tam
Gunung Nuang

We took an overnight coach from Golden Mile Tower in Singapore at 1158pm on a Friday.  As I was quite tired, I managed to catch a few hours of sleep during the 5.5 hours journey.  Usually, I can't sleep well on a coach.
We reached Berjaya Times Square at 530am where a prearranged coach picked us and drove us to Matahari Lodge near Petaling Street.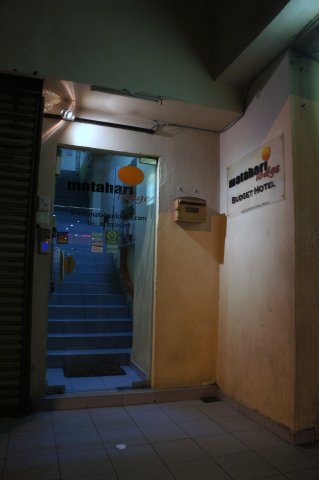 After dropping stuffs which we do not need for the hike, we left for breakfast at 620am. Our driver dropped us at a coffeshop for nasi lemak, prata and teh tarik.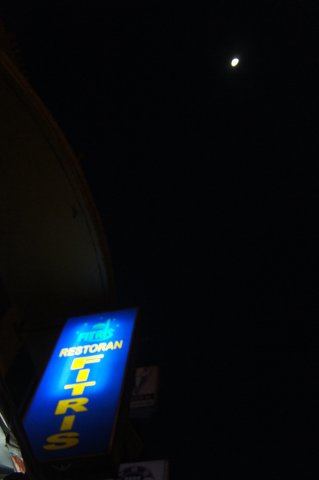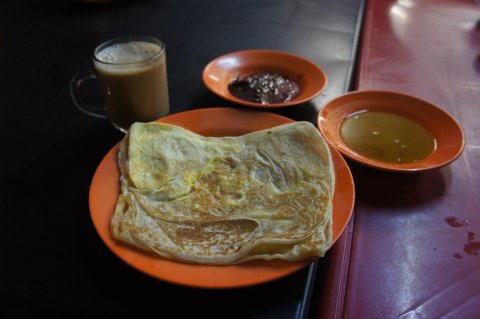 We left at 7am and reached Gunung Nuang Hulu Langat entrance within an hour.  There is a small carpark in the area.  After some photo-taking and paying 1 MYR each for entrance, we officially started the hike at 8am.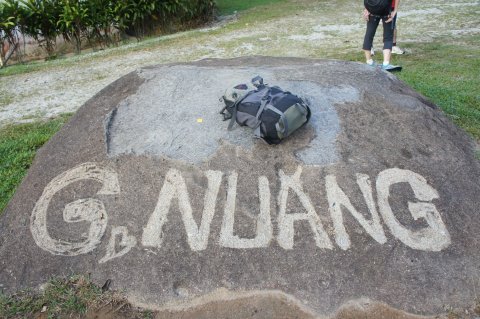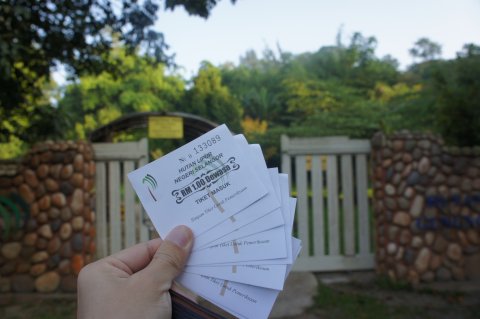 Seems like it's the durian season.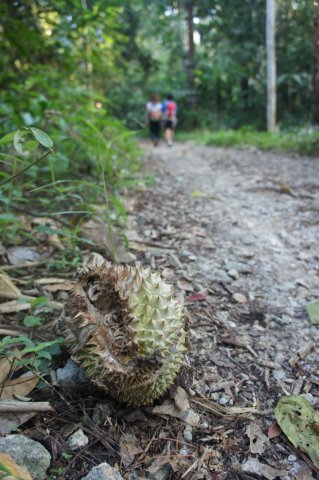 The beginning of the trail was an easy walk with some stream crossings to Lolo Camp.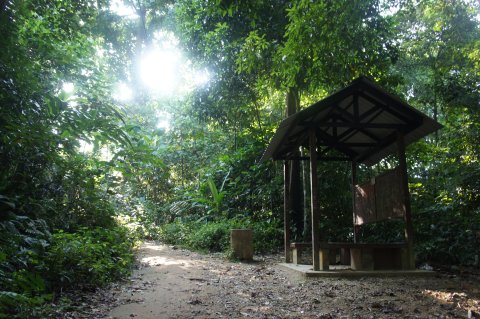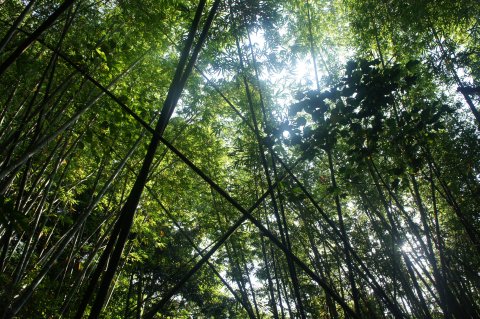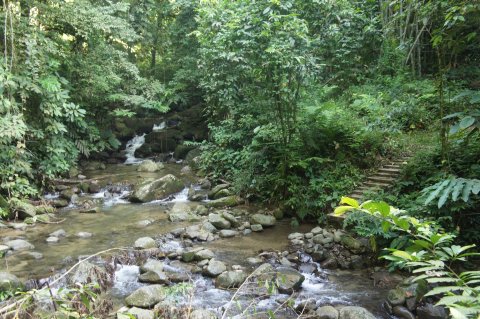 Watch out for such signs along the way.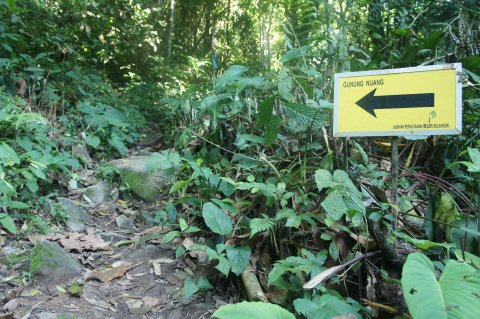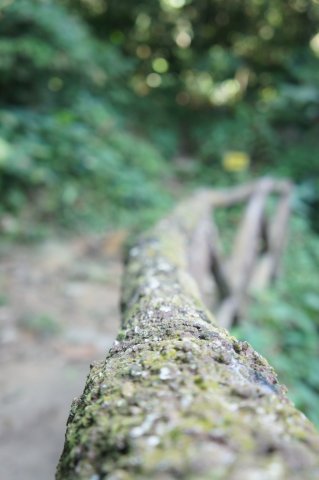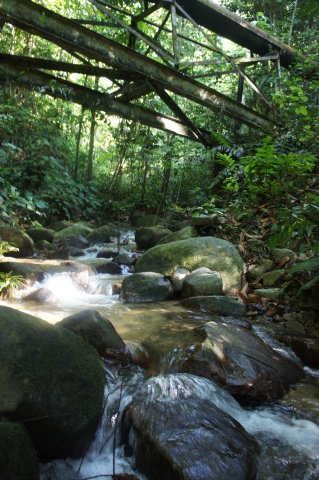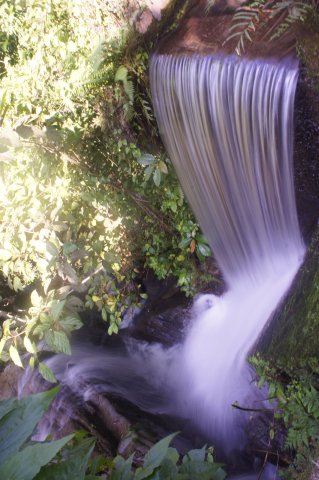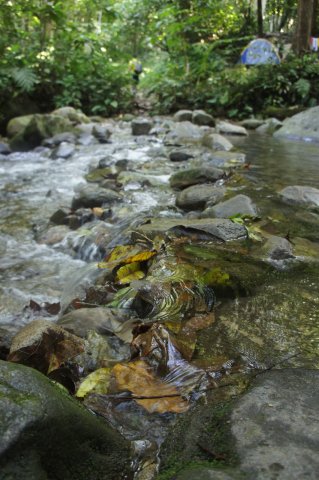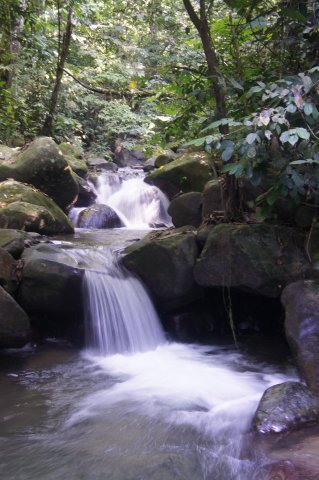 The trails got narrower and rougher as we went higher.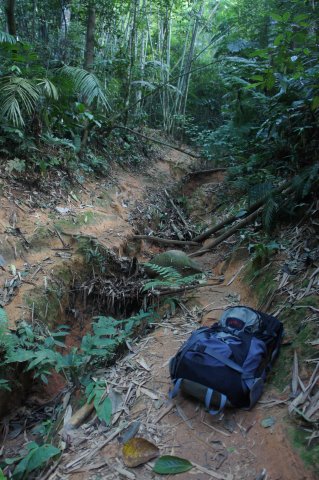 Camp Pacat.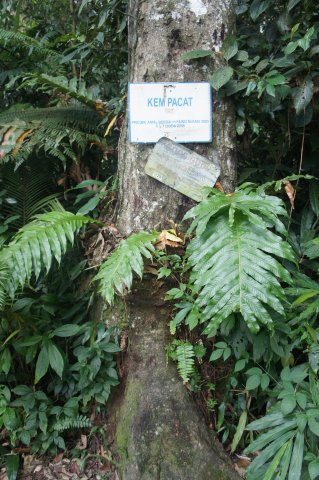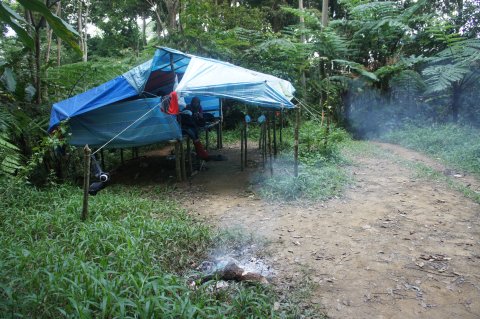 Puncak Pengasih.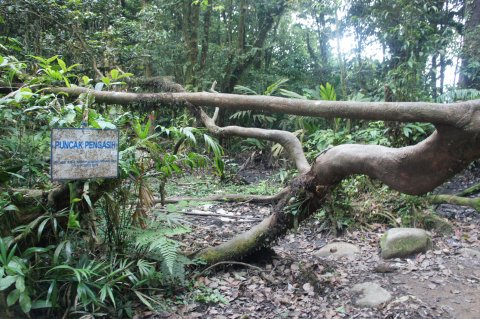 The final stretch to the summit.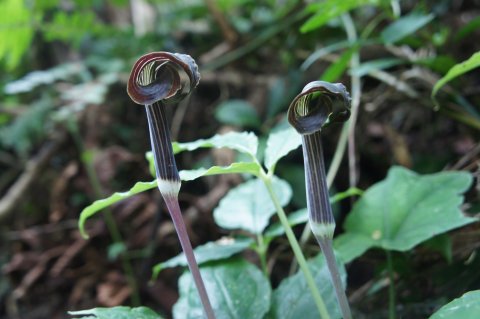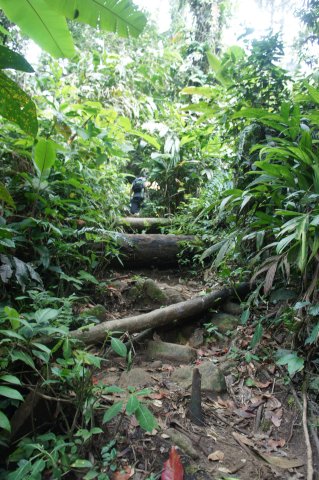 The summit after a grueling five hours hike!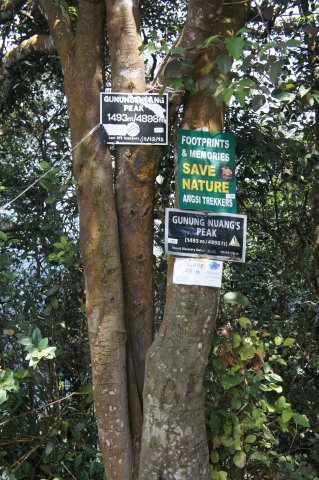 No great views from the summit as it was blocked by trees. The photo below was taken a distance away from the summit.
After a 30 mins break for food and rest, we continued down.  The hike was tougher than I thought and the 1.6 litre of water I brought along was not sufficient.  I had about 300 ml left for the descend.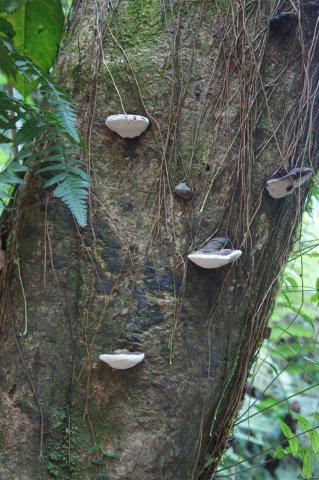 Should have brought some shorts along for a bath in the cooling water.
After around 3.5 hours, the gate to Gunung Nuang was a welcomed sight.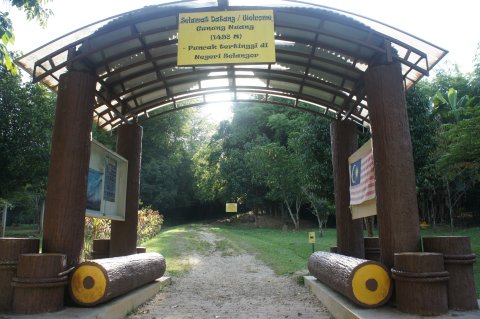 There were no shops in the area but there was a makeshift stall selling drinks and Ramly burgers.  I gobbled down 3 cans of drinks – 100 plus, Grass Jelly and Soya bean.
We returned back to Matahari Lodge to wash up before venturing out to the streets of Kuala Lumpur for dinner.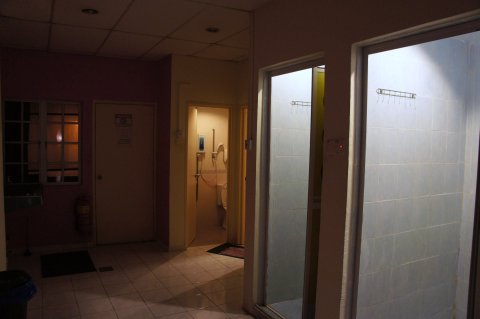 We went to famous Jalan Alor for the Zhi Char.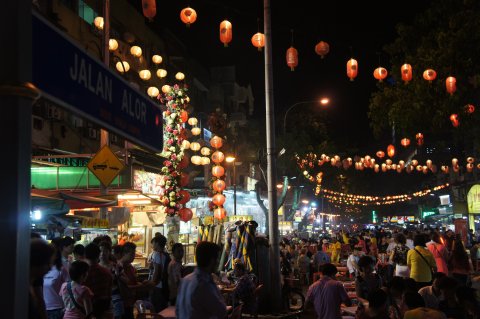 We ordered many dishes but I only snapped the crispy oyster egg and salted egg crabs.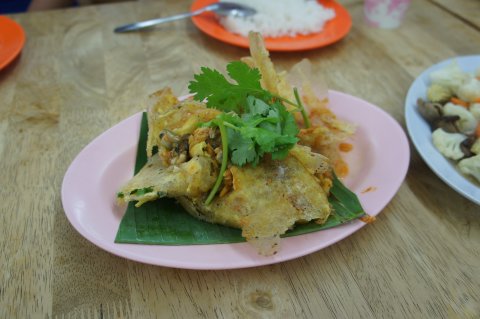 Dessert was durian.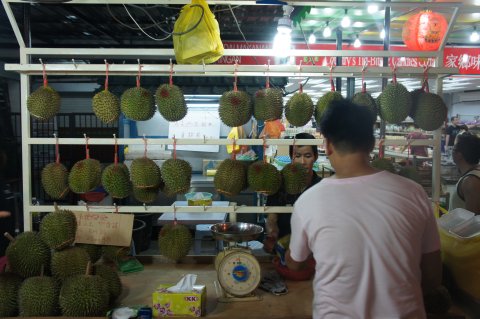 We were back at the lodge at around 10pm for a well-deserved rest.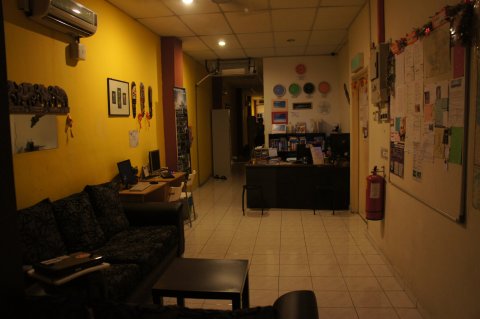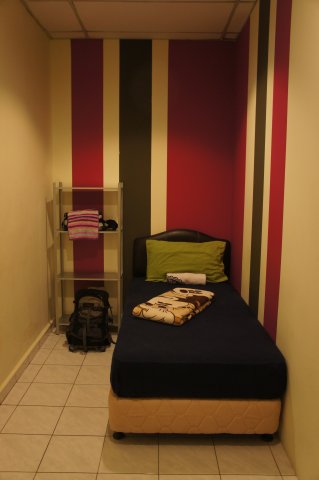 The next morning we visited Petaling Street for breakfast before catching a cab to the airport for a flight back to Singapore.  Well, it had been a tough but fulfilling weekend.  Till the next trip. 🙂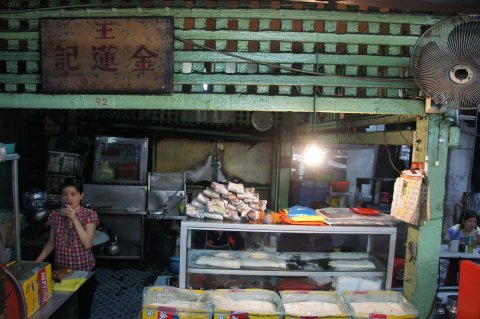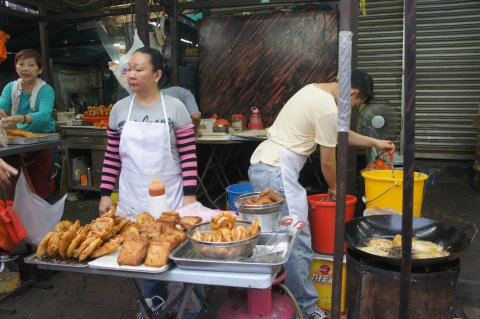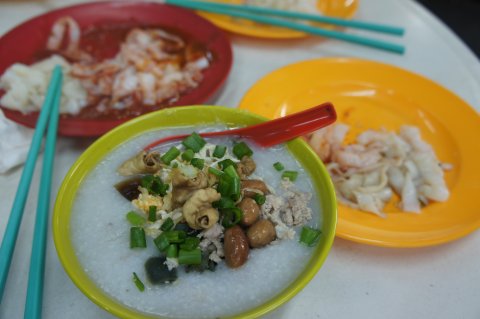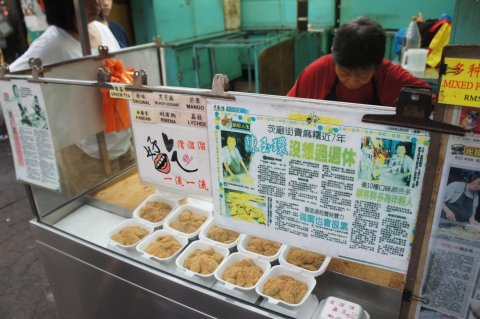 Disclaimer: This trip was taken in July 2013. The information is provided 'as is' with no warranties and confers no rights. If you are interested to know more, please add a comment and I will update the post with more details.