Bokor hill station is 189km from Phnom Penh, the capital of Cambodia. The entrance of Bokor National Park (bottom of Bokor Hill) is a short 158km ride via Highway 3. After 3 hours into the ride, just 8km shy of Bokor National Park, you will reach Kampot town, a convenient stop for rest, food and fuel. A further 8km southwest of Kampot takes you to the entrance of Bokor National Park.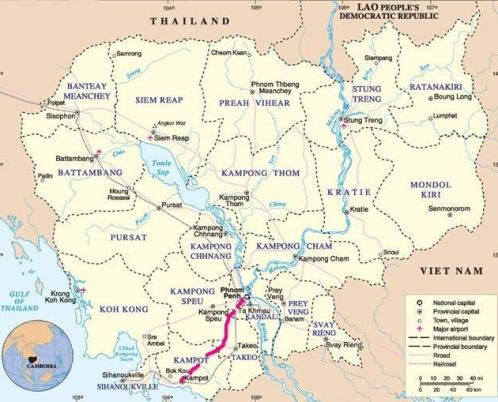 Map of Cambodia and route taken
Unlike the excellent tarmac road of Highway 3, the road up Bokor Hill is in terrible condition. For the most part of the road, it is dirt, gravels and puddles. The narrow road winds its way through thick jungle and you will wonder how two vehicles can pass each other without colliding. If you are thinking of going up by car or minibus, be prepared for a rough ride. A motorcycle or 4WD would be better suited for the job. Even so, travelers should have some experience in off-road riding.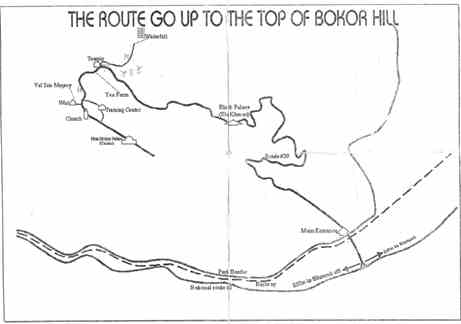 Route up the Bokor hill (Click on the photo for a larger image)
At 21km from the entrance gate, you will arrive at a plateau area where the royal villas are located. From here, finding your way to the waterfall or casino is pretty straightforward. If you intend to stay the night on Bokor Hill (which I recommend), look for the ranger station (also called the training center) located near the casino. There are three dormitories, each with six beds, and one room with a double and single bed. I paid US$5 for a bed. The ranger station also sells basic food like cup noodles and Coca-Cola.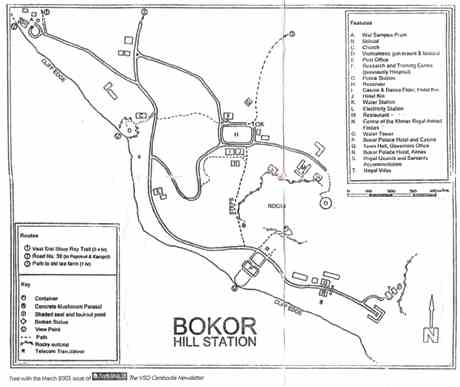 Bokor Hill map (Click on the photo for a larger image)
I would recommend spending at least two days for the trip. Assuming you are setting off from Phnom Penh, you would spend the first day reaching Bokor Hill and exploring parts of the Hill Station. The second day can be spent for further explorations and the return journey back to Phnom Penh. From Bokor, travelers can also consider continuing their journey westwards to Sihanoukville and returning to Phnom Penh via Highway 4.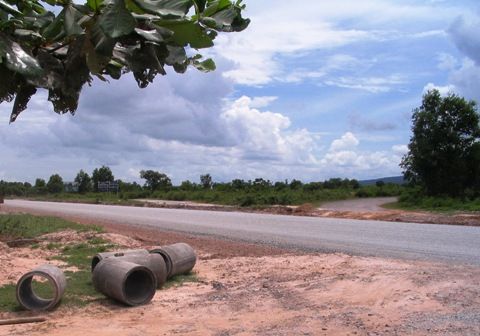 Right turn-off to the entrance of Bokor National park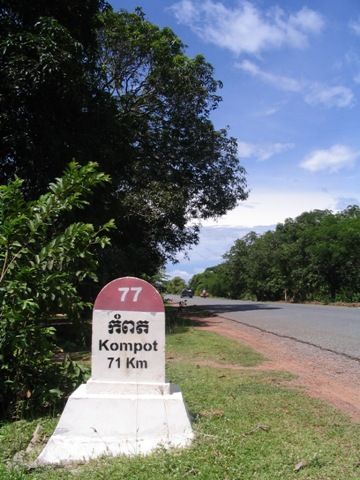 Kilometer stones are located every kilometer and indicate the distance to the next town.