Lonely Planet Vietnam
is a comprehensive travel guide that provides all the basic information a traveler would need for traveling in Vietnam. Be it information on the history, lodgings, transport, food or places of interest, you can find it in the book. Of course, other Vietnam travel guides
are just as good. It is just a personal preference that I stick to Lonely Planet.
For information on motorcycling in Vietnam and the Russian Minsk motorcycle, you can refer to the very excellent website MinskClub Vietnam. You can even find a soft copy of the Minsk manual on their site.
For the latest news on Vietnam, check out the online edition of Thanh Nien News. If you need up-to-date information on the roads, you can try asking in GT-Rider forum (requires registration).
Map Vietnam provides an accurate travel map of Vietnam. You should be able to find it at most book stores in Vietnam. Travelers who wish to get hold of a Vietnam travel map in their home countries may want to check out the Vietnam travel maps from Amazon.com
.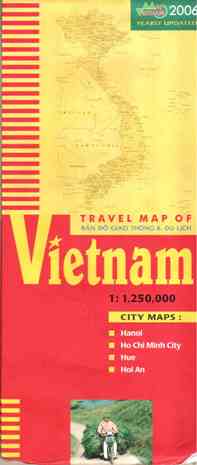 Map Vietnam (2006 Edition)
If you need some help packing for your trip, head over to Motorcycle Trip Packing Checklist.
To prepare yourself for the trip, I also recommend reading and watching some related literature. Not only does it provides greater insight into the country, it also helps to get you into the 'mood'. Here are a few recommended books and videos:
Books
An excerpt from Catfish and Mandala:

"Touring solo on a bicycle, I discover, is an act of stupidity or an act of divine belief. It is intense stretches of isolation punctuated with flashes of pure terror and indelible moments of friendship. Mostly, it is dirty work particularly suitable for the stubborn masochist. I was suckered into the adventure, the elegant simplicity of its execution, and, yes, even the glory of its agony."
Videos

If you don't feel comfortable renting a motorcycle and traveling without experienced guides, you can consider joining a motorcycle group tour at one of the travel outfits in Vietnam.