Day 1 (Singapore – Batam – Kuala Tungkal- Jambi)
I had always wanted to leave Singapore's border by sea. This is why I decided to take ferries and buses instead of a faster plane and bus combination to Bukittinggi.
The first leg of the journey to Bukittinggi was a ferry from Singapore to Batam, a small Riau island of Indonesia. I caught the 750am ( Singapore time, GMT +8) ferry at Singapore's harbourfront. The ride was supposed to take less than an hour but there was a delay in moving off. The staffs spent time making sure that a Mr Ng Wee Keong was not aboard our ferry. I am not sure what this guy had done but according to the announcement, if he was found later at Batam, he would be deported back to Singapore.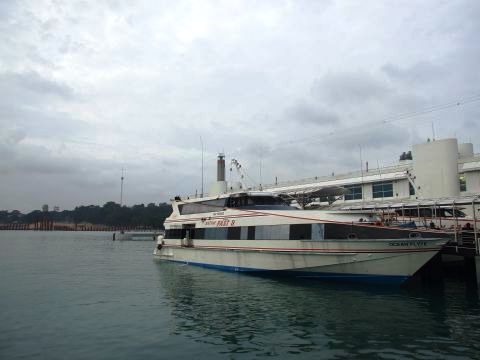 Ferry to Batam
And so I reached Batam later than expected and missed the ferry to Pekanbaru. I checked my Lonely Planet Indonesia guidebook and the ticketing staffs for alternatives. Basically, there were three options:
Spend the night in Batam for tomorrow's ferry
Take a flight from Batam to Padang
Take a ferry to another port in Sumatra and make my way to Bukittinggi from there.
Not wanting to spend a night in Batam and not too fond of planes, I bought a 230,000 Rp ticket for a 10am (Indonesia time, GMT +7) ferry to Kuala Tungkal. A helpful local (thought he was a staff at first) escorted me to the waiting area not before passing through at a counter where I saw Indonesians queuing to pay some dues.
After I was comfortably seated, the friendly local asked me for 25,000 Rp so he could help me pay the dues. He even showed me a ticket with 25,000 Rp written under fine print in Bahasa Indonesia (Malay language) . Of course, I was suspicious. I walked back to the counter and soon figured out that the dues were in fact 4,500 Rp and the 25,000 Rp written on the ticket probably referred to a fine or something. I paid 4,500 Rp to the staff at the counter and made my way back to the waiting area. The opportunist lingered. When the ferry arrived, he scooped up my bag and led me through the crowds for the best seat. For all his efforts in trying to make money, I gave him SGD 3. He asked for more but was ignored.
At 1030am, the ferry departed Batam amidst heavy rain. It was the monsoon season. I made a mental note to make weather a serious criterion when planning for any future trips (read this recent Indonesia's ferry accident). I spent the next 6.5 hr on the ferry planning my trip and learning to use my Fujifilm S6500FD digital camera. My old Canon A75 broke down in Chiangmai.
Oh, the ferry served a modest lunch of rice, curry chicken and vegetables. A small bottle of mineral water was also provided.

Tinkering with my camera on the ferry from Batam to Kuala Tungkal
The ferry finally reached Kuala Tungkal at 5pm. I followed the Indonesians to a place in town for a bus to Jambi. While waiting for the bus, I chatted with a Singaporean Indian who told me he was visiting his Indonesian wife in Jambi. I have seen a few Singaporeans with similar arrangements.
At 550pm, I boarded a minivan and told the conductor I needed to catch a bus to Bukittinggi. He asked a few more questions which I wasn't able to comprehend and respond properly. When we reached Jambi at around 950pm, passengers were dropped off at various locations. I was the last passenger and the dark, remote streets gave me an ominous feeling.
Relief overcame me when we finally reached a bus station. From what I could make out from the staffs, the next bus to Bukittingi would be next morning 6am. I asked for places where I could sleep and was directed to a rest room at the second level of the bus station. I didn't have to pay to use the room. I had dinner at the bus station's solo food stall.  A plate of Indomee (instant noodles) cost me 5000 Rp.
After a quick wash-up, I retired for the night. A large sleeping map was already taken by a local so I chose a smaller and oddly positioned sleeping map.

Room for the night
Day 2 (Jambi – Solok – Bukittinggi)
Someone was in the room, close to me. He knelt next to my feet on the mat. I had checked my watch a few minutes ago and knew it's still very early. I sat up. That person was praying. It all came to me. The orientation of the mats, the small window and the praying man. I was sleeping on a prayer mat facing Qibla, the direction of Mecca and the man was a Muslim performing his  predawn prayers.
I couldn't disturb him in his prayers. I apologized silently for my insensitivity and sneaked downstairs to the bus station.
When the bus station staff arrived, I bought a 100,000 Rp ticket to Bukittinggi. When I boarded the bus, the conductor saw my 100,000 Rp receipt and told me the standard fare should be 55,000 Rp. I gave the expected shocked and disappointed look and got myself a window seat. During the long ride, I was napping away when I felt someone scratching my arms. I turned, looked down and saw a baby suckling on her mother's breast while playfully scratching me. The mother looked no older than 18 years old. I focused on the scenery outside the windows.
After a couple of canteen/toilet breaks along the way, I reached Solok at 4pm where I was told to change bus to Bukittinggi. Some miscommunications or scams must have taken place as I had to pay 40,000 Rp for the bus ride from Solok to Bukittinggi. I opted to believe the former and paid up promptly.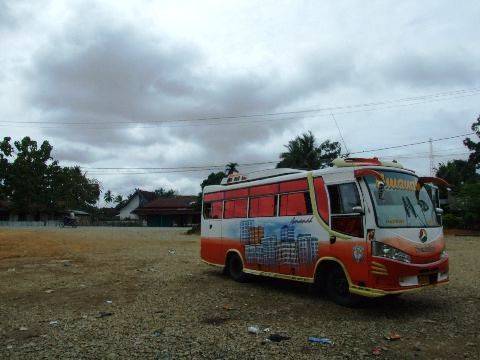 Bus from Solok to Bukittinggi
The road to Bukittinggi passed by a beautiful stretch – the Danau Singkarak. There were small restaurants along the lake. This is one disadvantage of taking public transport over having your own bike. I couldn't stop for a photo.
At 650pm, I was unceremoniously dropped at Bukittinggi. I hopped onto a motorcycle taxi and found Kartini Hotel. Kartini asked for 125,000 Rp for a night but I negotiated down to 100,000 Rp. After depositing my packs, I headed to Jalan Ahmad Yani. I was surprised that some of the hawkers were very young. I had Nasi Goreng and a fried drumstick. Then I visited a internet cafe and surfed for information on motorcycle rental in Bukittinggi. In the cafe, I overhead a foreigner remarking to his friend that Singapore is very expensive because there are only 4 stars and above hotels. I did not correct him.

Nasi Goreng at Bukittinggi