Introduction
Mention North Korea as a tourist destination and you tend to get a myriad of responses.
Are you sure we are allowed to visit North Korea?

Is it safe?

North Korea seems so grey. What's there to see?

Why would I want to see a staged performance?
And occasionally
Sounds cool, tell me more about it!
There are various reasons why one would want to visit North Korea.  For me, every place can be interesting depending on your perspective.  As long as you keep an open-mind, there is much to see, learn and understand.
We do not see things as they are, we see them as we are – Talmud
We have read a lot on the mass media about the Kim dynasty, the political and nuclear tensions, the improvished locals and the communist state control.  But what exactly is the local vibe, what do the North Koreans want to show us, how much can we reconcile what we read about North Korea with what we actually see in North Korea?
Getting into North Korea is not really a problem.  Even Americans, North Korea's arch enemy, are now allowed to visit the reclusive state. The key requirement for tourists is that they join a package tour.  There are some do's and dont's which the tour company will advise.  As long as you adhere to their rules and don't do anything stupid (e.g. wandering off in the middle of the night without North Korean escorts, taking discriminating photos), North Korea is probably safer than many other tourist destinations.  In this tightly controlled state with its highly discplined population, it is almost impossible for you to get scammed or have your pockets picked.
Trip Planning

With 5 like-minded friends, we started planning for our North Korea trip in September 2012 to coincide with the Arirang mass games and National Day.  2012 is also the 100th anniversary of the birth of DPRK President Kim Kim Il Sung.  It's hard to find a better time to visit.
Coming from Singapore, we have basically three choices:
Join a tour direct from Singapore
Fly to Beijing and join a tour from there
Fly to Dandong and join a tour from there
We wanted to strike a balance between flexibility, convenience, budget and tour agency reputation.  For flexibility in travel dates and itinerary, we wanted to form our own independent tour group. This was probably our most important consideration. The standard tours provided by Singapore agencies did not cater for this.  The tour agencies at Dandong were about the cheapest we could find but it's a hassle getting there on our own and they had not been responding to our emails fast enough to win us over.
The major agencies are based in Beijing.  Most offer standard large-group tours or independent tours with North Korean guides.  2 North Korean guides, one male and one female, will meet the tour group upon arrival in North Korea.  A tour leader from the tour agency is actually optional.  But as we understand, it's better to have a tour leader from the tour agency who is familiar with the North Koreans and can help open doors and add flexibility to our itinerary on the go.
There are a few methods of getting in to North Korea.   We can take plane from Beijing (via Air China or Air Koryo) or train/bus from Dandong, China.  While these are the traditional options, there are now flights going in from Shanghai and tourists can join specialty groups to Rason via the border crossing there.
Regarding transport prices, the train option is the cheapest and an Air Koryo flight is cheaper than an Air China flight.  We decided to fly in via Air Koryo and leave by train via Dandong for the experience.  We would prefer to do it the opposite way but we were restricted by Mass Games dates, train/flight timings and our work schedule.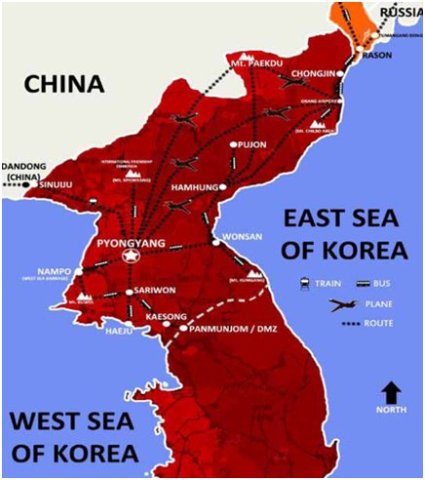 With our limited time, we decided on a rather standard 6 days 5 nights North Korea itinerary, not including the nights spent in Beijing, Dandong and on the train. We planned to visit the sights in Pyongyang, Mt Myohang and Kaesong/DMZ.  But there were landslides and we ended up skipping Mt Myohang and amending the itinerary along the way.  Well, read on for more details of this fun and rewarding trip. 🙂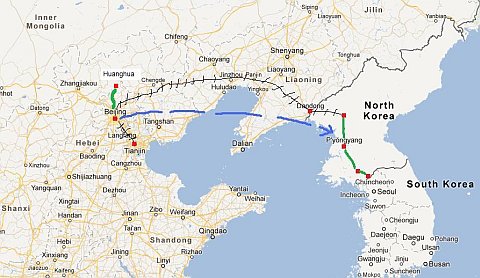 The North Korea (with parts of China) trip report is divided into the following pages:
Introduction & Trip Planning (You are here)
Journey Day 1 (Singapore to Tianjin to Huanghua)
Journey Day 2 (Friends Arrival at Beijing)
Journey Day 3 (Beijing to Pyongyang)
Journey Day 4 (Pyongyang)
Journey Day 5 (Pyongyang)
Journey Day 6 (Pyongyang)
Journey Day 7 (Pyongyang)
Journey Day 8 (Pyongyang to Dandong)
Journey Day 9 (Dandong to Beijing)
Journey Day 10 (Beijing to Tianjin)
Journey Day 11 (Fly home!)
Thanks for reading!
Disclaimer: This trip was taken in September 2012. The information is provided 'as is' with no warranties and confers no rights. If you are interested to know more, please add a comment and I will update the post with more details.

Next