For this Laos trip, I am sticking with Lonely Planet Laos (Country Guide)
for the travel guide book for information on country background, accommodation, maps, restaurants and places of interest.
For the latest news on Laos, check out the Vientiane Times. If you need up-to-date information on the roads, you can try asking in GT-Rider forum (requires registration).
GT-Rider Laos map provides an accurate travel map of Laos. The laminated map can be found in at some book stores and bike shops in Laos, Cambodia and Thailand.  The publisher also provides overseas shipping. You can find more details at GT-Rider website.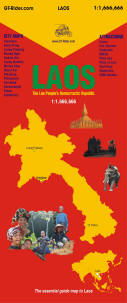 GT-Rider Laos Map
If you need some help packing for your trip, head over to Motorcycle Trip Packing Checklist.
To prepare yourself for the trip, I also recommend reading and watching some related literature. Not only does it provides greater insight into the country, it also helps to get you into the 'mood'. Here are a few recommended books and videos:
Books
Do not read the above book if you would like to preserve your image of a peaceful and smiling Laos.

Zen and the Art of Motorcycle Maintenance: An Inquiry into Values by Robert M. Pirsig